Ukrainians reflect on Russian invasion as world marks anniversary
The anniversary of Russia's invasion of Ukraine was a sombre day for many of the country's 43 million people.
Ukrainians described the anniversary as both terrible and inspiring for them because Ukraine has defied expectations that it might quickly fall to Moscow's invasion forces.
"I can sum up the last year in three words: Fear, love, hope," said Oleksandr Hranyk, a school director in Kharkiv, Ukraine's second-largest city.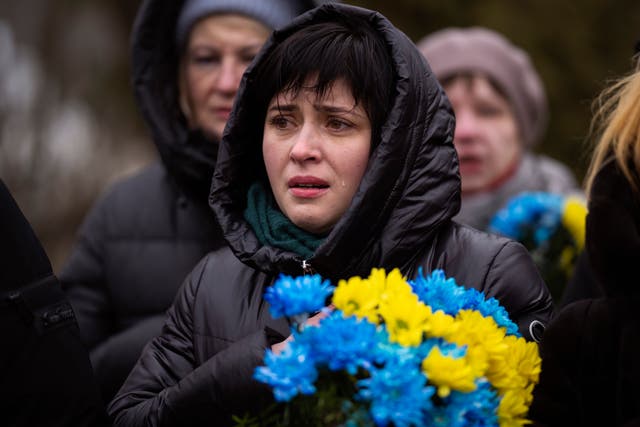 "Victory is ours, young people will live," said Nelia Zamostian, 62, who was attending a church memorial service in Bucha, the town outside Kyiv that became an early symbol of Russian atrocities.
And Daria Horda, 25, who has not seen her family in Russian-occupied Nova Kakhovka since Moscow's troops rolled across Ukraine's borders on February 24, 2022, said: "For me, it's a terrible pain and a day where I don't want to go back in my thoughts, rewatch photos or videos. A very tough day."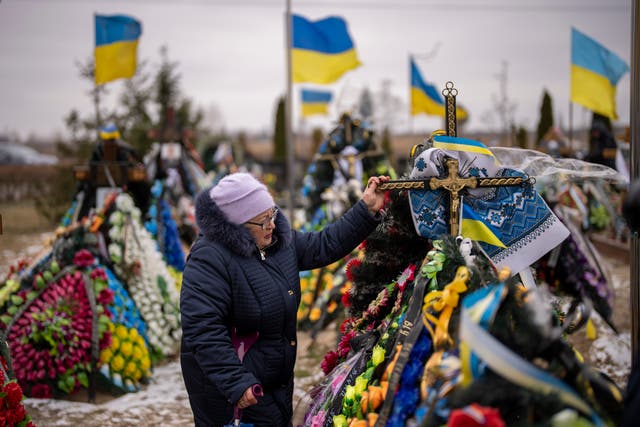 Lining up in the Ukrainian capital, Kyiv, to buy anniversary commemorative postage stamps, Tetiana Klimkova said that a year into the invasion, she's been unable to shake "the feeling that your heart is constantly falling, it is falling and hurting".
"This day has become a symbol for me that we have survived for a whole year and will continue to live," she said. "On this day, our children and grandchildren will remember how strong Ukrainians are mentally, physically, and spiritually."
In Berlin, a wrecked Russian tank brought from Ukraine has been put on display outside the Russian Embassy to mark the anniversary of Moscow's invasion.
The T-72 tank was put on display in Berlin's Unter den Linden boulevard, in front of the embassy.
The tank was brought to Berlin by a private group, which said that the Ukrainian defence ministry's military history museum loaned the vehicle and helped it with logistics.
It says the vehicle was hit in the Kyiv region in the early stages of the war.
One of the organisers, Wieland Giebel of the Berlin Story group, said that the whole world recognises that many Germans stand behind Ukraine.
In Serbia, police prevented a group of anti-war activists from reaching the Russian embassy to presenting a skull-adorned cake in commemoration of the war's anniversary.
Activists left the cake soaked in red dye on the pavement near the embassy in central Belgrade. Activists also wanted to hand embassy staff a demand for Russian President Vladimir Putin to stand trial for genocide.
A traditional Slavic ally, Serbia has maintained friendly relations with Russia despite the invasion. While formally seeking European Union entry, Belgrade has refused to join Western sanctions designed to punish Moscow for the aggression.
People around the world marked the anniversary with candlelit vigils and marches.
The commemorations of a grim year for Ukraine spread as far as Asia. As well as peace rallies in Tokyo and Seoul, Ukrainians living in Thailand gathered outside their embassy in Bangkok.
About 50 people, many of whom were wearing national colors, sang the national anthem as an embassy official raised the flag. Several wept during a speech by the embassy's charge d'affaires, in which he urged them to stay strong.
Iliana Martsenyak, originally from the eastern Ukrainian city of Kharkiv, which has been pummelled by Russian barrages, wiped tears from her eyes as she spoke of how the anniversary made her feel.
"Honestly, I cannot find any words to describe how me and every single Ukrainian feels today because of this absolutely irrational, cruel and awful war that has been brought to our land," she said.
The group marched to a nearby city park, holding Ukrainian flags and protest signs aloft. The group stopped at the library of Lumpini park, largely in silence as a mother embraced her young daughter and others stared resolutely into the distance.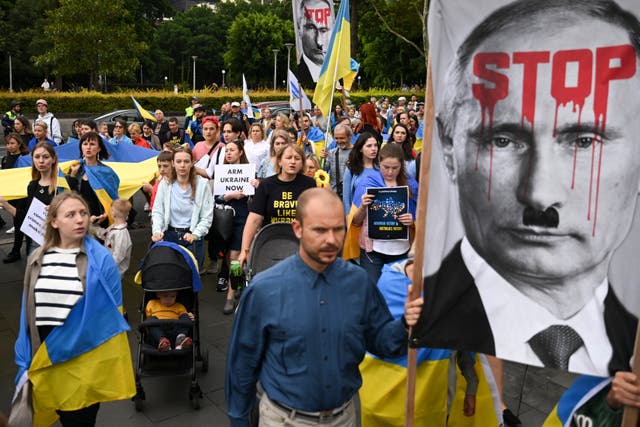 Some of the anniversary commemorations began Thursday evening, when the Eiffel Tower in Paris and the Portuguese parliament building in Lisbon were lit up in the colours of the Ukrainian flag. The Sydney Opera House followed suit on Friday.
A vigil took place in London's Trafalgar Square, organised by the Ukrainian and US embassies, and 461 paper angels were hung from the roof of the Ukrainian Catholic Cathedral in London to commemorate each Ukrainian child that has died in the past year.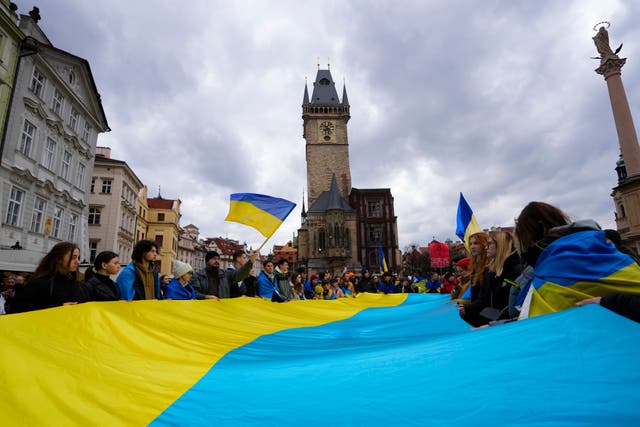 At a convention centre in Utrecht, Netherlands, about 2,000 Ukrainian refugees gathered to hear by video link a speech by Volodymyr Zelensky, and in Brussels hundreds gathered to wave the Ukrainian flag and chant "Slava Ukraini!" (Glory to Ukraine).
In northern Europe, people placed candles on the steps of Helsinki Cathedral at a memorial event for Ukraine war victims, and in southern Europe peace quotations printed on jute bags were displayed in Rome as part of an installation by Italian artist Gianfranco Meggiato entitled The Meeting: The Symbol of Peace.
Ukrainians living in Brazil protested outside the Russian Consulate in Sao Paulo, with one sign comparing Mr Putin to Adolf Hitler.
Ukrainians in Lebanon chanted slogans during a Beirut rally and held up signs saying, "Stand strong with Ukraine" and "No terrorism". Ukrainians and their supporters also marked the anniversary in Tel Aviv.
Dozens of South Koreans and Ukrainian expatriates gathered outside the Russian Embassy in Seoul. They held candles and banners demanding the immediate withdrawal of Russian troops from Ukrainian territory.
A peace rally was also held in Tokyo, and people placed flowers outside the Ukrainian consulate in Bali, Indonesia in tribute to those killed in the war.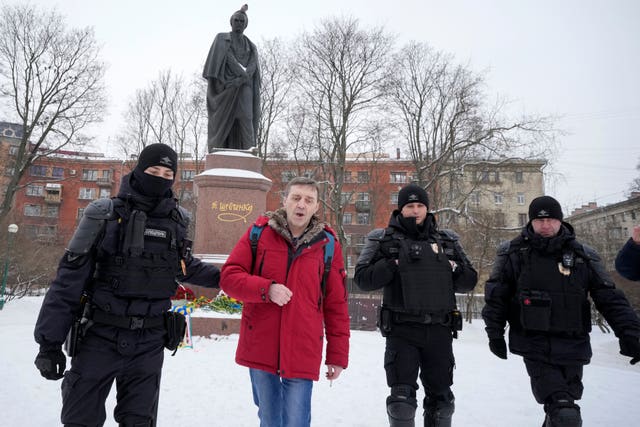 Moscow planned no special events for Friday, as most Russians took a nationwide day off amid an extended public holiday.
As part of authorities' relentless effort to prevent any sign of dissent, police in some areas visited activists' homes to warn them against trying to stage any demonstrations.