Russia and Belarus discuss closer military and economic ties
Russian President Vladimir Putin hosted neighbouring ally Belarus's leader on Friday for talks on expanding military and economic cooperation amid the fighting in Ukraine.
Russia used Belarusian territory to send troops into Ukraine nearly a year ago at the start of what the Kremlin calls its "special military operation."
Russia has maintained troops and weapons in Belarus and the two countries have regularly conducted joint drills as part of their military alliance.
Speaking at the start of his talks with Belarusian President Alexander Lukashenko, Mr Putin proposed to discuss security issues, military cooperation and ways to further bolster economic ties.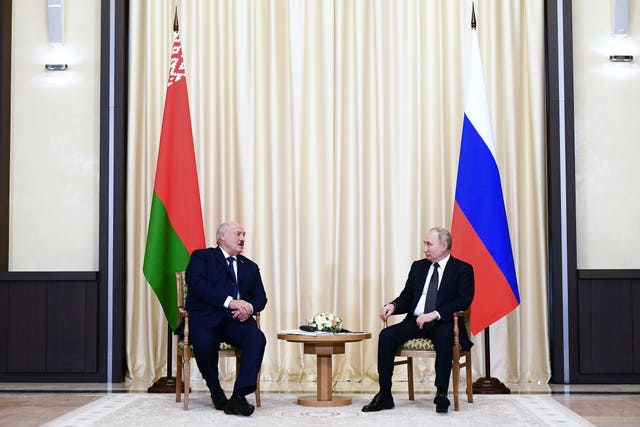 Mr Putin noted that Belarus has preserved Soviet-era industrial assets, adding that it offers good opportunities for joint manufacturing programmes.
"By pooling our efforts we will create synergy," Mr Putin said. "It could be very efficient in some sectors and bring good results for both Belarus and Russia."
Russia has been a major sponsor of Belarus's Soviet-style economy, which relies on cheap Russian energy and loans.
The Kremlin also has offered staunch political support to Mr Lukashenko, who has ruled Belarus with an iron hand for nearly three decades, helping him weather months of massive protests triggered by his re-election in an August 2020 vote that the opposition and the West denounced as rigged.
Last year, Mr Lukashenko and Mr Putin met 13 times.
Mr Lukashenko noted that Belarusian plants have made components for Russian passenger planes and suggested that with Russian assistance a Belarusian factory could start building Soviet-designed ground attack jets that he said "performed well" in Ukraine.
A Belarusian factory has repaired a few Soviet-built Su-25 ground attack jets in the past, but it was unclear how it could resume production of the plane that was halted long time ago.
The continuing deployment of Russian troops to Belarus has fuelled concerns in Ukraine about a possible new offensive from the north across the 1,084-km (672-mile) border.
While hailing the importance of defence ties with Russia and expressing support for the Kremlin's action in Ukraine, Mr Lukashenko has emphasised that he will send Belarusian troops into Ukraine only if his country is attacked.
"I'm prepared to fight alongside the Russians from the territory of Belarus in one case only: if at least one soldier from there comes to Belarus to kill my people," Mr Lukashenko told reporters on Thursday. "If they launch an aggression against Belarus, there will be the toughest response. And the war will take on a whole new character."
The Belarusian leader denied plans to mobilise reservists, something Russia did last year to beef up its forces fighting in Ukraine.
"But we're preparing for the war so that aggression isn't committed against us," he added, noting that in case of war the Belarusian army could be expanded from 75,000 now to 500,000.