Louisiana police officer arrested for fatally shooting unarmed black man
A white US police officer has been arrested for fatally shooting an unarmed black man who was trying to flee police responding to a domestic disturbance call, authorities said.
After reviewing evidence and footage from officers' body-worn cameras, state troopers charged Shreveport Police Officer Alexander Tyler, 23, with negligent homicide over the death of Alonzo Bagley, 43.
Louisiana State Police on Thursday released body camera footage of the encounter as well as audio from the 911 recording reporting the initial disturbance.
Officers responded to the disturbance at around 10.50pm on February 3 in Shreveport, a city in north-west Louisiana.
In the emergency call, a person who identified herself as Mr Bagley's wife said her husband was "loaded on something" and threatening her and her daughter.
Tyler and another unidentified officer arrived at the apartment where Mr Bagley opened the door holding a glass bottle with brown liquid.
He said he had to put away his dog, walked to the back of the apartment on to a balcony, jumped to the ground outside and ran. The officers then began chasing him.
"Upon rounding a corner of the building, Officer Tyler observed Mr Bagley and fired one shot from his service weapon, which struck Mr Bagley in the chest," Colonel Lamar Davis, the superintendent of Louisiana State Police, said at a news conference earlier this month.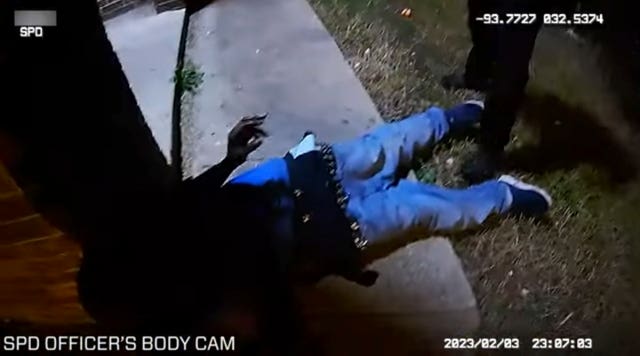 In the video, Mr Bagley can be heard saying "Oh God, you shot me" as he slumped to the ground.
After the shooting, Tyler made "multiple statements claiming the suspect came toward him and he could not see his hands", according to court documents from state police. Investigators did not find any weapons in Mr Bagley's possession.
Tyler, who has been with the police department since May 2021, is on paid administrative leave, Shreveport Police Chief Wayne Smith said on Thursday.
Mr Smith added that Tyler had been involved in a policy violation in which there was "violence to a suspect" but did not elaborate.
On Thursday afternoon he was released on 25,000 dollars (£20,000) bail. In Louisiana, a negligent homicide charge carries a prison sentence of up to five years on conviction.
Family members of Bagley have filed a 10 million dollar (£8.3 million) lawsuit against Tyler.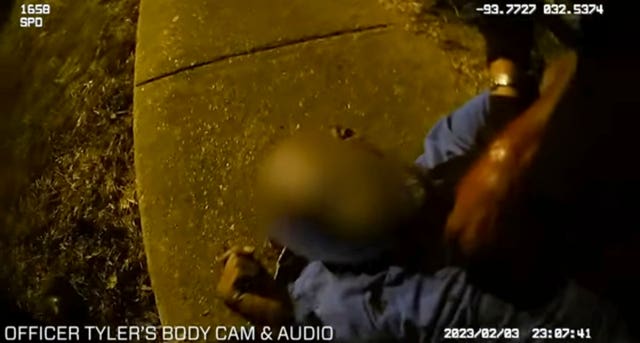 "The lethal force used against Mr Bagley was unjustified, unreasonable, excessive, and in violation of Mr Bagley's rights under the United States Constitution and the laws of the State of Louisiana," said the lawsuit filed by his wife, mother and stepdaughter.
The family has hired Louisiana lawyer Ronald Haley, who has represented other high-profile clients include the family of Ronald Greene, a black motorist whose 2019 death in state police custody in north Louisiana prompted lawsuits and criminal charges against law enforcement officers.
Mr Haley said the fact that Mr Bagley fled from police should not equate to a "death sentence".
"Flight does not mean shoot to kill," he said. "Flight does not mean you are the judge, jury and executioner, and that's what happened. That was what happened in this case… and it is an incident that we see far too often in the state. It's an incident that we see far too often around this country."
Louisiana has had multiple high-profile fatal officer-involved shootings — including the ones involving Mr Greene and Alton Sterling, a black man who was shot by an officer outside a convenience store in Baton Rouge after being wrestled to the ground.