Targets across Ukraine hit as Russia launches fresh missile attack
Russia again pummelled Ukraine with a barrage of cruise and other missiles on Thursday, hitting targets from east to west.
Ukrainian authorities said one of the strikes killed a 79-year-old woman and injured at least seven other people.
Russian forces used a variety of missile types, firing 36 in all in a two-hour overnight bombardment, said Ukraine's military chief, Valery Zaluzhny.
He said Ukrainian air defence batteries shot down 16 of them — a lower rate of success than against some previous Russian attacks.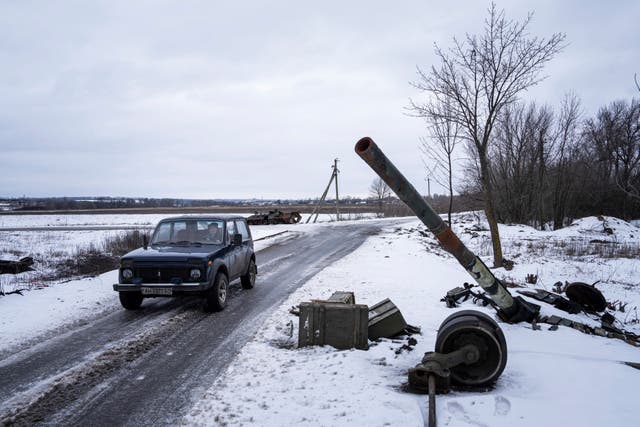 Ukrainian authorities said targets in the north, west, south, east and centre of the country were struck.
The head of Ukraine's presidential office, Andriy Yermak, said Russian forces "changed their tactics" for the strike, deploying what he described as "active reconnaissance" and "false targets".
Russian troops had launched balloons with corner reflectors to deceive Ukraine's air defence as part of an effort to retake some battlefield advantage after months of setbacks, Oleksiy Danilov, the secretary of Ukraine's National Security and Defence Council, said.
"This indicates that (the Russians) are preparing and not sleeping," Mr Danilov said on Ukrainian TV, "and they are starting to use other methods."
Russian forces may be seeking ways to get past Ukrainian air defences that have been strengthened by Western-supplied weapons systems and have had high rates of success against previous Russian barrages of missiles and killer drones.
One of the overnight strikes caused casualties and destroyed homes in the eastern city of Pavlohrad, the regional governor said.
Governor Serhiy Lysak said a 79-year-old woman was killed and at least seven other people were wounded, including two who were later admitted to hospital.
The strike destroyed seven homes, damaged 30 others and sparked a fire at an industrial plant that emergency services put out within hours, the governor added.
A regional governor in western Ukraine, Maksym Kozitskyi, said a fire broke out at a "critical" infrastructure facility in the province of Lviv. He did not immediately offer details.