South Korea reverts to calling the North 'our enemy' in latest defence report
South Korea called North Korea "our enemy" in its biennial defence document published on Thursday, reviving the label for its rival for the first time in six years, as tensions worsen between the two.
North Korea conducted an unprecedented number of missile tests in 2022, including simulated nuclear attacks on South Korea.
In response, South Korea's conservative government led by President Yoon Suk Yeol has been seeking a stronger US security commitment and boosting its own military capabilities.
Descriptions of North Korea in South Korea's defence white papers reflect the rocky ties between the two Koreas.
Past South Korean documents called North Korea its "main enemy", "present enemy" or "enemy" in times of animosities with the North. But they avoided such references when relations were improved.
"(North Korea) doesn't give up its nukes and is persistently posing military threats to us, so the North Korean government and military is our enemy," the 2022 South Korean defence white paper read.
The document also noted the fact that in December, North Korean leader Kim Jong Un called South Korea "our undoubted enemy" in a speech at a key ruling party meeting.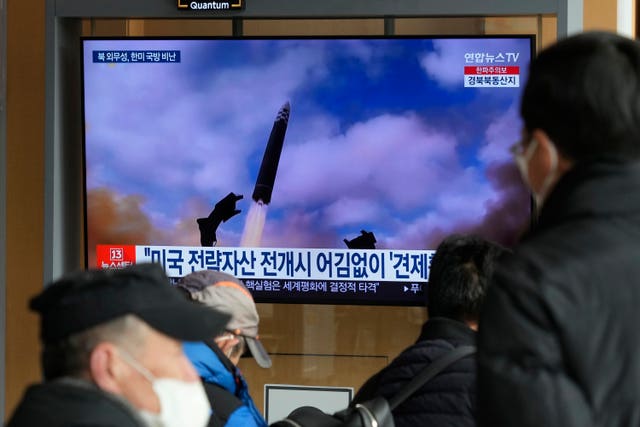 It also cited North Korea's legislation of a new law that authorises its pre-emptive use of nuclear weapons on a broad range of scenarios.
The document said North Korean nuclear programs and provocations "are seriously threatening our security."
It said the main objectives of South Korean defence policies include bracing for threats and potential invasion by North Korea, deterring a war on the Korean Peninsula and contributing to a peaceful future Korean unification.
North Korea did not immediately respond to the revived enemy terminology in the South Korean defence white paper, though it has lashed out at past enemy labels, calling them provocations that demonstrated South Korean hostility.
South Korea first called North Korea its "main enemy" in 1995, a year after North Korea threatened to turn Seoul into "sea of fire" — rhetoric the North has since repeatedly used when confrontations flared with the South.
During a previous era of inter-Korean detente in the 2000s, South Korea stopped using such enemy terminologies, but resuscitated them after 50 South Korean navy sailors were killed in a torpedo attack blamed on North Korea in 2010.
South Korea again avoided using enemy labels when it was governed by Yoon's liberal predecessor, Moon Jae-in, who espoused greater reconciliation with North Korea.
Defence documents published during Moon's 2017-2022 rule did not mention North Korea by name when they said South Korea's military "considers any force that threatens and violates the sovereignty, territory, people, and properties of the Republic of Korea as an enemy".
Yoon, who took office in May, has vowed stern response to North Korean provocation.