New Zealand city grinds to a halt as deluge from Cyclone Gabrielle looms
Auckland residents hunkered down on Monday as they braced for a deluge from Cyclone Gabrielle, two weeks after a record-breaking storm swamped New Zealand's largest city and killed four people.
Much of the city ground to a halt as train services were cancelled, libraries and most schools were closed, and authorities asked people to make only essential trips.
Air New Zealand cancelled all domestic flights to and from Auckland until Tuesday morning, as well as many international flights.
Some international routes would continue operating, the airline said, although they might need to be diverted from Auckland.
The carrier also cancelled domestic flights to and from the cities of Hamilton, Tauranga and Taupo.
In all, Air New Zealand cancelled more than 500 flights, affecting more than 10,000 international customers, with thousands still to be rebooked.
The cyclone, which was moving south, dumped more than 9in (220mm) of rain in areas north of Auckland, cutting power to about 58,000 households and forcing many roads to close.
About 46,000 homes remained without power on Monday afternoon.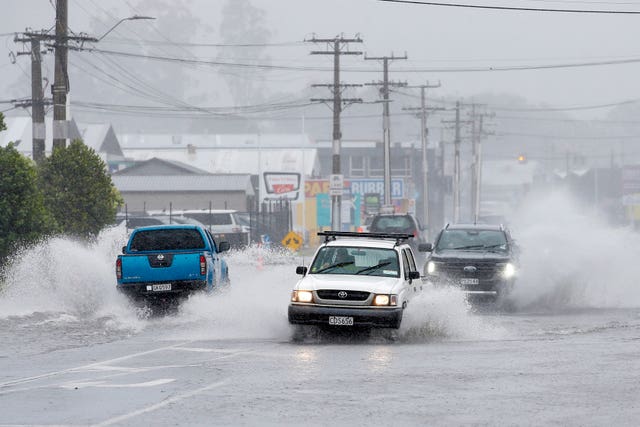 Authorities declared a state of emergency in Northland, Auckland and some other regions, and were asking some residents in low-lying areas to evacuate.
Prime Minister Chris Hipkins said the weather had made the start of the year "incredibly challenging" for people in Auckland and other northern areas.
"Extreme weather event has come on the back of extreme weather event," he said. "For families and businesses, I know that that has been just exhausting, and I want to acknowledge how hard many of them are doing it."
Gabrielle was expected to pass Auckland overnight on Monday. Its windspeed was downgraded as gusts abated to about 80mph (130kph).
Weather forecaster MetService said there was a very high likelihood of "extreme, impactful, and unprecedented weather" over many regions, with heavy rain, strong winds and large waves.
With Mr Hipkins and some other politicians unable to immediately travel from Auckland to the capital, Wellington, some events scheduled for this year's opening session of Parliament were rescheduled, including the prime minister's statement outlining his priorities for the year, which has been moved from Tuesday to Wednesday.
Two weeks ago, Aucklanders experienced the wettest day ever recorded in the city, as the amount of rain that would typically fall over an entire summer hit in a single day.
Quickly rising floodwater and landslides killed four people, caused widespread disruption and left hundreds of homes uninhabitable.