Sri Lanka marks independence anniversary amid economic woes
Sri Lanka marked its 75th independence anniversary on Saturday as a bankrupt nation, with many citizens angry, anxious and in no mood to celebrate.
President Ranil Wickremesinghe, who has started to improve some but not all of the acute shortages, acknowledged the sombre state of the nation, saying in a televised speech: "We have reached the point of destruction."
He added: "Let's seek to heal this wound though it's difficult and painful. If we endure the suffering and pain for a short period of time, we can get the wound healed completely."
Many Buddhists and Christian clergy had announced a boycott of the celebration in the capital, while activists and others expressed anger at what they see as a waste of money in a time of severe economic crisis.
Despite the criticism, armed troops paraded along the main esplanade in Colombo, showcasing military equipment as navy ships sailed in the sea and helicopters and aircraft flew over the city.
Catholic priest Rev Cyril Gamini called this year's ceremony commemorating independence from British rule a "crime and waste" at a time when the country is experiencing such economic hardship.
"We ask the government what independence they are going to proudly celebrate by spending a sum of 200 million rupees," he said, adding the Catholic Church does not condone spending public money on the celebration and that no priest would attend the ceremony.
About 7% of Sri Lanka's 22 million people in the Buddhist-majority nation are Christians, most of them Catholics. Despite being a minority, the church's views are respected.
Prominent Buddhist monk Rev Omalpe Sobitha said there is no reason to celebrate and that the ceremony is just an exhibition of weapons made in other countries.
Sri Lanka is effectively bankrupt and has suspended repayment of nearly seven billion dollars in foreign debt due this year pending the outcome of talks with the International Monetary Fund.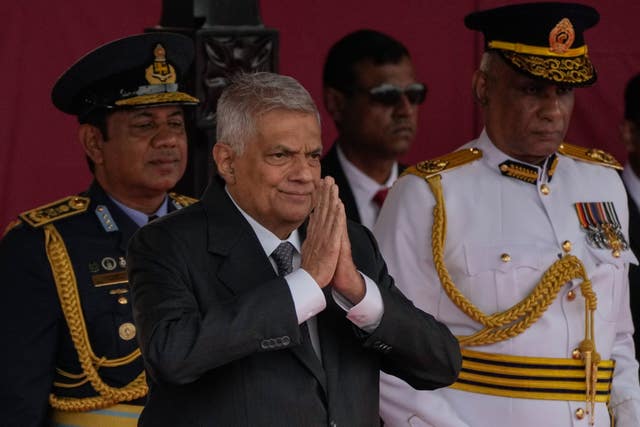 The country's total foreign debt exceeds 51 billion dollars, of which 28 billion dollars has to be repaid by 2027.
Unsustainable debt and a severe balance of payment crisis, on top of lingering scars from the Covid-19 pandemic, have led to a severe shortage of essentials such as fuel, medicine and food.
The shortages led to protests last year that forced then-president Gotabaya Rajapaksa to flee the country and resign.
There have been signs of improvement under President Ranil Wickremesinghe, but power cuts continue due to the fuel shortages, hospitals face medicine shortages and the treasury is struggling to raise money to pay government employees' salaries.
The economic crisis has made people angry and apathetic towards political leaders.
To manage the country's expenses, the government has increased income taxes sharply and has announced a 6% cut in funds allocated to every ministry this year. Also, the military, which had swelled to more than 200,000 members amid a long civil war, will be downsized by nearly half by 2030.
A group of activists began a silent protest on Friday in the capital, condemning the government's independence celebration and failure to ease the economic burden.