Winter freeze cancels 1,500 flights and leads to death in Texas
Winter weather has brought ice to a wide swathe of the United States, causing the cancellation of more than 1,500 flights nationwide, bringing traffic to a standstill and knocking out power to thousands of Texans.
Numerous car accidents were reported in Austin, Texas, with at least one fatality, according to the Austin Fire Department.
In Travis County, Texas, which includes Austin, police and sheriff's deputies have been responding to new crashes about every three minutes since 8am.
More than 700 flights to or from Dallas-Fort Worth International Airport and more than 250 to or from Dallas Love Field were cancelled or delayed, according to the tracking service FlightAware.
At Dallas-Fort Worth, a major US airport hub, more than 40% of the flights had been cancelled.
Dallas-based Southwest Airlines has cancelled more than 500 flights and delayed over 250 more, FlightAware reported.
About 7,000 power outages in Texas were reported as of late Tuesday morning, Republican governor Greg Abbott said.
He emphasised the outages were due to factors such as ice on power lines or downed trees, and not the performance of the Texas power grid that buckled for days during a deadly winter storm in 2021.
Fleets of emergency vehicles were operating on the 1,600 roads impacted by the freeze.
In Texas, a sheriff's deputy who stopped to help the driver of an 18-wheeler that went off an icy highway on Tuesday was hit by a second truck that pinned him beneath one of its tires, according to the Travis County Sheriff's Office. About 45 minutes after the crash on State Highway 130, the deputy was freed from the wreckage and taken to a hospital, where he was in surgery Tuesday afternoon, officials said. The deputy is expected to survive, officials said.
In another wreck, a Texas state trooper was hospitalised with serious injuries after being struck by a driver who lost control of their vehicle, said Steve McCraw, director of the Texas Department of Public Safety.
"The roadways are very hazardous right now. We cannot overemphasise that," Mr Abbott said.
In Arkansas, Interstate 40 was ice-coated and "extremely hazardous" in the Forrest City area, according to the city's fire department.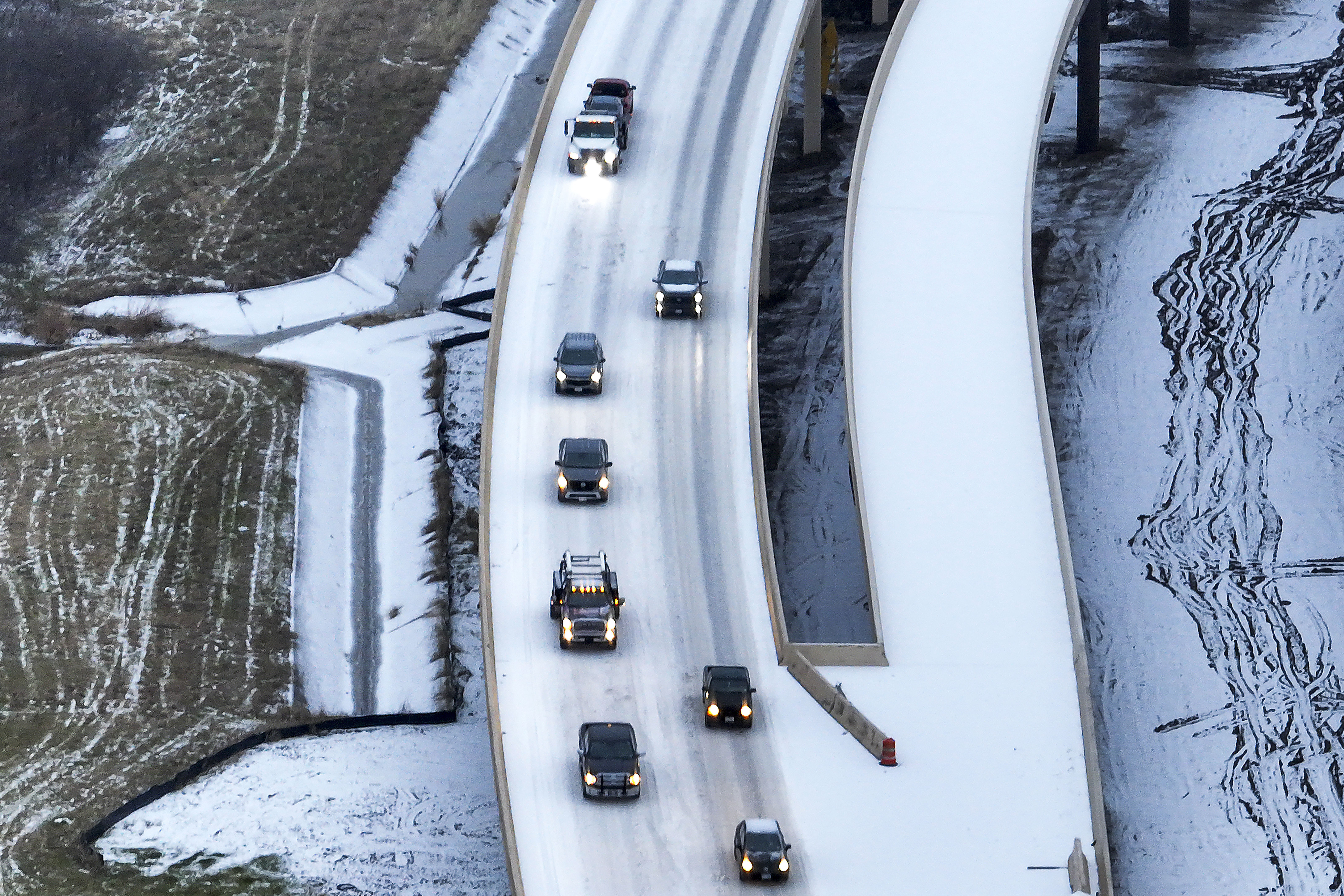 The department responded to two bad accidents and about 15 other crashes on Tuesday morning, division chief Jeremy Sharp said. In many of the crashes, the drivers pick up speed on the highway but run into trouble when they reach a bridge, he said.
"They hit the ice and they start wrecking," he said.
"When I-40 shuts down like that, that can be hours of waiting," said John Gadberry, who lives in Colt, Arkansas, not far from the highway. "I-40 is usually one of the first things that freezes over due to its slight elevation."
By late Tuesday morning, I-40 was cleared and traffic had resumed, the Arkansas Department of Transportation announced. The interstate connects Little Rock, Arkansas, to Memphis, Tennessee.
The storm began on Monday as part of an expected "several rounds" of wintry weather through until Wednesday across Texas, Oklahoma, Arkansas and Tennessee, according to National Weather Service meteorologist Marc Chenard.
"Generally light to moderate freezing rain resulting in some pretty significant ice amounts," Mr Chenard said.
"We're expecting ice accumulations potentially a quarter inch or higher as far south as Austin, Texas, up to Dallas over to Little Rock, Arkansas, towards Memphis, Tennessee, and even getting close to Nashville, Tennessee," according to Mr Chenard.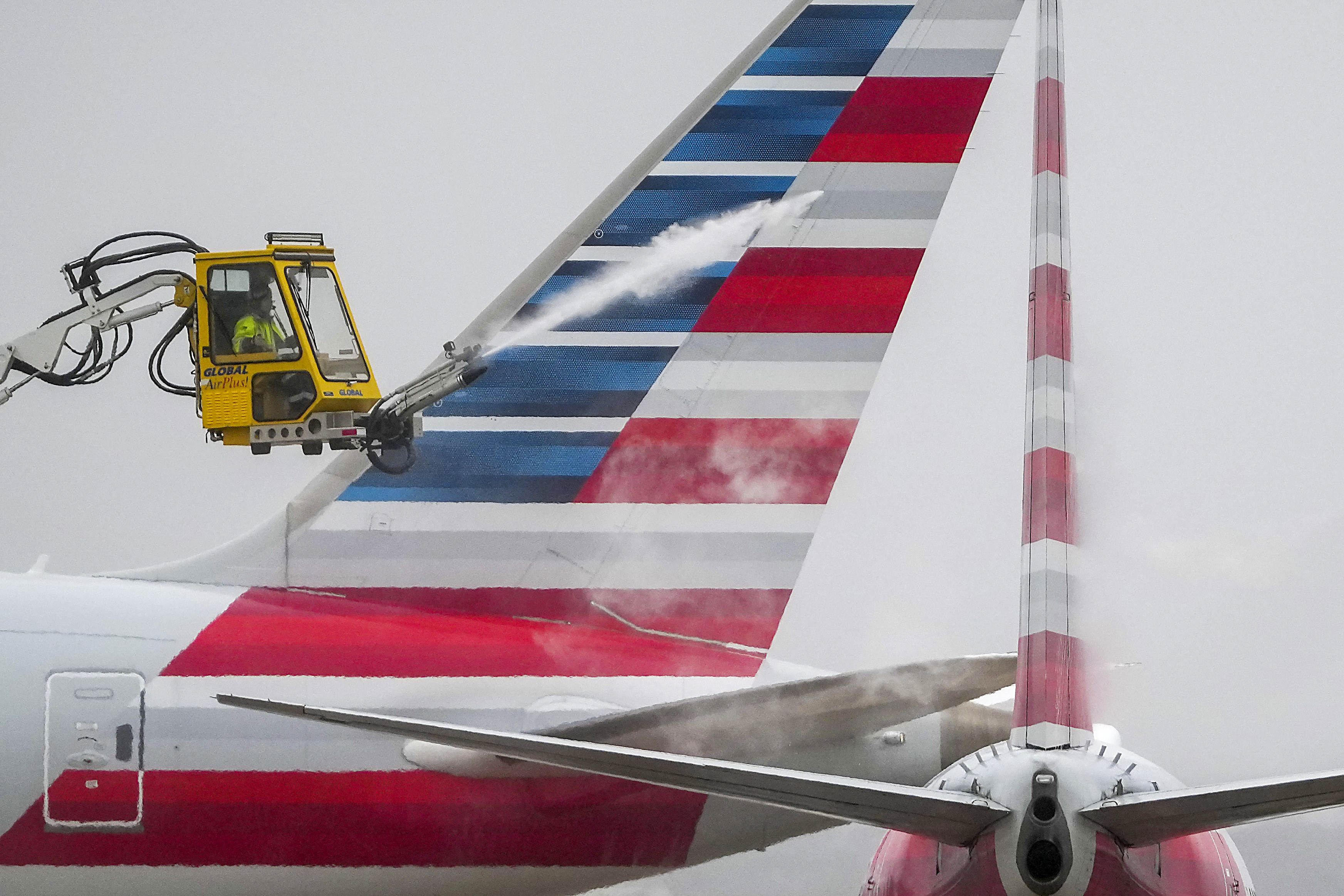 The flight disruptions follow Southwest's meltdown in December that began with a winter storm but continued after most other airlines had recovered. Southwest cancelled about 16,700 flights over the last 10 days of the year, and the US Transportation Department is investigating.
The weather service has issued a winter storm warning for a large swathe of Texas and parts of south-eastern Oklahoma and an ice storm warning across the midsection of Arkansas into western Tennessee.
A winter weather advisory is in place in much of the remainder of Arkansas and Tennessee and into much of Kentucky, West Virginia and southern parts of Indiana and Ohio.