US secretary of state Blinken urges Israel-Palestinian calm as violence soars
US secretary of state Antony Blinken has urged Israel and the Palestinians to ease tensions following a spike in violence that has put the region on edge.
The bloodshed has alarmed the Biden administration as it attempts to find common ground with Israeli Prime Minister Benjamin Netanyahu's new right-wing government.
Yet aside from appeals for de-escalation and restraint, Mr Blinken did not publicly offer any particular ideas for calming the situation and it was not immediately clear from his meeting with Mr Netanyahu that the administration would be proposing any.
Mr Blinken will meet on Tuesday with Palestinian leader Mahmoud Abbas.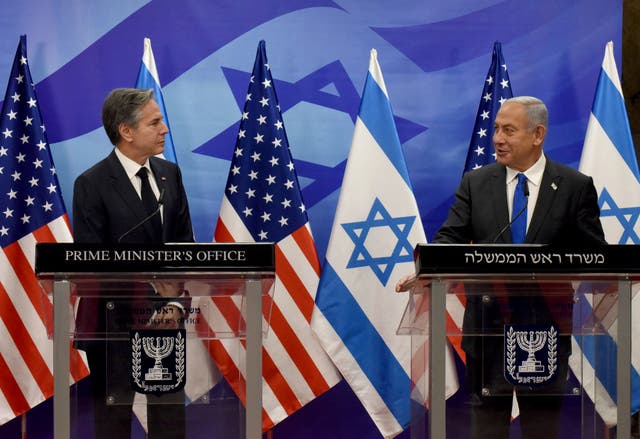 "We're urging all sides now to take urgent steps to restore calm, to de-escalate," Mr Blinken said after meeting Mr Netanyahu.
"We want to make sure that there's an environment in which we can, I hope at some point, create conditions where we can start to restore a sense of security for Israelis and Palestinians alike, which of course is sorely lacking."
Mr Blinken arrived during one of the deadliest periods of fighting in years in the occupied West Bank and east Jerusalem.
An Israeli military raid on Thursday killed 10 Palestinians in the flashpoint West Bank town of Jenin, while a Palestinian gunman killed seven people outside a synagogue in an east Jerusalem settlement on Friday.
The next morning, a 13-year-old Palestinian boy shot and wounded two Israelis elsewhere in east Jerusalem.
Mr Netanyahu made no reference to the recent flare-up in violence in brief comments after the meeting, instead speaking of the dangers to Israel posed by Iran and his hope for expanding the so-called Abraham Accords – normalisation agreements with several Arab countries.
"Expanding the circle of peace; working to close, finally, the file of the Arab-Israeli conflict, I think would also help us achieve a workable solution with our Palestinian neighbours," Mr Netanyahu said in his only mention of the Palestinians.
Mr Blinken was more forthright, saying the US supports the expansion of the Abraham Accords but that they cannot be a substitute for a two-state solution that resolves the long-running Israeli-Palestinian conflict.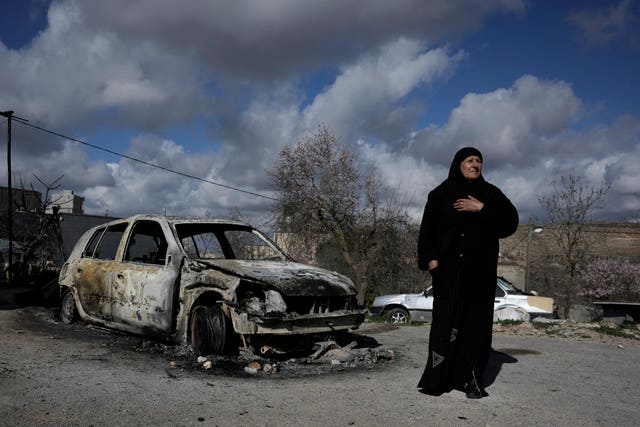 "These efforts are not a substitute for progress between Israelis and Palestinians, but as we advance Israel's integration we can do so in ways that improves the daily lives of Palestinians in the West Bank and Gaza," he said, adding that the best way to do that would be through a two-state resolution creating an independent Palestinian state alongside Israel.
Mr Netanyahu's government is dominated by far-right politicians who oppose Palestinian independence.
Following the weekend shootings, his government approved a series of punitive moves against the Palestinians, including plans to "strengthen" West Bank settlements.
The US, like most of the international community, considers Israeli settlements on lands claimed by the Palestinians for their state as obstacles to peace.
"Anything that moves us away from that vision is, in our judgment, detrimental to Israel's long-term security and its long-term identity as a Jewish and democratic state," Mr Blinken said.
Israel's options may be limited.
Both gunmen are believed to have acted individually and were not part of organised militant groups, and punitive steps against the broader population could risk triggering even more violence.
Just before meeting Mr Netanyahu, Mr Blinken said he arrived in Israel from Egypt at "a pivotal moment" and condemned Palestinian attacks that have targeted Israeli citizens.
But he also called for restraint in response, saying that all civilian casualties are deplorable.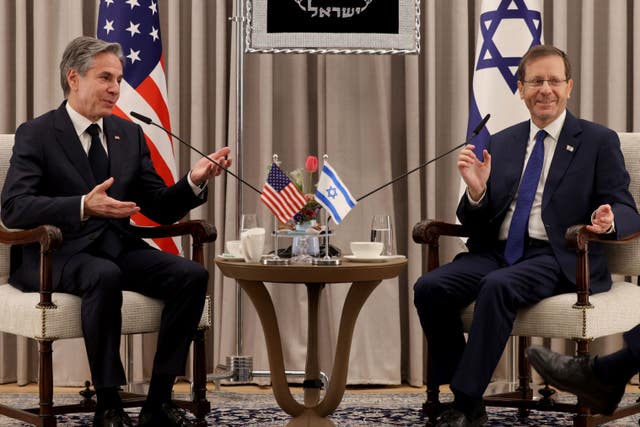 "To take an innocent life in an act of terrorism is always a heinous crime but to target people outside their place of worship is especially shocking," he said, referring to the Friday night shooting, which occurred on the Jewish sabbath.
"We condemn all those who celebrate these and any other acts of terrorism that take civilian lives no matter who the victim is or what they believe," he said.
"Calls for vengeance against more innocent victims are not the answer. And acts of retaliatory violence against civilians are never justified."
On Monday, shortly before Mr Blinken's arrival in Israel, the Palestinian Health Ministry said Israeli forces killed a Palestinian man in the flashpoint city of Hebron, bringing the toll of Palestinians killed in January to 35.
The violence comes after months of Israeli arrest raids in the West Bank, which were launched after a wave of Palestinian attacks against Israelis in the spring of 2022 that killed 19 people.
But it has spiked this month during the first weeks of Mr Netanyahu's new far-right government, which has promised to take a tough stance against the Palestinians and ramp up settlement construction.
Mr Blinken's trip follows visits to Israel by President Joe Biden's national security adviser Jake Sullivan and CIA director Willian Burns.
Mr Blinken's meeting was the highest-level US engagement with Mr Netanyahu since he retook power last month.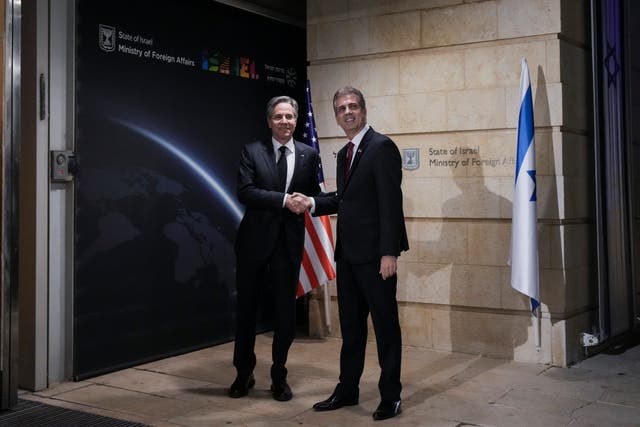 The visit, which was planned before the flare-up, was already expected to be fraught with tension over differences between the Biden administration and Mr Netanyahu's government, which is made up of settlement supporters.
Israeli Army Radio reported late on Sunday that the government was also set to approve a rogue outpost deep inside the West Bank, and speed up approval for other such small settlements.
Israel also arrested 42 Palestinians, some relatives of the Jerusalem attacker, in its investigation into the attack.
And the firebrand national security minister Itamar Ben-Gvir said he has ordered authorities to demolish illegally built Palestinian homes in east Jerusalem in response to the attack.
After the Jenin raid, the Palestinians said they would cancel security co-ordination with Israel.
The Palestinians believe the Israeli retaliation, including the demolition of homes of attackers' families, amounts to collective punishment and is illegal under international law.
The turmoil has added yet another item to Mr Blinken's lengthy diplomatic agenda in Jerusalem that was already set to include Russia's war on Ukraine, tensions with Iran and crises in Lebanon and Syria; all of which weigh heavily in the US-Israel relationship.
Easing strains on those issues, or at least averting new ones, are central to Mr Blinken's mission despite Mr Netanyahu's opposition to two of Mr Biden's main Middle East priorities: reviving the 2015 Iran nuclear deal and restarting Israeli-Palestinian peace talks.
But, with both of those matters stalled and little hope of any resumption in negotiations, the administration is attempting just to keep the concepts on life support.