Five Memphis police officers charged with murder of driver after traffic stop
Five fired Memphis police officers have been charged with murder and other crimes over the death of a black driver three days after a traffic stop.
Shelby County District Attorney Steve Mulroy told a news conference that although the officers each played different roles in the death of Tyre Nichols, "they are all responsible".
The officers, who are all black, each face charges of second-degree murder, aggravated assault, aggravated kidnapping, official misconduct and official oppression.
Video of the January 7 traffic stop will be released to the public sometime on Friday evening, Mr Mulroy said.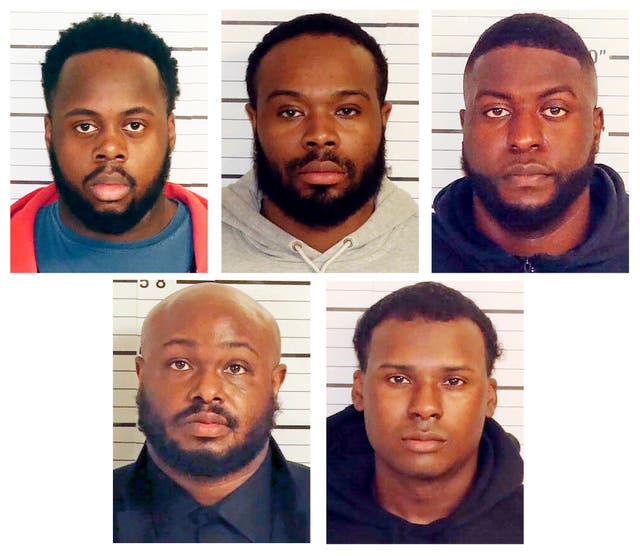 The victim's family and their lawyers said the footage shows officers savagely beating the 29-year-old FedEx worker for three minutes in an assault that the legal team likened to the infamous 1991 police beating of Los Angeles driver Rodney King.
His family urged supporters to protest peacefully.
Mr Nichols' stepfather, Rodney Wells, told The Associated Press by phone that he and his wife, RowVaughn Wells, who is Mr Nichols' mother, discussed the second-degree murder charges and are "fine with it". They had sought first-degree murder charges.
"There's other charges, so I'm all right with that," he said.
Asked about the kidnapping charges, the district attorney said: "If it was a legal detention to begin with, it certainly became illegal at a certain point and was an unlawful detention."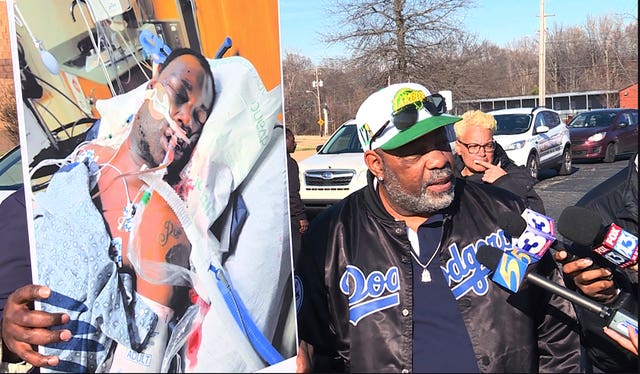 David Rausch, director of the Tennessee Bureau of Investigation, said he saw the video and found it "absolutely appalling".
"Let me be clear: What happened here does not at all reflect proper policing. This was wrong. This was criminal," Mr Rausch said during the news conference.
Court records showed that all five former officers — Tadarrius Bean, Demetrius Haley, Desmond Mills Jr, Emmitt Martin III and Justin Smith — were taken into custody.
Mr Martin's lawyer, William Massey, confirmed that his client had turned himself in. He and Mr Mills' lawyer, Blake Ballin, said their clients would plead not guilty. Lawyers for Mr Smith, Mr Bean and Mr Haley could not be reached.
"No one out there that night intended for Tyre Nichols to die," Mr Massey said.
Both lawyers said they had not seen the video.
"We are in the dark about many things, just like the general public is," Mr Ballin said.
Second-degree murder is punishable by 15 to 60 years in prison under Tennessee law.
Later on Thursday, Mr Nichols' mother and stepfather were joined by several dozen supporters on a cold night for a candlelight vigil and prayer service at a Memphis skate park. Mr Nichols, who had a four-year-old son, was an avid skateboarder.
His mother thanked those who attended, then added that her family is "grief stricken."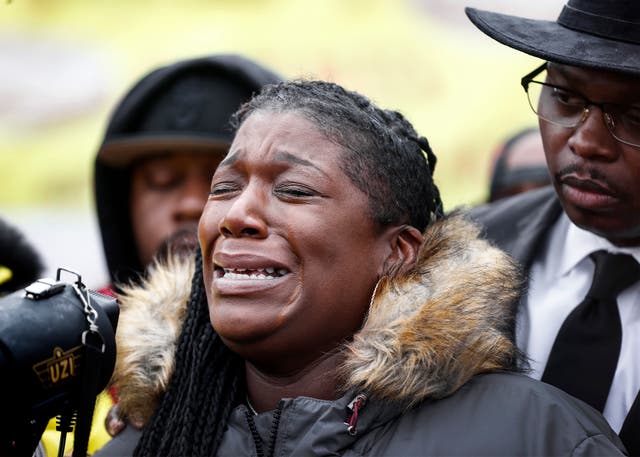 She warned supporters of the "horrific" nature of the video set to be released on Friday, but she pleaded with supporters to "protest in peace".
"I don't want us burning up our city, tearing up the streets, because that's not what my son stood for," she said.
"If you guys are here for me and Tyre, then you will protest peacefully. You can get your point across but we don't need to tear up our cities, people, because we do have to live in them."
The lawyers for Mr Nichols' family, Ben Crump and Antonio Romanucci, issued a statement saying that Mr Nichols "lost his life in a particularly disgusting manner that points to the desperate need for change and reform to ensure this violence stops occurring during low-threat procedures, like in this case, a traffic stop".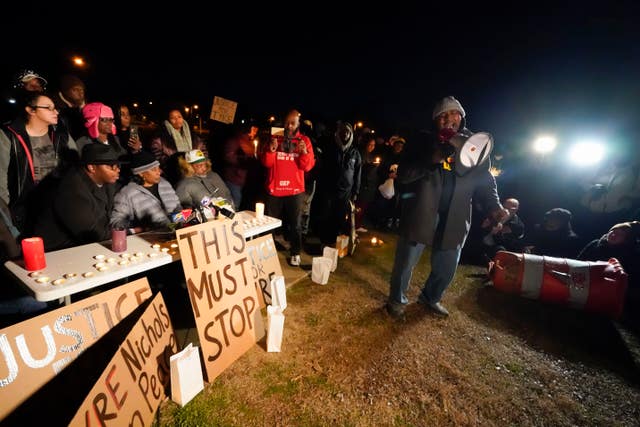 At the White House, President Joe Biden said the Nichols family and the city of Memphis deserve "a swift, full and transparent investigation".
"Public trust is the foundation of public safety, and there are still too many places in America today where the bonds of trust are frayed or broken," Mr Biden said in a statement.
The Memphis police chief has called the officers' actions that night "heinous, reckless and inhumane."
"This is not just a professional failing. This is a failing of basic humanity toward another individual," Memphis Police Director Cerelyn 'CJ' Davis said in a video statement released late on Wednesday on social media.
Ms Davis said the five officers found to be "directly responsible for the physical abuse of Mr Nichols," were fired last week, but other officers are still being investigated for violating department policy.