China suspends South Koreans' visas in seeming swipe over Covid tests on Chinese
China has suspended visas for South Koreans to come to the country for tourism or business in apparent retaliation for Covid-19 testing requirements on Chinese travellers.
Japan's Kyodo News service said the ban would also affect Japanese travellers.
A Japanese Foreign Ministry official said it was aware of the report and was holding unofficial discussions with Chinese authorities about possible measures being considered by Beijing.
It would be "regrettable" if restrictions are imposed, the official said.
A brief notice posted online by the Chinese Embassy in Seoul said the ban would apply until South Korea lifted its "discriminatory measures on entrance by China" to the country.
No other details were given, although China has threatened to retaliate against countries that require travellers from China to show a negative Covid test result taken within the previous 48 hours.
The regulation appeared to apply to new applicants and said nothing about South Koreans currently holding visas in Beijing and other Chinese cities where companies such as Hyundai and Samsung have a large presence.
In a phone call with South Korean counterpart Park Jin, Chinese foreign minister Qin Gang "expressed concern" about the measures taken by South Korea and said he "hopes that the South Korean side will uphold an objective and scientific attitude".
China's announcement appeared to be grounded on its demand for reciprocity in foreign relations.
Around a dozen countries have followed the US in requiring negative tests for travellers coming from China, which has lifted most of its "zero-Covid" restrictions for the first time in three years and has been experiencing a major outbreak since last month.
At a daily briefing, Foreign Ministry spokesperson Wang Wenbin defended China's anti-pandemic measures, adding: "Regrettably, a handful of countries, in disregard of science and facts and the reality at home, have insisted on taking discriminatory entry restriction measures targeting China. China firmly rejected this and took reciprocal measures."
Mr Wang did not respond directly to questions about the suspension of visa issuance to South Koreans and Japanese, saying only that he had "made it very clear".
Beijing has been accused by the World Health Organisation of withholding data on the state of the outbreak in China.
China abruptly reversed its strict pandemic containment requirements last month in response to what it says was the changing nature of the outbreak.
The move followed three years of lockdowns, quarantines and mass testing that prompted protests on the street in Beijing and other major cities not seen in three decades.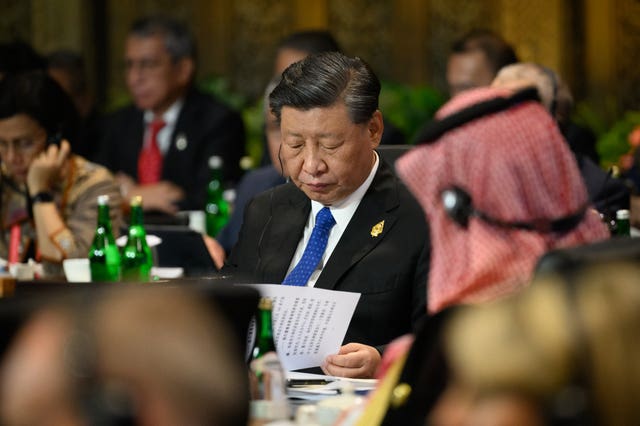 The most optimistic forecasts say China's business and consumer activity might revive as early as the first quarter of this year.
But before that happens, entrepreneurs and families face a painful squeeze from a surge in virus cases that has left employers without enough healthy workers and kept wary customers away from shopping malls, restaurants, hair salons and gyms.
The abrupt decision by President Xi Jinping's government to end controls that shut down factories and kept millions of people at home will move up the timeline for economic recovery, but forecasters say it might disrupt activity this year as businesses scramble to adapt.