Sunak tries to keep conference on course amid HS2 rows and Braverman protest
Rishi Sunak struggled to keep his Tory conference on track as rows continued over HS2 and an elected Conservative politician was thrown out for heckling the Home Secretary over gender issues.
The Prime Minister repeatedly ducked questions about the HS2 line from Birmingham to Manchester amid widespread expectation he will cancel it due to spiralling costs.
The Tory mayor for the West Midlands, Andy Street, said scrapping the scheme while holding a conference in Manchester would be "an incredible political gaffe".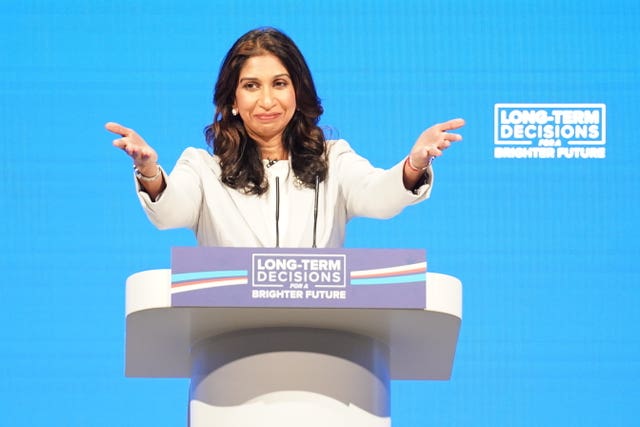 In the run-up to an election expected next year, Mr Street said it would give Labour the opportunity to claim Mr Sunak had decided to "shaft the north".
Meanwhile, the major speech of the day at conference by Suella Braverman was disrupted as London Assembly Member Andrew Boff was hauled out by security guards.
He told the PA news agency: "This Home Secretary was basically vilifying gay people and trans people by this attack on LGBT ideology, or gender ideology. It is fictitious, it is ridiculous.
"It is a signal to people who don't like people who are LGBT+ people."
The Prime Minister will deliver his own conference speech on Wednesday, and he could use it to axe the northern leg of the HS2 line.
The HS2 scheme was given a budget of £55.7 billion in 2015 but costs have ballooned, with an estimate of up to £98 billion – in 2019 prices – in 2020.
Since then, soaring inflation will have pushed costs even higher.
Questions about the project have overshadowed Mr Sunak's first party conference as Prime Minister, but the PM denied that proceedings in Manchester have been "chaotic".
In a series of broadcast interviews he refused to say what would happen to the line, but acknowledged the costs of HS2 had gone "far beyond" what had been predicted and the sums involved were "enormous".
He told Times Radio: "It's obviously not my money – it's taxpayers' money and we should make the right decisions on these things."
Transport Secretary Mark Harper acknowledged that "some people won't like" the decision Mr Sunak makes on the scheme.
Mr Street used a conference fringe event to issue a last-ditch plea for Mr Sunak to change course.
"I think they are about to make an incredible political gaffe," he warned.
"Every Labour MP in the North is lining up tomorrow to say … the Tories have come to Manchester to shaft the North.
"Is that really what we want to offer to our opponents or is there not a better answer?"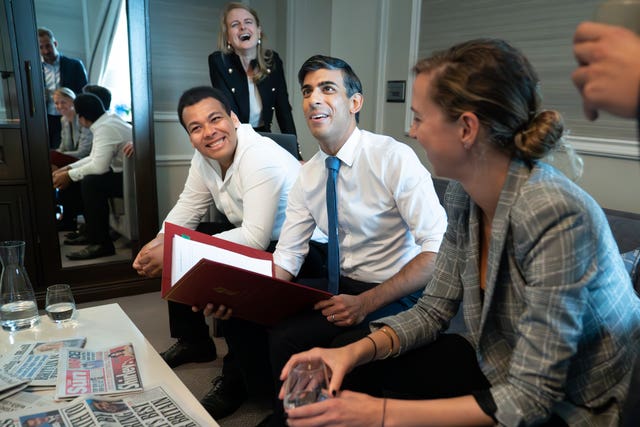 The Times reported that after intense lobbying from within his Cabinet he will say the line will terminate in Euston, in central London, rather than the western suburb of Old Oak Common.
An expanded Northern Powerhouse Rail project linking cities, and cash for potholes and bus routes, could be announced to sweeten the pill of curtailing the project feared to have spiralled past £100 billion.
Mr Sunak, whose Richmond constituency is in North Yorkshire, said: "I want people everywhere to feel that this Government is backing them… Just at this conference, we announced a billion pounds for 55 towns across the UK, including many in the North and Midlands, why?
"More people live in towns than in cities, they're often ignored by Westminster politicians… That's me backing millions of people across our Midlands and northern towns with the funding and tools they need to change their communities for the better."
This is likely to be Mr Sunak's last party conference before a general election, widely expected to be held next year.
Speaking to Sky News, he said he would be prime minister at the next Tory gathering.
But he also insisted that he "was going to do what I believe is right for the country in the long term".
Asked if he was willing to be unpopular to do that, he told BBC News: "I'm prepared to persuade people that what I'm doing is right."