Fundraising appeal launched as 5,300 feared dead in flood-hit eastern Libya
An emergency fundraising appeal has been launched by the British Red Cross in response to flooding in Libya which has killed thousands of people.
Emergency workers have uncovered more than 1,500 bodies in the wreckage of Libya's eastern city of Derna, and it was feared the toll could spiral with 10,000 people reported still missing after floodwaters smashed through dams and washed away entire neighbourhoods of the city.
The death toll in Derna alone has exceeded 5,300, the state-run news agency quoted Mohammed Abu-Lamousha, a spokesman for the east Libya interior ministry, as saying on Tuesday.
Derna's ambulance authority earlier put the toll at 2,300.
The British Red Cross has launched an appeal and said that three Libyan Red Crescent volunteers lost their lives while trying to save others.
Richard Blewitt, executive director of international for the British Red Cross, said: "The floods in Libya have caused a shocking level of destruction, thousands are thought to have died and thousands more are still missing.
"The priority right now is search and rescue so we can save as many lives as possible.
"Red Cross teams are responding, providing first aid to those that need it, searching for the missing and helping to reunite families.
"However, the situation is extremely dangerous and sadly, three Libyan Red Crescent volunteers lost their lives while trying to save the lives of others. Our thoughts are with their families and all the families who have lost loved ones in these floods.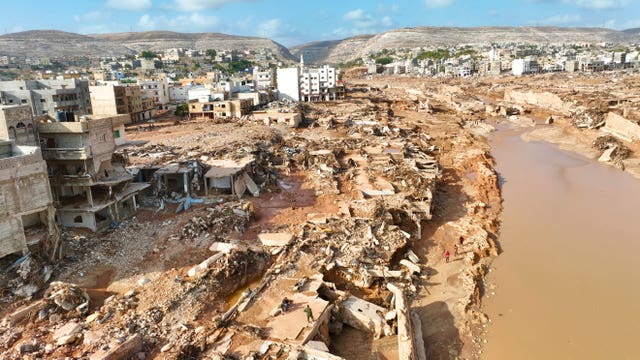 "We know times are hard for everyone right now but if you're able to, please donate to our emergency appeal to raise urgent funds for those affected."
It comes days after the charity launched an emergency fundraising appeal to provide humanitarian support for Morocco after the North African country was struck by a rare and powerful earthquake, killing at least 1,000 people.
To donate to the appeal for Libya, go to https://donate.redcross.org.uk/appeal/libya-floods-appeal or for postal donations: British Red Cross, Libya Floods Appeal, 44 Moorfields, London, EC2Y 9AL.