TUC leader attacks Government over immigration
The leader of the TUC has launched a scathing attack on the Government over its treatment of migrants, saying its response "shames" Britain.
In his first keynote speech to the TUC Congress since becoming general secretary, Paul Nowak said his roots stretch out across the world.
He told the Liverpool conference: "I am proud to be the grandson of immigrants. Proud of my family, and proud of the contribution that they and millions like them have made to this country.
"So, when I hear the Home Secretary talking of a 'migrant invasion', that her dream is to deport people to Rwanda, when I see immigrants housed on a barge with legionella, or hear that the immigration minister ordered a mural for kids painted over, for me it is personal.
"Because the real enemies of the working class don't arrive in a small boat, they fly in by private jet."
Mr Nowak said unions stand with all working people, wherever they were born and whatever their race.
"Every migrant is my sister, my brother, and this Government shames us all because our country should never turn its back on those fleeing persecution, poverty or war," he said.
Mr Nowak claimed "nothing works in this country anymore and no-one cares".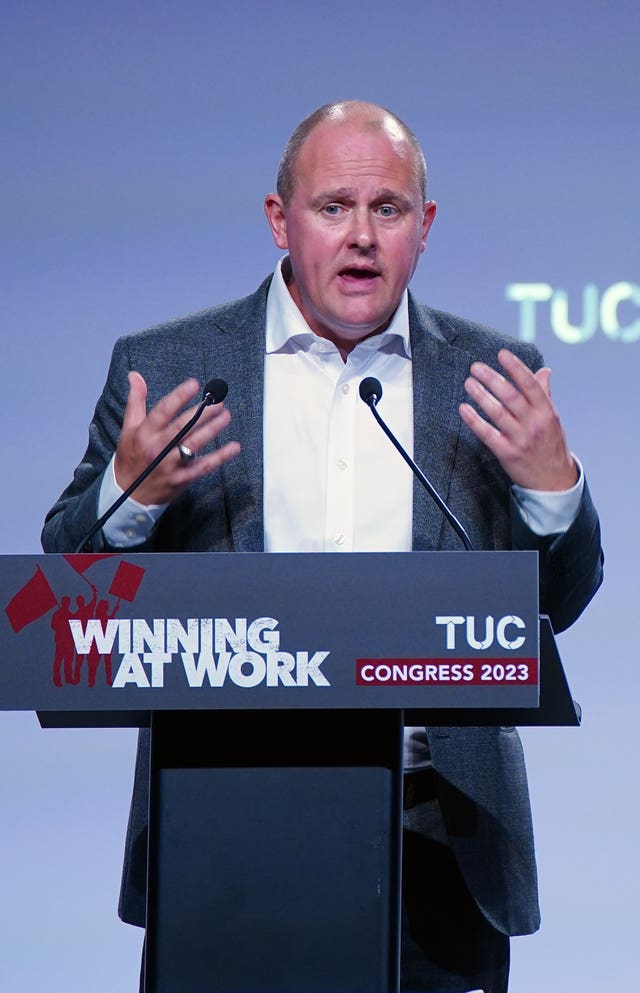 "They've had 13 years to sort out crumbling concrete in our schools, but five days before the new term they tell schools they can't open.
"Because – and I quote the Education Secretary – everyone 'sat on their arses'.
"Could you think of a more perfect metaphor for this Government? A crisis of their making, but someone else gets the blame.
"Yet, this Government that can't keep our rivers clean, or run trains on time, or run a functioning NHS can find time to attack the right to strike."
Mr Nowak condemned the controversial new law on strikes, which will be debated at the conference later on Monday.
"The right to strike is fundamental. Without the right to withdraw our labour, workers become disposable, replaceable and exploitable," he said.
"This new law isn't about preserving services for the public.
"It's about telling us to get back in our place and to not demand better.
"When the first worker is sacked for refusing to work on a strike day, we'll fight it in workplaces and on the picket lines.
"This movement will fight it every single day until it is repealed."
The TUC is reporting the Government to the United Nations workers rights' watchdog over the new law.
Mr Nowak said the union body would be lodging the case at the International Labour Organisation because the legislation on ensuring minimum levels of service during industrial action "falls far short" of international legal standards.