Amazon and eBay sellers refusing to ship to Northern Ireland due to Brexit rules, ministers warned
Post-Brexit trade rules are costing Northern Ireland's small businesses and consumers the ability to "shop around", with Amazon and eBay sellers refusing to ship there, ministers have heard.
DUP MP Jim Shannon warned that Northern Ireland continues to be treated differently under arrangements with the EU to the detriment of shoppers.
Current trade arrangements mean goods travelling from Britain to Northern Ireland have to undergo rigorous checks.
The Windsor Framework negotiated by Rishi Sunak earlier this year will introduce a smoother process without checks on most goods, known as the "green lane".
The new system set to be fully implemented by 2025, and goods travelling on to the Republic will continue to undergo checks.
Unionist politicians have refused to return to power sharing in Stormont over concerns about the Windsor Framework.
Read More:
Strangford MP Mr Shannon said: "With a number of constituents and consumers contacting me to highlight that many eBay or Amazon providers will not ship to Northern Ireland any longer – as they state they can't afford the enhanced fees demonstrating that Northern Ireland is absolutely continuing to be treated differently and is costing small business and individuals the ability to shop around – what steps can the secretary of state take to revisit the framework with the EU counterparts to ensure free and fair trade throughout the United Kingdom that is clear and easy to follow for all businesses?"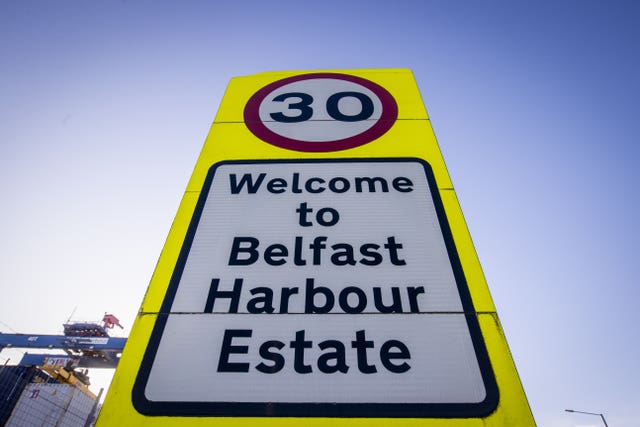 Northern Ireland minister Steve Baker replied: "Under the (Northern Ireland) protocol as it was, all parcels would have needed to complete full international customs processes and I believe that those suppliers to whom he refers will be making their plans under the protocol as it was.
"I can tell him that under the Windsor Framework parcels to consumers will not be subject to those burdensome processes and he reminds us all that we need to redouble our efforts to communicate to suppliers that they will be able to take advantage of the new green lane and supply to consumers in Northern Ireland."
Elsewhere in the debate, Mr Baker claimed that renegotiating the way Northern Ireland's public services receive funding from the Treasury, the Barnett Formula, would not be a "silver bullet" to get the devolved government back up and running.
The DUP have previously suggested renegotiating the formula could help revive struggling public services.
Conservative MP Aaron Bell (Newcastle-under-Lyme) said: "Some have suggested that we could reform the Barnett Formula to address the sustainability of public finances in Northern Ireland, but does he agree with me that that is not a silver bullet and that there will need to be trade-offs made in order to fund public services?"
Mr Baker said: "While of course we will remain open to discussing proposals put to us by the Northern Ireland parties, it would not be a silver bullet to reform the Barnett Formula and an executive will still need to make trade-offs where it decides to spend scarce resources.
"Negotiations between the Welsh Government and the Treasury on a fiscal framework which included an adjustment to the Barnett Formula took place over seven years. So it is not an issues which could be solved overnight, with the best will in the world.
"What we do need is a functioning executive, we stand ready to work with that execute and in the meantime we will continue to engage with Northern Ireland's civil service on a range of measures which could improve fiscal sustainability."
Secretary of State Chris Heaton-Harris meanwhile told MPs that negotiations on getting the DUP to return to power sharing continue, after shadow Northern Ireland secretary Hilary Benn questioned him about progress.
"I say to him, just because you can't see it, doesn't mean it is not happening," Mr Heaton-Harris said.