Museum's slave trade origins explained in new exhibition
A museum that was founded using profits from the transatlantic slave trade is shining a light on this aspect of its history in a new exhibition.
Luke Syson, director of Cambridge's Fitzwilliam Museum, said the Black Atlantic: Power, People, Resistance exhibition was "an important moment in the history of the Fitzwilliam".
It explains how the museum was founded with a bequest from former Cambridge University student Viscount Richard Fitzwilliam, who died in 1816 aged 70.
He left a large sum of money and an art collection in his will, and the museum is named after him.
The new exhibition explains how a significant part of Fitzwilliam's wealth and art collection was inherited from his grandfather Matthew Decker.
Decker was a prominent Dutch-born British merchant and financier who in 1700 helped to establish the South Sea Company.
This company obtained exclusive rights to traffic African people to the Spanish colonial Americas.
The exhibition reflects on these origins and features works made in West Africa, the Caribbean, South America and Europe.
Mr Syson said: "Black Atlantic: Power, People, Resistance is an important moment in the history of the Fitzwilliam.
"Reflecting on the origins of our museum, the exhibition situates us within an enormous transatlantic story of exploitation and enslavement, one whose legacy is in many ways as pervasive and insidious today as it was in the 17th, 18th or 19th century.
"Our exhibition is greatly indebted to the contemporary artists whose work is featured.
"They have looked to the past to imagine a different future.
"By showing their works with significant historical objects, from Cambridge and leading institutions across Britain and elsewhere in Europe, we are rethinking our shared histories to help us consider the ways we can contribute to a better, repaired world, in which principles of equity are enshrined."
Historic pieces will be exhibited in dialogue with works by modern and contemporary Black artists, including Donald Locke, Barbara Walker, Keith Piper, Alberta Whittle and Jacqueline Bishop.
The museum said that these "challenge and reflect on hidden and untold histories, and reveal acts of courage, resistance, hope and repair".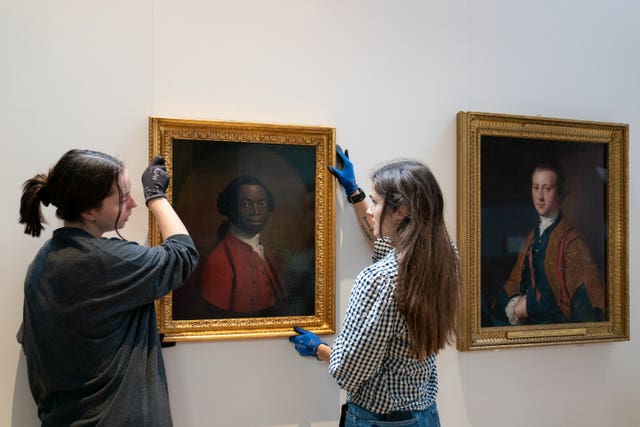 The exhibition, presented in four sections, includes a rare loan from the Rijksmuseum in Amsterdam, in the Netherlands.
Jan Jansz Mostaert's Portrait of an African Man, c.1525-30, is described as the earliest individual portrait of a black person in European art.
Also on display will be Portrait of a Man in a Red Suit, c.1740-80, which is being lent by the Royal Albert Memorial Museum and Art Gallery in Exeter.
This is a depiction of a black man at the height of the transatlantic slave trade and is hung next to the portrait of the Fitzwilliam's founder also painted in the 18th century.
Black Atlantic: Power, People, Resistance will run from September 8 to January 7.