First asylum seekers expected 'imminently' on Bibby Stockholm barge
The Bibby Stockholm barge could house 500 asylum seekers by the end of the week, a Home Office minister has said.
The first arrivals at the accommodation vessel moored in Portland Port, Dorset, could come on Monday, although the Home Office's Sarah Dines would only say it will be in use "imminently".
She confirmed "all possibilities" for tackling the migrant crisis are being examined, following reports that the Government is considering reviving plans to fly people who arrive by unauthorised means 4,000 miles to Ascension Island.
Read more: Ascension Island: What to know about potential migrant processing centre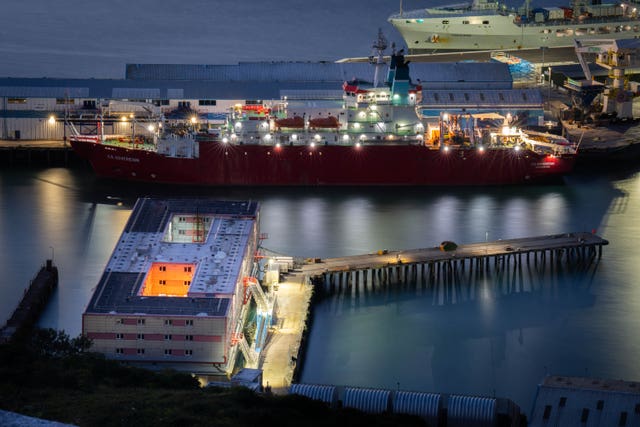 The Bibby Stockholm accommodation barge will be in use 'imminently', a Government minister has said (James Manning/PA)
Plans to house asylum seekers on the barge in Dorset have been repeatedly delayed, but Ms Dines told BBC Radio 4's Today programme: "We're expecting pretty soon, imminently this week, in the coming days that people will be on the Bibby Stockholm.
"For operational reasons, you wouldn't expect me to confirm the hour or the day but it is pretty soon."
While only a small number of migrants are expected to be housed on the barge at first, Ms Dines indicated it could increase rapidly to its capacity of around 500 males.
Pressed on whether all of them could be on board by the end of the week, Ms Dines said: "Yes, quite possibly it will be 500. We are hoping."
The Government hopes the use of the barge and former military bases to house asylum seekers will reduce the cost of hotel bills.
Ms Dines said those arriving in the country via unauthorised means should have "basic but proper accommodation" and that they "can't expect to stay in a four-star hotel".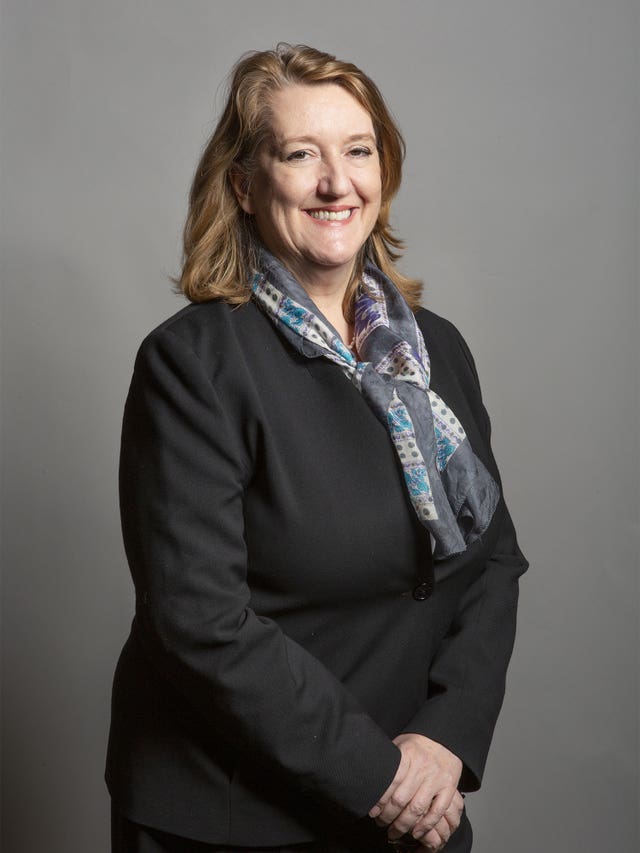 Home Office minister Sarah Dines defended the Bibby Stockholm plan (David Woolfall/UK Parliament/PA)
Meanwhile, other measures being considered to deter people from crossing the English Channel in small boats include the revival of previously-dropped plans to send asylum claimants to Ascension.
The proposals to use the British Overseas Territory are apparently being considered by ministers and officials as a "Plan B" if the Rwanda scheme fails.
The volcanic island in the South Atlantic could house an asylum processing centre.
The plans to remove asylum seekers who arrive by unauthorised means to Rwanda have been stalled by legal challenges that will end up in the Supreme Court.
Asked why the Ascension Island plan is being reconsidered after seemingly being rejected by Boris Johnson's government, Ms Dines said "times change".
Speaking to Sky News, the safeguarding minister said: "We look at all possibilities. This crisis in the Channel is urgent – we need to look at all possibilities and that is what we are doing.
"We are determined to make sure there isn't the pull factor for illegal migrants to come to this country, basically to be abused by criminal organised gangs.
"These are international operations and they have got to stop."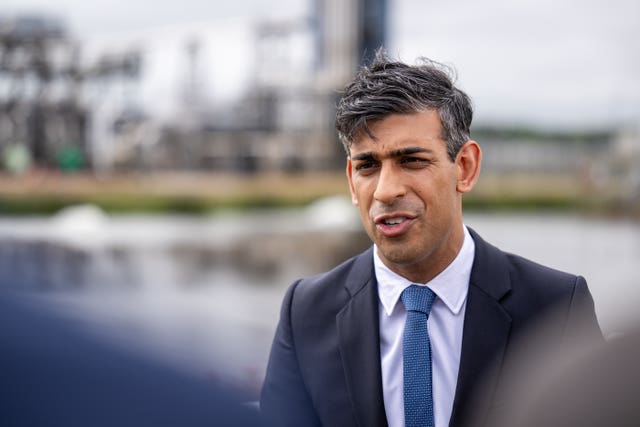 Prime Minister Rishi Sunak has promised to 'stop the boats' (Euan Duff/PA)
The developments came during the Government's "small boats week", in which it is making a series of announcements on the issue that Prime Minister Rishi Sunak has promised to solve.
Fines for employers and landlords who allow people who arrive by irregular means to work for them or live in their properties are to be hugely increased.
Civil penalties for employers will be increased up to a maximum of £45,000 per worker for a first breach and £60,000 for repeat offenders, tripling both from the last increase in 2014.
Landlords face fines going from £1,000 per occupier to £10,000, with repeat breaches going from £3,000 to £20,000. Penalties relating to lodgers will also be increased.