Tory London mayoral candidate Susan Hall 'has Rishi Sunak's full support'
Rishi Sunak "fully supports" the Conservative candidate for the 2024 London mayoral election, according to the Prime Minister's spokesperson.
But Rishi Sunak's press secretary distanced him from some of Susan Hall's political views, including on last year's controversial mini-budget.
Ms Hall, a 68-year-old London Assembly member, was selected as the candidate to face Labour incumbent Sadiq Khan at an event in Uxbridge on Wednesday.
After the announcement, the Prime Minister's press secretary said of Ms Hall: "She has shown great commitment to bettering London with the Conservatives and highlighting the many failures of Sadiq Khan, including his desire to charge people £12.50 a day – as the Prime Minister said – just to visit their GP.
"She has the full support of the PM."
Mr Sunak has not met Ms Hall recently, but the press secretary said "I believe he has" met her in the past.
Asked whether the Prime Minister agreed with Ms Hall's support of Liz Truss's mini-budget in 2022, the press secretary said: "He (Mr Sunak) has made the point that unfunded tax cuts and increased borrowing would fuel inflation.
"Since he has been Prime Minister, he has taken a different approach and has done the right thing, and you can see from the statistics today that the plan is working."
Asked if Mr Sunak agreed with Ms Hall's comparison between Donald Trump supporters storming the US Capitol in Washington and Remainers refusing to accept the result of the Brexit referendum, she said: "I don't think the Prime Minister would characterise it in that way."
Ms Hall told the PA news agency she would not apologise for her support of Ms Truss's financial plans, adding: "I'm a low-tax Tory, which is why I supported her. Things did not go as they should have done, and I accept that unreservedly.
"I don't apologise because I wasn't a part of it, and I will never apologise for being a low-tax Tory because that's what I am. The implementation of what (Liz Truss) said she was going to do was not right, and I fully accept that."
Ms Hall promised to scrap plans to expand the Ulez (ultra-low emission zone) on her first day, if elected.
She defeated opponent Mozammel Hossain with 57% of the vote from London Tory members, to challenge Mr Khan.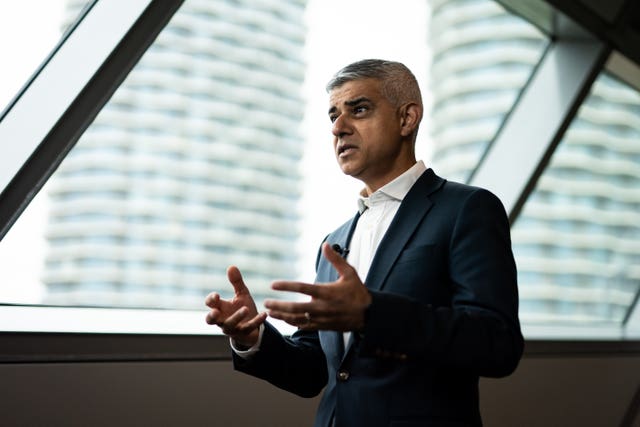 The mother of two said the Labour mayor, who she will face on May 4 next year, has had no significant achievements during his time in office and has no "interest in loving others".
"He (Sadiq Khan) goes on trips while young people get stabbed on our streets," she said.
"He's more interested in selling his book than he is helping Londoners with the cost of living.
"When things go wrong, he hires an army of spin doctors to convince you it's actually not his fault.
"I'll do whatever it takes to win."
London Labour called Ms Hall a "hard-right politician" who does not "stand up for women".
"The Conservative candidate for mayor is a hard-right politician who couldn't be more out of touch with our city and its values," a spokesman said.
"She's an outspoken supporter of (Donald) Trump, Boris Johnson and a hard Brexit; she cheered Liz Truss's mini-budget, which sent mortgages and rents soaring.
"She doesn't stand up for women and she hates London's diversity.
"Londoners deserve better than a candidate who represents the worst of the Tory failure and incompetence over the last 13 years.
"The London election next year will be a two-horse race and the choice is clear – a Labour mayor with a positive vision, who will continue to build a fairer, greener and safer London for everyone, or the extreme Tory candidate, who stands for cuts to London's public services, inequality and division."
A poll published by Survation in June showed Mr Khan 12% ahead of the Tories in the mayoral race.
The Liberal Democrats will announce in September whether Rob Blackie or Chris French will be their mayoral candidate.