Labour will always invest in public services, says Starmer amid union pressure
Sir Keir Starmer has refused to commit to further spending under a Labour government amid growing calls from unions, including the party's biggest donor, for him to back more of their policy priorities.
The Labour leader reaffirmed his defence of the party's focus on economic responsibility but said it will not hinder "bold and reforming" policies.
Touring broadcast studios on Sunday, Sir Keir confirmed that he would not change the Conservatives' two-child benefit cap and said he would wait until closer to the general election to announce Labour's approach to housing allowance, which has been frozen since 2020.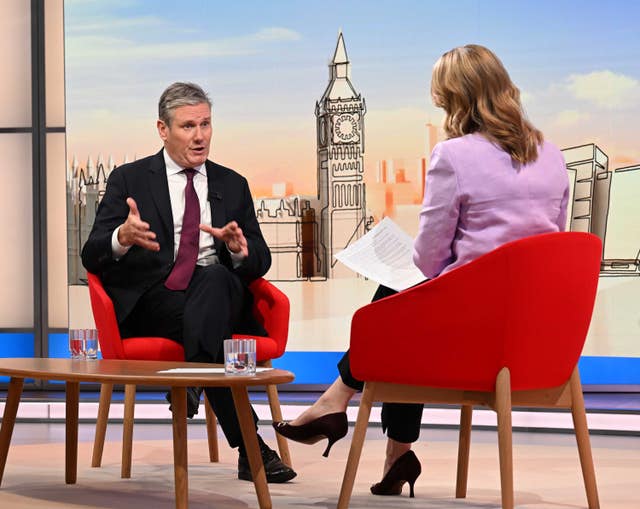 Pressed on whether Labour would spend more in power, he told the BBC's Sunday with Laura Kuenssberg programme: "A Labour government always will invest in our public services."
Asked whether he is relaxed about being called a "fiscal conservative", he replied: "I don't mind what label people put on me. I do want to make my argument.
"My argument is this: What was absolutely plain from last year's mini-budget is if you lose control of the economy it's working people who pay."
It came as general secretary of the Rail, Maritime and Transport (RMT) union Mick Lynch said people cannot "spot the difference" between the two main parties anymore.
"He (Sir Keir) won't dare mention the word 'socialism'," he told Sky News' Sophy Ridge on Sunday.
"I want to hear that word mentioned frequently, and I want to see a redistribution of wealth in our society, because there are a lot of very wealthy people and there are too many very poor people.
"And now people in the middle are being squeezed as well, with rents and mortgages skyrocketing. He doesn't seem to be on the side of the people of this country."
Labour also faced pressure over the weekend from Sharon Graham, head of Unite, who warned there will be "no blank cheque" for the party and urged it to be "bolder".
The union, which is the UK's second largest and Labour's biggest financial backer, wants renationalisation of steel and energy companies to be near the top of the party's priority list, the BBC reported.
Sir Keir has been emphatic about prioritising "financial responsibility" over reckless spending as Labour seeks to reassure voters it can manage the economy.
But he said on Sunday that this would not prevent the party from introducing bold reforms, including to the planning system.
"I'm not going to put an arbitrary figure on it but we need hundreds of thousands of more houses. I won't shy away from it," he told the BBC.
In an effort to distance the party from environmental campaign group Just Stop Oil, with which it shares a mutual donor, Sir Keir also denied that officials had met representatives.
He branded reports that Labour is engaging with the activists "nonsense", adding: "There's a right to protest but it's not an absolute right."