Banks set for meeting with financial regulator over 'profiteering' claims
Banks have been accused by a Government minister of "profiteering" by failing to pass on interest rate increases to savers while hiking the cost of mortgages.
Top bankers have been summoned to a meeting with the financial watchdog to discuss concerns about the treatment of savers.
In a sign of the concern felt in Government about the situation, Veterans minister Jonny Mercer said "it does sound like profiteering".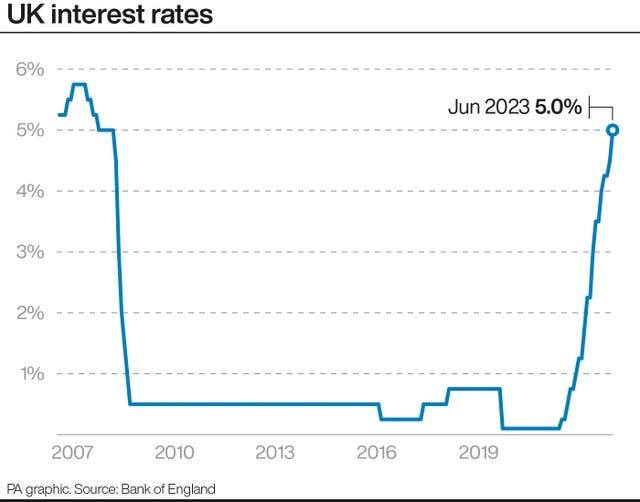 The Financial Conduct Authority (FCA) expects chief executives from HSBC, NatWest, Lloyds and Barclays to attend on Thursday, despite suggestions from Downing Street the showdown could come as soon as Tuesday.
Mr Mercer told Sky News: "Interest rates are going up and the Government wants to see those passed on to savers.
"You don't want to see any profiteering like this, particularly when life is really tough for people out there at the moment around interest rates.
"It doesn't sound good and I suspect the Treasury will look at it today."
Asked whether the banks' behaviour amounted to profiteering, the Prime Minister's official spokesman said: "It's something the regulator is looking into."
He said the FCA would "explore how well banks are supporting savers and if they are passing through interest rates as they should be doing".
There is also parliamentary pressure on the banks after the Treasury Select Committee wrote to the four biggest lenders demanding answers to their concerns that saving rates are "too low" in the light of the base interest rate reaching 5%.
Tory Dame Andrea Leadsom, the former Cabinet minister who sits on the committee, said that "it's quite clear they have failed to pass on the rise in interest rates to savers".
Labour colleague Dame Angela Eagle added: "This blatant profiteering has been shocking, and it's clear to me this behaviour is miles away from the incoming requirement for firms to treat their customers fairly and with respect."
From the end of July, a new consumer duty will be introduced to force financial firms to put consumers at the heart of what they do.