Covid-19 inquiry: Scotland had no plan to deal with non-flu pandemic – Sturgeon
Scotland had no plan for a non-flu pandemic, Nicola Sturgeon has told the Covid-19 inquiry.
Scotland's first minister at the time of the Covid-19 pandemic said there was "thinking" around high consequence infectious diseases which were not flu.
Giving evidence in person at the inquiry in London, she said: "What there wasn't, and I think this is the significant gap, is there was no set plan, and as I say that's not the same as saying there was no thinking, into how we dealt with a pandemic that has the features and characteristics of flu in terms of the transmissibility but also the severity and, what we came to understand in terms of the symptomatic transmission, of Covid-19."
She added: "The questions in my mind, literally every day, are not so much did we lack a plan but did we lack capabilities for dealing with a pandemic of the nature of Covid-19.
"And obviously I'm talking about there about contact tracing, testing, infrastructure in particular."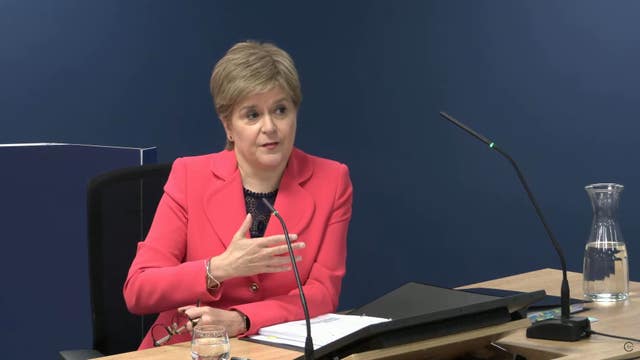 Ms Sturgeon said she "deeply regrets" having to divert resources from emergency planning to plan for the possibility of a no deal Brexit.
She said: "We had no choice but to do that planning. I deeply regret any consequences that had for our emergency planning in other areas."
Questioned if this was a "false economy", she said: "I think every aspect of Brexit has been a false economy."
She was then warned she was in a "witness box, not a soap box".
At the start of her evidence, she said: "Every day, the government I led did our best to take the best possible decisions, but equally we did not get everything right."
Ms Sturgeon offered her "sympathies and condolences to all those who suffered as a result of the Covid-19 pandemic".
She said learning from the pandemic is of "critical importance".
Earlier, Sir Jeremy Farrar, a former member of the Scientific Advisory Group for Emergencies (Sage), which advised the UK Government during the pandemic, gave evidence.
He said having a so-called "red team" to constructively challenge scientific thinking "from the outside", could add a different perspective to a pandemic response in the future.
He said this system worked well when he was part of a similar enterprise in the US.
Former Wellcome director Sir Jeremy said that Independent Sage – set up by former chief scientific adviser to the UK Government, Sir David King – tried to work like a red team "but unfortunately, for reasons others can debate, sometimes it became more confrontational than perhaps was constructive".
Ms Sturgeon's evidence will be followed by that of former deputy first minister John Swinney.
On Wednesday, senior Scottish Government officials began giving evidence to the inquiry.
Former Scotland health secretary Jeane Freeman said that, while Scotland could have better handled the pandemic, there was ultimately "no plan" that could have helped the country cope with Covid.
"There were certainly areas where Scotland could have been better prepared in terms of the underlying structure and delivery of all those recommendations," she said.
"But Scotland, like other countries throughout the world, was dealing with a virus which was unknown and new.
"So, in that sense, I don't believe there is a plan that would have been possible that would have been able, in and of itself, to cope with Covid-19."