What is Windrush Day and how will the 75th anniversary be marked?
Events are taking place on Windrush Day to mark the 75th anniversary of the arrival of the first ship carrying Caribbean families to the UK to help fill the need for more workers after the Second World War.
Here is all you need to know:
– What is the Windrush?
The HMT Empire Windrush first docked in England on June 22 1948 at Tilbury Docks in Essex, bringing people from the Caribbean who answered Britain's call to help fill post-war labour shortages.
– What is the scandal associated with it?
In April 2018 it emerged that some immigrants who arrived legally in the UK between the late 1940s and early 1970s were facing deportation and being denied access to healthcare due to paperwork issues.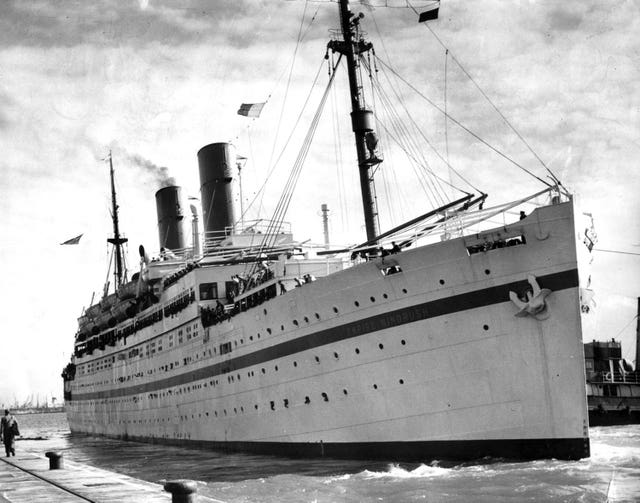 Officials were forced to defend a decision to destroy thousands of landing card slips recording the arrival of Windrush generation immigrants into the UK.
The Home Office apologised, Amber Rudd lost her job as home secretary and Sajid Javid was drafted in, becoming the first person from an ethnic minority background to head the Home Office.
– Whose fault was it?
A 2020 report said the scandal was "foreseeable and avoidable" and victims were let down by "systemic operational failings" at the Home Office.
Campaigner Patrick Vernon said the fallout should be referred to as the Home Office scandal rather than the Windrush scandal.
The author of the Windrush Lessons Learned Review, Wendy Williams, described a "culture of disbelief and carelessness" at the department which she said was "born out of a conviction that the hostile environment policy would be effective, was effective, and should be pursued at all costs".
She said the Windrush group had been "trapped by the hostile environment policy net".
Ms Williams made 30 recommendations including for Home Office ministers to admit that serious harm was inflicted on people who are British and to provide an "unqualified apology" to those affected and the wider black African-Caribbean community.
Other recommendations included commissioning a full review and evaluation of the hostile environment policy and that the Home Office should establish an overarching strategic race advisory board.
– Have all the recommendations been accepted?
They were, but then they weren't.
All were originally accepted by Priti Patel when she was home secretary.
But in January it emerged Home Secretary Suella Braverman had decided to drop three of the 30, something Windrush campaigners called a "slap in the face".
The Government has been criticised for deciding against recommendations to establish a migrants' commissioner; increase powers of the independent chief inspector of borders and immigration; and to hold reconciliation events.
Ms Braverman has defended this move, telling ITV on the eve of the Windrush 75 anniversary: "We are exposing ourselves to heightened and incredibly rigorous levels of scrutiny. We have an independent examiner of complaints, a body that's been recently instituted, which is there to examine and provide checks and balances on our system."
– Have people been compensated for the effects on their lives?
When she was prime minister, Theresa May announced a compensation scheme to pay those affected.
The scheme is available to people of all ages and nationalities, including those from African, Asian and Caribbean backgrounds who had suffered due to being unable to prove their legal right to live in the UK.
Victims need to submit a claim form and evidence to support their application.
Compensation starts at a minimum of £10,000 and can go up to £100,000 or more.
– Has it been successful?
The latest Government figures show that as of May £75.0 million had been offered, with £62.7 million of that paid out.
But the scheme has faced criticism for being complex, too slow and inefficient.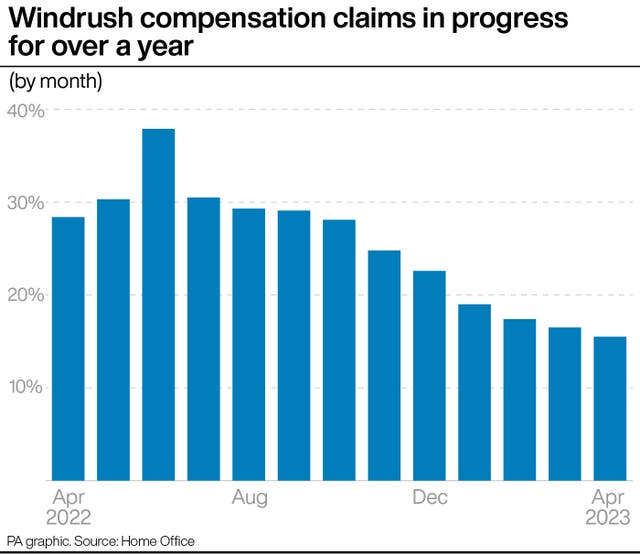 Analysis by the PA news agency of the most up-to-date figures published on Wednesday showed that of the 2,138 claims in progress as of May, 302 (14%) had been in the system for at least 12 months, including 154 for more than 18 months.
The Home Office has said it remains "absolutely committed to righting the wrongs of the Windrush scandal" but recognised there is "more to do" when it comes to the compensation scheme.
Home Secretary Suella Braverman said changes had been made to simplify the scheme for users.
She also maintained it should be kept under the Home Office remit, despite calls to have it handled independently due to a belief there remains a lack of faith in the department among victims of the scandal.
– How is Windrush 75 being marked?

Events are taking place across the country including in Birmingham, Leeds, Manchester, Bradford, Bristol, Ipswich, Edinburgh and Cardiff.
The Windrush flag is being raised in more than 200 locations including at the Houses of Parliament and the Home Office; all Network Rail stations; more than 20 hospitals and NHS sites; around 50 local authorities; and at dozens of churches, schools, universities, theatres and community organisations.
The King is attending a service in Windsor for young people, while a separate thanksgiving service will be held at Southwark Cathedral.
A day-long programme of events is taking place at the Port of Tilbury in Essex, where Windrush first arrived – including a dawn chorus performed by schoolchildren and a steel pan band welcoming 100 NHS workers and 100 people with Windrush connections who are due to arrive by Thames Clipper in the afternoon.