Ian Wright, Anna Wintour and Ian McEwan in King's first Birthday Honours list
Footballer Ian Wright, fashion editor Dame Anna Wintour and author Ian McEwan are among the famous faces recognised in the King's first Birthday Honours list.
The highest awards went to Vogue editor-in-chief Dame Anna and Booker Prize-winning novelist McEwan, who were made Companions of Honour alongside Professor Sir John Bell, regius professor of medicine at the University of Oxford.
In the showbiz world, Line Of Duty actress Vicky McClure, television presenter Davina McCall and veteran broadcaster Ken Bruce were made MBEs.
Meanwhile, former England and Arsenal footballer-turned-pundit Wright was made an OBE, while late author Sir Martin Amis was knighted a day before he died last month aged 73.
McEwan told the PA news agency: "News of the honour, in a letter from the Cabinet Office, was a complete surprise and, naturally, I was delighted.
"I guess it amounts to a really good review. I'm now entering my 54th year of writing fiction. As all dedicated writers know, a literary life is not a career so much as a way of being.
"The task in hand, the novel one is trying to create, is always there, a constant and intimate companion.
"The writers who precede me in this award have long been companions too – Maugham, Greene, Larkin, Pinter, Margaret Atwood, Antonia Fraser, and my friend Salman Rushdie. Truly, a companionable honour."
Bruce labelled the honour a "great surprise and privilege", while McCall said: "I can't believe it. It's a great honour and it really means a great deal."
Former Rangers footballer and manager John Greig was made a CBE while former Manchester United defender Jonny Evans and ex-Lionesses striker Eniola Aluko became MBEs.
MI6 chief Sir Richard Moore and Labour former minister Sir Ben Bradshaw were knighted and Conservative MPs John Baron, Bob Blackman, Damian Collins and Heather Wheeler were also recognised.
Sir Richard said: "This is a huge honour and a proud day for me."
The brother of murdered Iraq hostage Ken Bigley was made an OBE for his work to support individuals and families affected by kidnapping incidents overseas.
Philip Bigley said: "I am both shocked and honoured to have been nominated for this award, which I graciously accept in memory of my brother, Ken, and on behalf of our family.
"I wish to thank the many inspirational people at Hostage International that dedicate themselves to helping those affected by kidnap."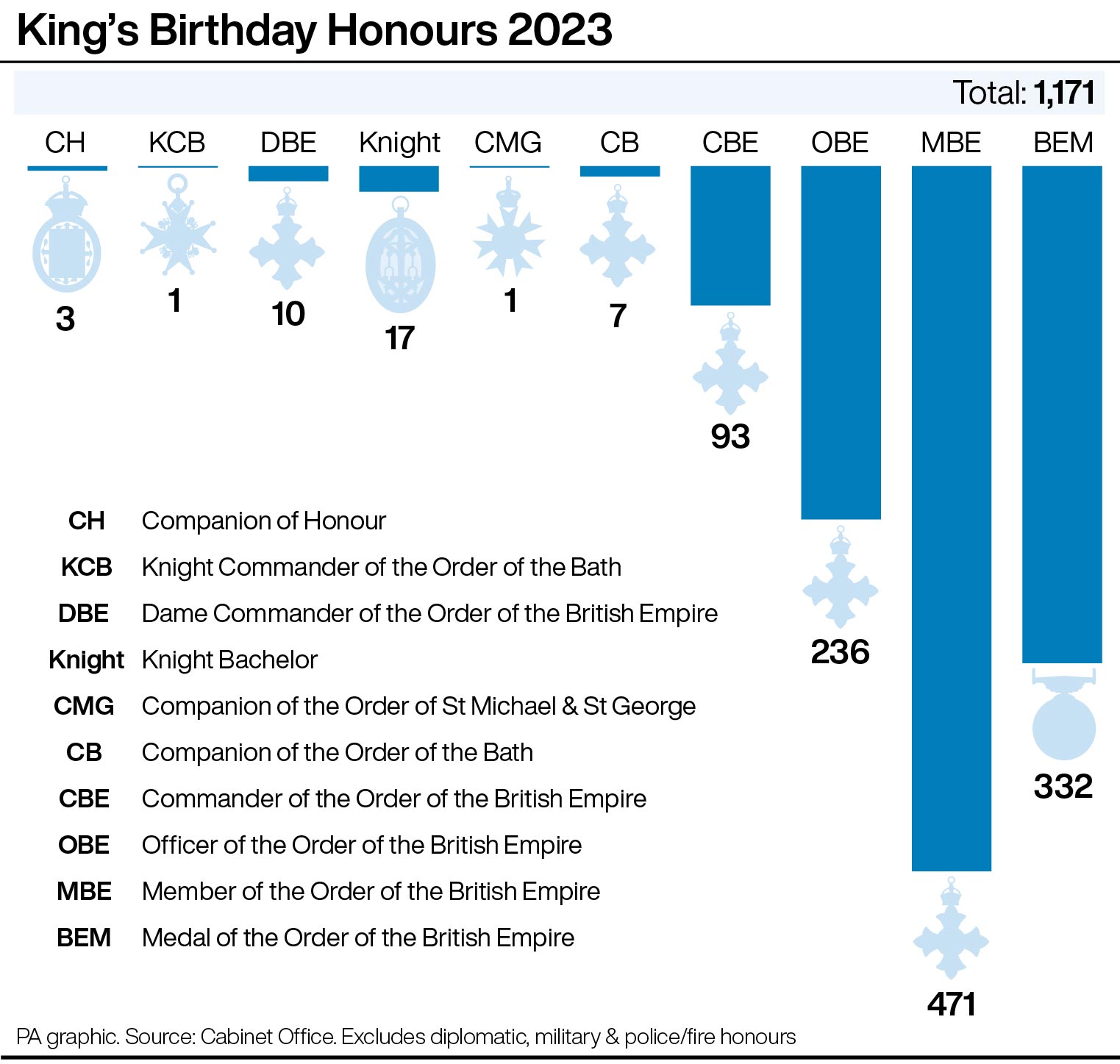 Sir Rupert Gavin, chairman of Historic Royal Palaces, Booker Prize-winner Sir Ben Okri, former BBC director-general Sir Mark Thompson and Sky's executive chairman Sir Jeremy Darroch became Knight bachelors.
Sir Ben said: "I'm delighted to be given this honour. I think of the illustrious writers who have preceded me and the gifted writers to come.
"The writer does not write for honours but for truth, the mysterious truth of the human condition.
"For me the main value of this honour at this moment is necessity to remind my fellow human beings that we are living on the cusp of a world-wide environmental crisis.
"If we don't do something radical about it now, within 10 years nothing will be the same."
The oldest recipient, 106-year-old Joan Willett, was given a British Empire Medal for her charitable fundraising for the British Heart Foundation, while the youngest, Junior Jay Frood, 18, received the same honour for services to vulnerable children.
Mr Frood told PA: "It feels really amazing and good because it shows no matter how young you are you can receive this award.
"You can start from any age helping other people and helping the community."
More than half (52%) of the recipients are people who showed "outstanding work" in their communities, either in a voluntary or paid capacity, which was a core focus behind this year's list, according to those behind the selection process.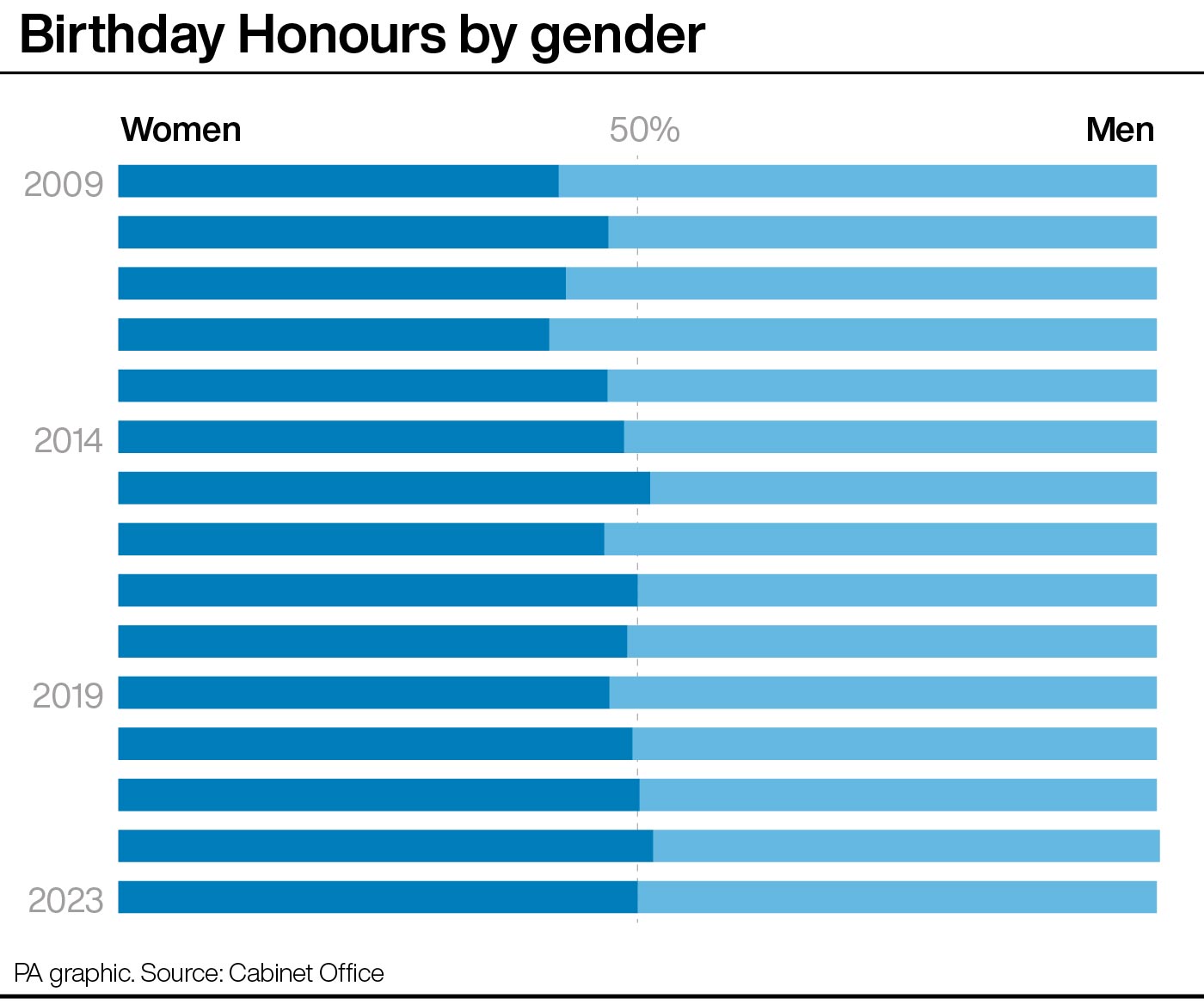 Exactly half (50.0%) of the recipients are women – down slightly from last year (51.5%), but the third year in a row when females have made up at least half of the Birthday Honours list.
Some 11.0% go to people from an ethnic minority background, down from 13.3% last year and 15.0% in 2021.
This is still higher than the level during the 2010s, however.
The proportion of recipients who are disabled or have a long-term health condition is 13.0%, a jump from 9.3% in 2022.
Deputy Prime Minister Oliver Dowden said: "This year's honours list is a testament to ordinary people who have demonstrated extraordinary community spirit, and I pay tribute to all those who have been recognised today.
"Our honours system has long been a way of recognising people who make an incredible contribution to life in Britain and beyond."