Experts say AI could pose same risks as nuclear war and pandemics, says Sunak
Artificial intelligence technology could pose the same risks as nuclear war and pandemics, Rishi Sunak has appeared to acknowledge.
The Prime Minister said he wanted to avoid "scaremongering" about the risks posed by AI, as he prepares to meet US President Joe Biden on Thursday.
Mr Sunak, who wants to make the UK a science superpower and leader on the emerging technology, is expected to discuss AI regulation with Mr Biden.
It comes as both the US and European Union consider measures to regulate AI.
But recent weeks have seen stark warnings about the risks it could pose from leading tech experts.
This week Matt Clifford, who is advising the Prime Minister on the development of the UK Government's Foundation Model Taskforce, cautioned that AI could have the capability to be behind advances that "kill many humans" in only two years' time.
Mr Sunak, speaking to Sky News in Washington, was enthusiastic about the potential of AI but appeared to acknowledge the scale of risks the technology poses to the world.
He said: "I'm not going to get into the business of scaremongering people because I think what people will say, 'Well hang on, this is a new technology, which we don't fully know yet what it's capable of doing'.
"The creators themselves have talked about risks on a scale on parallel with nuclear war and pandemics. And when people hear that they'll rightly be worried about that, but that's why I've actually been bringing the companies together to talk about the right guardrails to put in place to prevent those kinds of things from happening."
Mr Sunak said that AI was "going to reshape every aspect of our lives".
"And whilst that will bring many opportunities and benefits, it also poses risks, not just existential, but also risks as misuse of the technology. And that's why guardrails are important and regulation is important."
The Prime Minister's comments come amid growing interest in UK political circles about AI regulation.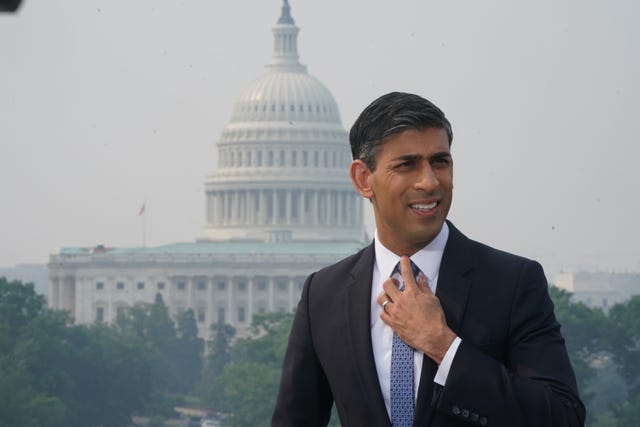 Paul Scully, minister for tech and the digital economy, told a technology conference on Tuesday that there should not just be a focus on a "Terminator-style scenario" but acknowledged that AI could create "dystopia" if advancements in the technology are not managed properly.
Shadow culture secretary Lucy Powell warned ministers against a "conservative, laissez-faire" approach to the technology, instead floating proposals to introduce licences for AI developers.
Despite the danger of being shut out from conversations between the two main Western economic powers – the US and EU – the UK Government believes that the post-Brexit break from Brussels gives it greater freedom to act quickly.
Mr Sunak, who is staying at the president's guest house Blair House during the trip, will also push for greater business links with the US, although hopes of a full free trade agreement have been shelved.
The UK pointed to £14 billion of US investment in the UK since October 2022, including £9 billion from financial firm Blackrock plus projects including World Fuel Services and Meld's green hydrogen facility in Hull, a new Mars facility in the London Gateway Freeport, expansions of BNY Mellon and Vanguard's Manchester offices and a new HCA Healthcare facility in Birmingham which, between them, will create almost 2,500 jobs.
Mr Sunak's trip will see him address the Business Roundtable forum of leading chief executives on Thursday.