Braverman wrong to say asylum initial decision backlog has reduced, says Labour
Labour has accused Suella Braverman of getting her figures wrong after the Home Secretary claimed the backlog of people awaiting an initial decision on their asylum claim has reduced.
Shadow home secretary Yvette Cooper called on Ms Braverman to withdraw the claim in the Commons.
But the Home Secretary declined to respond to the criticism.
Ms Braverman made the initial claim when making a statement updating the Commons on the Government's progress on its stated goals of reducing the number of small boats crossing the Channel, and finding alternative ways to house people who have arrived in the UK.
Ms Braverman said: "The asylum initial decision backlog is down by 17,000, and we are on track to abolish all legacy cases by the end of this year, having doubled the number of asylum decision-makers over the last two years."
Making a point of order after the statement, Ms Cooper said: "(Ms Braverman) said the asylum initial decision backlog is down by 17,000, whereas the Home Office official statistics say the asylum initial backlog is now over 170,000, up from 160,000 in December.
"So the facts are, the asylum initial decision backlog is up over 10,000, not down by 17,000.
"I know there was a lot of nonsense in what the Home Secretary said, sometimes it's hard to know where to start, but this is about facts, the facts given to Parliament.
"Will she now withdraw this incorrect statement that she has made because her facts are wrong?"
Deputy Speaker Dame Eleanor Laing asked the Home Secretary if she wished to say anything in response, but Ms Braverman, who was sitting on the Government front bench, shook her head.
Some 172,758 people were waiting for an initial decision on asylum applications at the end of March, up 57% from a year earlier and the highest figure since comparable records began in 2010, according to Home Office figures.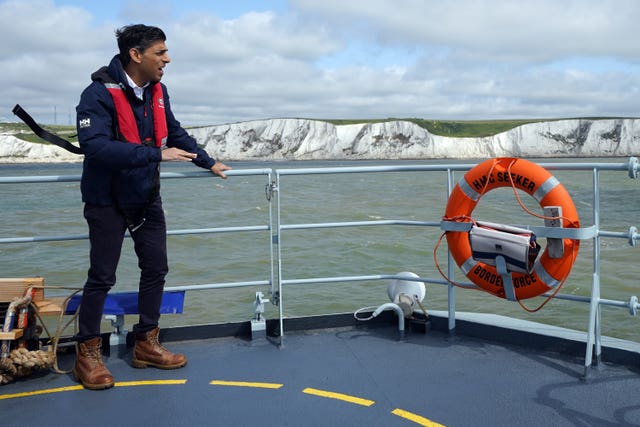 Ms Braverman had earlier told the House Labour did not have a plan, and said: "Unlike the British people, the Labour Party wants more migration not less, they want open borders, not control."
She said: "We are committed to stopping the boats. We have a plan to do so, and we are delivering that plan."
Independent MP Scott Benton (Blackpool South) – who used to sit as a Conservative but had the whip suspended earlier this year after an undercover Times expose allegedly showed him offering to lobby ministers on behalf of gambling investors – insisted claims must be processed "properly" despite the intention to reduce the backlog.
He told the Commons: "We are still accepting a majority of asylum claims from a number of safe countries, in stark contrast to many other European nations who reject a far higher proportion of claims from those same countries.
"Whilst we all want to reduce the asylum case backlog, does the Home Secretary agree with me that it must be done properly, and we can't merely accept claims in a cynical attempt to drive down that backlog quickly?"
Ms Braverman said: "My honourable friend is absolutely right. Unlike the Opposition, we are not going to grant an amnesty to people in our system.
"It is absolutely important that all cases are considered on their individual merits, but that actually we take a robust approach to applications and that we take an approach which makes it clear that if you come here illegally you will be detained, and you will be removed, and you won't be entitled to a life in the UK."
Tory vice chairman Lee Anderson, MP for Ashfield, asked when the Rwanda plan could be implemented, telling MPs: "Sharing rooms and barges, and relying on the French is not the answer.
"I think we all know, anybody with common sense in this place knows what the answer is, and that is to get the flights off to Rwanda as quickly as possible."