Life sciences sector to get £650m boost in new Government funding package
A shake-up of planning rules to free up lab space and efforts to encourage pension schemes to invest in emerging science and technology firms will all form part of a new £650 million funding package for the UK's life sciences sector.
Announced by Chancellor Jeremy Hunt, the life sciences "war chest" is the latest Government effort to follow up on the Prime Minister's pledge to turn the UK into a "science superpower".
Dubbed the "Life Sci for Growth" package, it will see up to £250 million committed to incentivising pension schemes to invest in "promising" science and technology companies while money will also go towards the rail project connecting Oxford and Cambridge.
Nearly £50 million has also been pledged to scientific efforts to prepare for future health emergencies while £154 million will go towards increasing the capacity of the UK's biological data bank.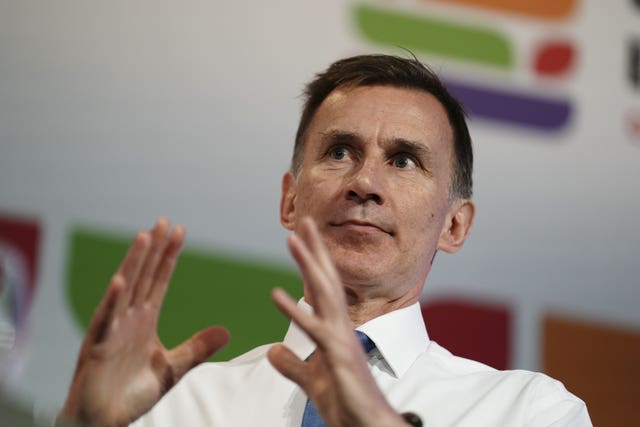 Mr Hunt, who met with company bosses and industry figures at the UK's Life Science Council on Thursday, hailed the sector as one of the UK's most successful.
"Our Life Sciences sector employs over 280,000 people, makes £94 billion for the UK each year and produced the world's first Covid vaccine.
"These are businesses that are growing our economy while having much wider benefits for our health – and this multi-million pound investment will help them go even further," he said.
The plan will also see £121 million, made up of new and existing funding, to speed up clinical trials and improve access to real-time data.
Health Secretary Steve Barclay said ministers were taking forward recommendations from a review by Lord O'Shaughnessy to "speed up the delivery of clinical trials and boost patient involvement in research, so people getting NHS care can benefit from cutting-edge treatments faster".
The announcements also come after a review by Dame Angela McLean's on the UK's life science regulatory system.
Science and Technology Secretary Chloe Smith said that the funding delivers on the Government's science and technology framework, and said it represented a "double win" that drove economic growth and supported public health.
The Government said that the new railway funding was a sign of its "ongoing commitment" to the East-West Rail line project between the two university cities of Oxford and Cambridge.
"The cities of Oxford and Cambridge are renowned across the globe for their academic excellence – East West Rail will be vital in allowing them to thrive for generations to come and help to grow the economy," Transport Secretary Mark Harper said.
"With the potential to unlock £103bn of growth through new homes, businesses and job opportunities, this crucial line will also serve as a catalyst for development in one of Europe's most vibrant local economies while making travel quicker, cheaper and easier across the region.
Experts gave a welcome to the new funding and focus on life sciences.
Prof Charlotte Summers, an expert in intensive care medicine at the University of Cambridge, said: "The O'Shaughnessy review has captured many of the issues contributing to the decline in commercial clinical trial activity within the UK, and the government's commitment to implement the proposed recommendations is to be welcomed.
"If we are to become a science superpower, it is vital that we use this as opportunity to expand clinical trial activity in the UK, and that we do not implement these reforms in a manner that leads to decreased non-commercial research activity – our patients need both."
Prof Andrew Morris, director of Health Data Research UK, said that the investment in infrastructure and the creation of new public-private partnerships were all "good news" for the sector.
Praising the two reviews, he added: "The one missing thing in today's announcements that would transform life science research in the UK is a positive conclusion to the talks for the UK to access the EU's Horizon research programme.
"Research today is built on team science with collaborations across the globe. Working alongside other top scientists in Europe benefits everyone and keeps all our research at the cutting edge, speeding benefits for patients and the public."
Darius Hughes, Moderna's general manager for the UK, said the company welcomed "the recommendations in the independent review, all of which demonstrate a commitment to reinvigorate the UK's world-class reputation in clinical research that will bring benefits to patients, and we look forward to working with the Government on its implementation".