South has 'highest proportion of rivers and lakes with toxic chemical cocktails'
Southern regions of the UK have the highest proportions of rivers and lakes to contain toxic chemical cocktails, according to new research.
The Wildlife and Countryside Link and The River Trust, which analysed Environment Agency (EA) data, discovered that these chemical combinations, which are proven to be harmful to wildlife, were found in more than 1,600 river, lake and groundwater sites across England.
The EA researchers tested for five different hazardous mixtures involving the forever chemicals PFOS, PFOA, PFBS and PFHxS, the pesticide 2,4-D and the painkiller ibuprofen.
The analysis, published on Wednesday, shows that 96% of rivers and lakes in both the South West and South East were found to contain these toxic chemicals cocktails.
This was followed by London where the cocktails were found in 91% of rivers and lakes.
Despite containing rivers that had some of the highest number of individual chemicals identified – including The Stour, Thames and Medway – lakes and groundwaters in London and the South East had fewer of these chemical cocktails present than the average.
But the South West was still found to rank poorly across the board, with 72% of groundwater sites found to have the chemical cocktails present.
The region also had the highest proportion of river, lake and ground sites to contain three or more of these chemical combinations and up to 91 chemicals found in individual rivers.
The North East and North West also fared poorly overall compared to other regions with 80% and 70% of river, lake and groundwater sites being identified as having the toxic mixtures present respectively.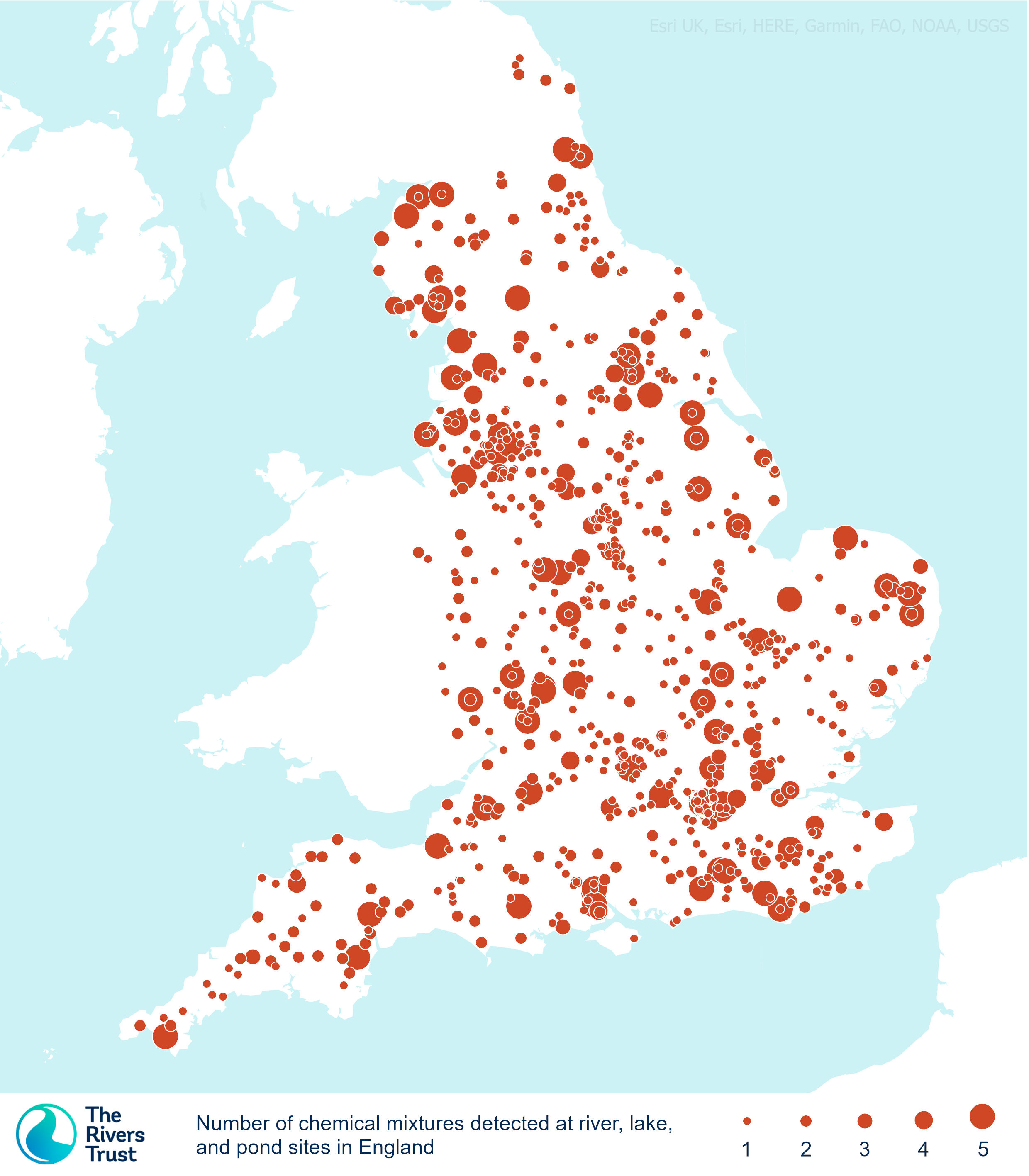 Meanwhile, the River Mersey above Howley Weir was found to have the highest number of individual chemicals present of any river in England.
The West Midlands was found to have a slightly lower overall percentage of sites affected but had a very high proportion of rivers and lakes where the chemical cocktails are found at 93% – compared to nearly half – 48% – of groundwaters.
The East of England, and Yorkshire and Humber had a smaller proportion of sites where these chemical cocktails were identified.
But one or more of these toxic mixtures were still found in almost one in six of river, lake and groundwater sites tested for chemicals.
Overall, researchers found toxic combinations proven to be harmful to wildlife in 814 river and lake sites – 81% of the total where data is available.
They found the same cocktails in 805 groundwater sites, representing 74% of the total.
Around 100 chemicals, including PFAS forever chemicals, pesticides and pharmaceuticals, were found along the Mersey, Stour, Colne, Thames, Trent, Yare, Irwell, Medway, Humber and Avon rivers, researchers said.
Some of the sites where all five chemical combinations were found were in the rivers Chelt, Derwent, Trent, Exe, Ouse, Wansbeck and Yare.
PFAS is the collective name for the group of nearly 10,000 industrial and household substances including PFOS and PFOA.
The combinations include: PFOS and PFOA, which have been shown to damage amphibians' cell activity; PFOS and 2,4-D, which is toxic to nitrogen-fixing bacteria; PFOS and PFBS, which damages algal photosynthesis and slows its growth; ibuprofen and PFOA, which damages the growth of the microalga called P. subcapitata; and PFOS and PFHxS, which reduces the survival of midges.
They are nicknamed forever chemicals because of their failure to break down in the environment.
The cocktails, which enter the environment through industrial and agricultural pollution or sewage, combine to create increased poisonous effects on species such as amphibians, fish, insects, nitrogen-fixing bacteria and algae.