Sunak pins hope on five pledges after local elections blow
Rishi Sunak has said his five pledges are the "right ones", amid Conservative soul-searching after a bruising set of local elections.
The Prime Minister has been under pressure in recent days since the loss of nearly 1,000 Tory councillors, with Labour, the Liberal Democrats and the Greens all celebrating success.
Mr Sunak, on a visit in Southampton, said that the loss of Conservative representatives was "disappointing" but stood by the "five priorities" that have guided his premiership since the start of the year.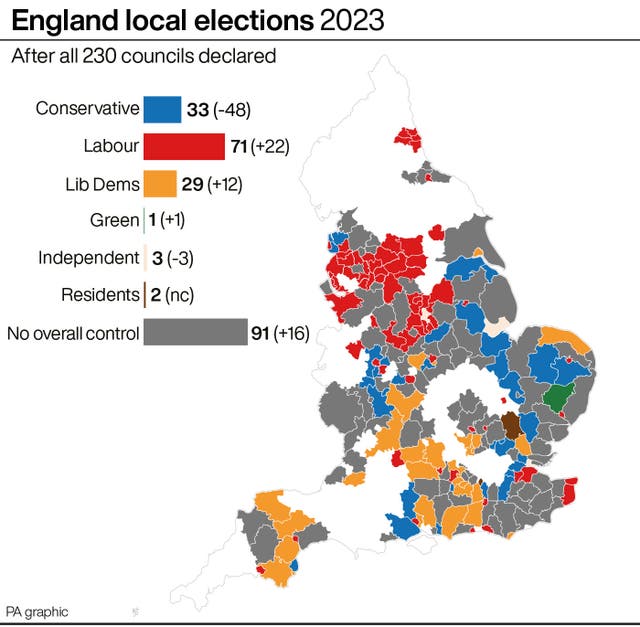 As he was finishing his visit, the final council result came in after a third recount in Longbeck ward in Redcar & Cleveland.
The result saw a Labour candidate and an independent elected, the latter just four votes ahead of a Conservative rival.
"Obviously disappointing to lose hard-working Conservative councillors," Mr Sunak told broadcasters.
"I know that the country wants us to focus on their priorities. I have set out five very clear priorities – to halve inflation, to grow the economy, reduce debt, cut waiting lists and stop the boats," he added.
But pointing to the Government's plan to see patients able to obtain prescription medicines and oral contraception directly from pharmacies, he said that ministers were introducing "practical things that will make a difference to people's lives".
"I know that's not going to happen overnight, but what I can tell people is we are working day and night to make their lives better.
"The priorities I set out, I believe, are the right ones, they are the country's priorities and we will keep working to deliver them."
With results in from all 230 councils, the Conservatives lost 957 seats, with Labour gaining 643, the Lib Dems gaining 415 and Greens gaining 200.
The Conservatives lost control of 48 councils, with Labour gaining control of 22, the Lib Dems 12 and Greens one, while an additional 16 are now under no overall control.
Earlier, North Swindon MP Justin Tomlinson branded the results "devastating".
"It's frankly an insane thing for anybody to try and spin otherwise. I've been involved for 23 years with the local elections in Swindon, we've had about 19 good years of results and four bad years and this was off the scale," he told Times Radio.
He warned that it needed to be "a wake-up call for the party at all levels".