Starmer refuses to rule out coalition with Lib Dems if he does not win majority
Sir Keir Starmer has repeatedly declined to rule out entering into a coalition with the Liberal Democrats if Labour fails to win a majority at the next general election.
The Labour leader on Tuesday refused to rule out a pact with Sir Ed Davey's party despite emphatically saying he would not team up with the SNP.
Sir Keir has said he believes he is on course to win outright after gaining hundreds of councillors and control of 22 local authorities at last week's elections.
But the Lib Dems were also resurgent and projections have put Labour as not yet being in the position to form a majority government without progress among voters.
Sir Keir equivocated on whether he would form a pact with the Lib Dems if required to enter Downing Street when repeatedly pressed during a round of broadcast interviews.
He insisted he is "going for an outright majority" but asked about a deal with Sir Ed, the Labour leader told Sky News: "I'm not answering hypotheticals but we're aiming for a Labour majority and that's what we're confident about."
But he said he was "absolutely clear there are no terms in which we will do a deal with the SNP".
Sir Keir insisted the reason he would only be definite about the Scottish nationalists was because there is a "fundamental difference" between his party and the SNP.
"I do not believe in the break-up and separation of the United Kingdom, I do not believe that our future will be better if we put a border between Scotland and England, so there's no basis for an agreement," he told Sky.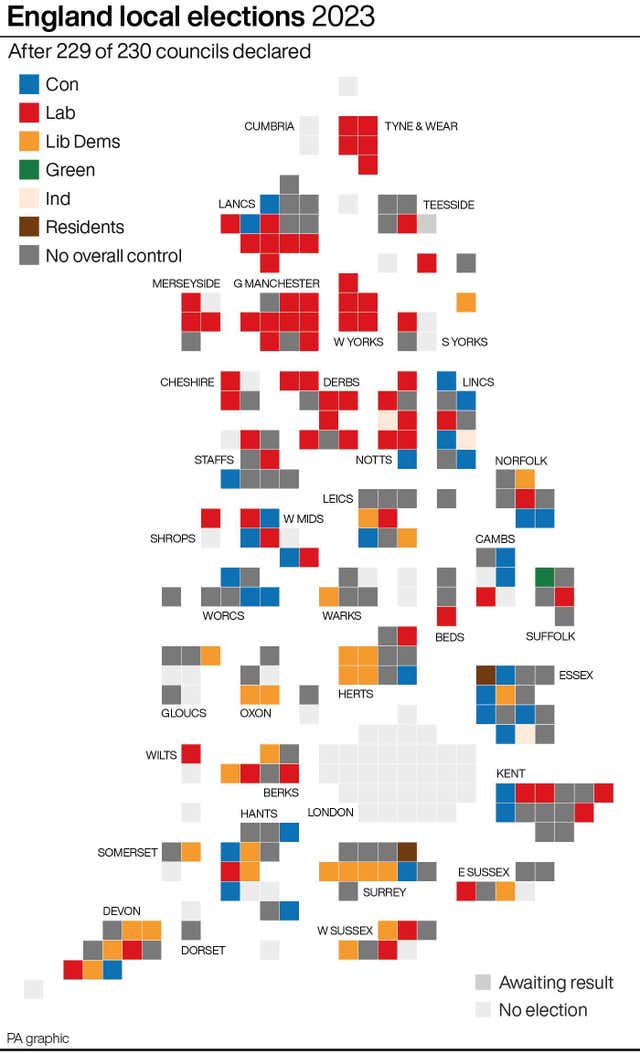 Meanwhile, former Labour prime minister Sir Tony Blair warned there can be no complacency over the party's position despite the successes.
He told Bloomberg TV Sir Keir has "done a pretty good job pulling the Labour party back from where it was".
"But of course you can't be complacent about these things at all," he added.
The Lib Dems did not rule out the possibility of a deal.
A spokesman said: "We are totally focused on the issues that really matter to people – the cost-of-living crisis, the failure of this Government to manage our NHS and the filthy sewage water companies are being allowed to pump into our rivers."
The Conservatives are bound to attack Sir Keir on the possibility of relying on another party in government, as David Cameron successfully did with Ed Miliband in 2015.
The former Tory leader warned Labour would form a "coalition of chaos" with the SNP.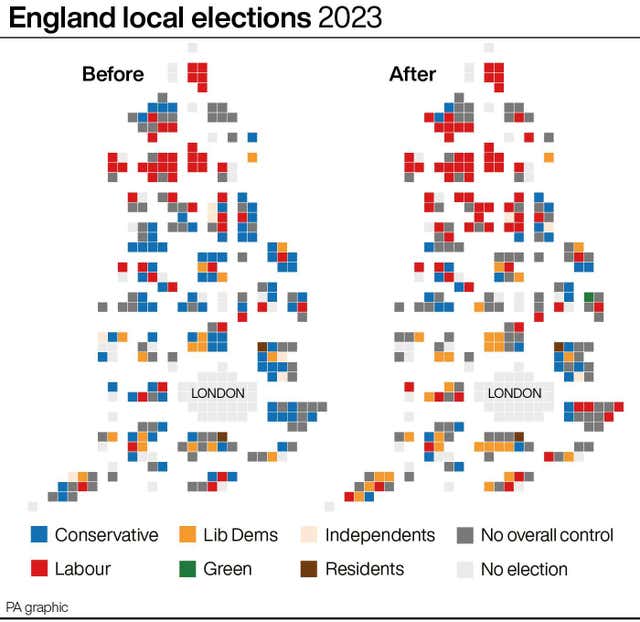 Sir Keir insists he is "confident" that his party is on course for a majority and is particularly buoyed by winning control of councils in the Brexit-backing areas of Dover, Blackpool, Medway, Erewash and Stoke.
On Thursday, the Tories lost 957 councillors and control of 48 authorities under Rishi Sunak's leadership, but the next general election is not expected until 2024.
With results in from all 230 councils that were up for grabs, Labour gained 643 seats, the Lib Dems 415 and the Greens 200.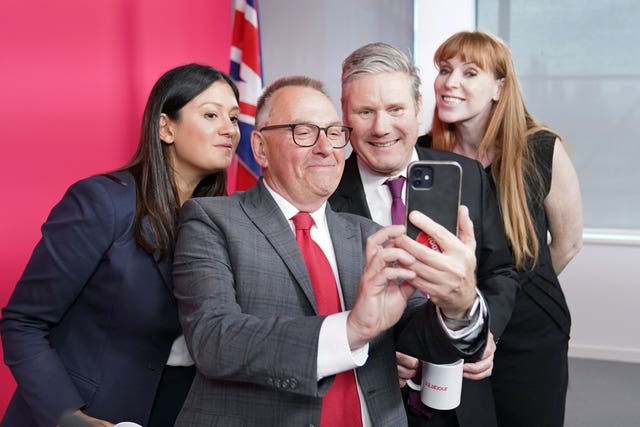 Earlier on Tuesday, Sir Keir spoke to his 22 colleagues who will be newly running councils across England.
He told them they have been given a "mandate to deal with the cost of living" that will act as a "blueprint" for their party in power.
With some joining virtually and others in person at Labour's headquarters in central London, Sir Keir said: "Now we've got this far – it's a big big step in the right direction – now it's a duty to deliver.
"You've been elected in with a mandate to deal with the cost of living, our duty now is to deliver on that."
He urged the councillors to make a "cost of living plan" for their area, adding: "Let's create a blueprint for Labour in power.
"People are crying out for change and we can now start delivering that change."