Yousaf 'definitely' was at meeting on day of same-sex marriage vote
Scotland's First Minister has said he "definitely" attended a meeting about a man on death row in Pakistan the day of Scotland's same-sex marriage vote after a newspaper suggested there was no record of it.
During the SNP leadership contest earlier this year Mr Yousaf said he missed the vote in 2014 because of an "unavoidable" meeting with the Pakistan Consul General in Glasgow to discuss the case of Mohammad Asghar, who was placed on death row in Pakistan for blasphemy before being released.
The Herald newspaper reported on Saturday that it had obtained Scottish Government briefings, letters and notes which, it claimed, showed no record of the meeting at the consulate.
It reported that there were no minutes and that no briefing paper was prepared in advance.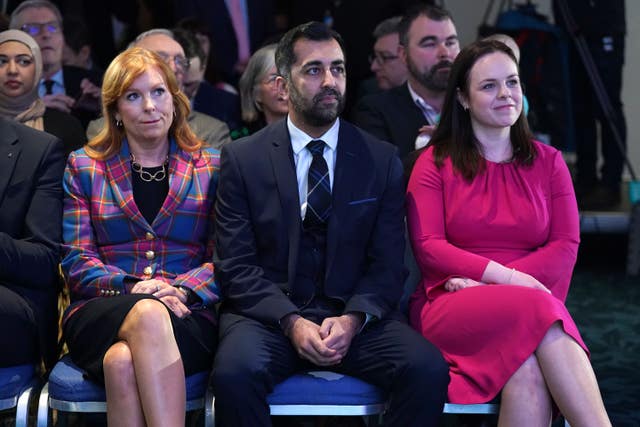 Asked whether he did attend the meeting, Mr Yousaf told the PA news agency: "I was definitely at the meeting for sure, of course I was at the meeting as was the Pakistani consul.
"You have to remember issues around blasphemy in Pakistan, there has to be a level of discretion for those that are from Pakistan that are involved in those meetings because their families could really be at risk of harm if they were seen to be or known to be involved in the release of somebody convicted of blasphemy in Pakistan so that's why there's a lot of discretion around."
During the leadership campaign, Mr Yousaf's fellow leadership candidate Kate Forbes came under fire after said she would not have backed the legislation for same-sex marriage had she been an MSP at the time.
Speaking in February Mr Yousaf said that he missed the vote due to an "unavoidable" meeting to discuss the case of Mr Asghar, and that it was "not a meeting just to discuss policy or to have a chinwag".
He said at the time: "Anyone can see that not only did I vote at stage one, not only have I, as justice secretary, brought forward a hate crime Bill which extends protection for the LGBT community, I supported the GRR (gender reforms) Bill.
"Anybody who looks at my record, I think, speaks for itself."
Speaking in Dundee following the newspaper report on Saturday, he said: "These issues were well rehearsed during the election contest and my support for the LGBTQ+ community is very, very well known and I'd just point you to that statement from Mr Asghar's family, you don't need to take my word for it, they released a statement off their own back proactively during the election campaign to say that they really welcomed my intervention.
"If it wasn't for my intervention then they doubted that their father would ever have been released from a Pakistani jail where he was on effectively death row so I think we should just listen to the family."