Sunak hasn't done 'anything sinister' over financial interests, insists minister
Rishi Sunak has not done "anything sinister" surrounding his financial interests as he is investigated over a possible failure to make a declaration to MPs, a minister has said.
The Prime Minister is facing an inquiry by Parliament's standards watchdog amid claims he did not declare his wife's shares in a childcare agency that benefited from the Budget.
Downing Street insists Mr Sunak "transparently" declared the shares Akshata Murty holds in Koru Kids as a ministerial interest rather than to the Commons.
But Parliamentary Commissioner for Standards Daniel Greenberg has opened an investigation under rules demanding MPs are "open and frank" with their interests.
Mr Sunak did not detail the shares when being questioned by MPs on the Liaison Committee about why one of his policies favoured private childcare firms.
Home Office minister Chris Philp defended Mr Sunak on Tuesday, insisting "no-one really doubts Rishi's integrity and ethics".
"He has declared his wife's interests in his ministerial declaration. He did draw attention to that to the committee when he gave evidence and he also wrote to them subsequently as well," he told GB News.
"He will work with the standards commissioner to clear up any questions that are outstanding.
"But I don't think there's anything sinister here, he has made his declaration."
The list of ministerial interests has not been updated for nearly a year and Downing Street has declined to set out when Mr Sunak made the declaration.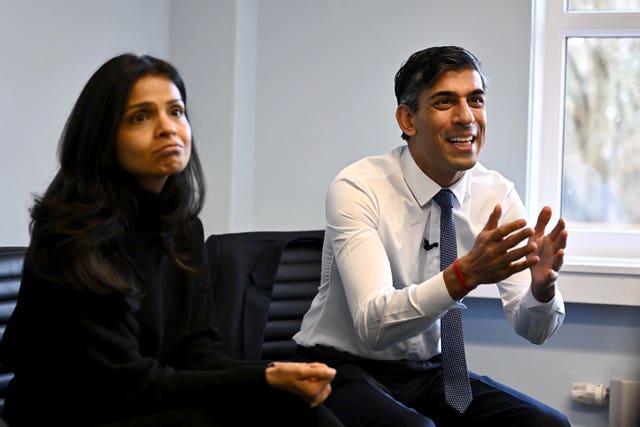 During the select committee hearing, Labour MP Catherine McKinnell questioned why childminders will get twice the incentive for joining the profession if they sign up with private agencies.
Asked if he had any interests to declare, Mr Sunak responded: "No, all my disclosures are declared in the normal way."
He went on to write to the committee to say he would like to "clarify for the parliamentary record that this interest has rightly been declared to the Cabinet Office".
He said the new list of ministerial interests, which has not been updated for nearly a year, will be published "shortly".
Deputy Labour leader Angela Rayner said delay has "left a transparency black hole which is enabling the Prime Minister and those he has appointed to dodge proper scrutiny of their affairs".