UK's hottest temperature of 2023 so far recorded in Scottish Highlands
The UK's highest temperature of 2023 so far has been recorded in Scotland, as many Britons basked in afternoon sunshine.
The Met Office said the temperature "reached at least 20°C for the first time this year" on Monday afternoon.
A high of 20.2C was recorded just after 12pm in Kinlochewe in the Scottish Highlands, Met Office meteorologist Kathryn Chalk said.
The last time 20°C was recorded in the UK was on November 13 2022.
The forecaster said that most of the UK was likely to remain cloudy on Monday afternoon, with "some brighter spells developing across Northern Ireland and northern Scotland".
But it said skies were "clearing more readily across eastern England" with conditions "feeling pleasantly warm in any afternoon sunshine".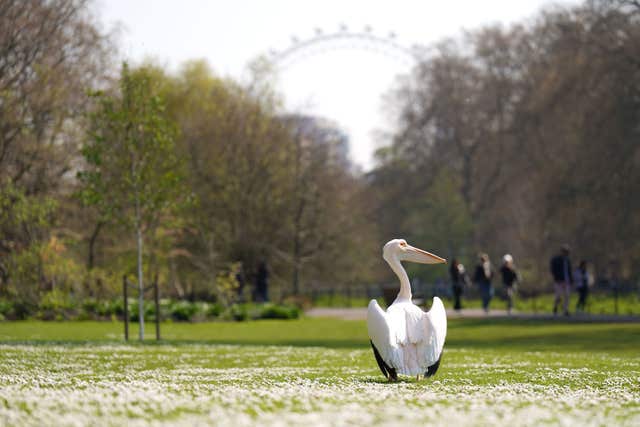 A high of 18C was recorded in Greater London in south-east England on Monday, with 16C expected in Cardiff, Wales, and 17C in Belfast, Northern Ireland.
The Met Office has also urged Britons to "be aware of the strength of the sun, even if it's cloudy" over the coming days, as "moderate" UV levels pose a risk of sunburn.
On Tuesday, the Met Office has forecast that there will be "early cloud breaking and clearing, albeit slowly for some coastal areas in eastern Scotland" with "conditions then fine and dry with plenty of sunshine for most areas".
But a change in wind direction could see "cooler air spill west across much of the country from the middle of the week", the forecaster has warned.
Kathryn Chalk said the highest temperatures of the week will probably be recorded on Monday and Tuesday, before conditions gradually get a bit cooler from Wednesday to Friday.
She said temperatures are expected to range from about 17C to 13C over the second half of this week, with the coolest conditions expected along the eastern coast.
She said: "We'll be influenced by a Scandinavian high, an area of high pressure over Scandinavia, and then that drives an easterly wind, bringing in some cooler air and brisker as well.
"So it will be more noticeable, particularly along the eastern coast, for example East Anglia. In that breeze, it is going to feel chilly."
Speaking on Monday, she said: "It is gradually cooling off through the week so today is probably the day we will see the highest of temperatures, tomorrow, potentially another 20C for the Highlands in Scotland.
"It's generally a settled picture, turning more changeable by the end of the week."