Ryan Reynolds: 'Insane' that only one football club wins automatic promotion
Ryan Reynolds has described the fact that only one football club is automatically promoted from England's Vanarama National League as "insane".
The Hollywood star, who co-owns Wrexham with fellow actor Rob McElhenney, saw the Dragons take a massive step towards returning to the Football League by beating rivals Notts County 3-2 in an Easter Monday classic at the Racecourse Ground.
They need seven points from their final four games to clinch the National League title and finally see off County in a remarkable fifth-tier season which has seen both clubs reach 100 points.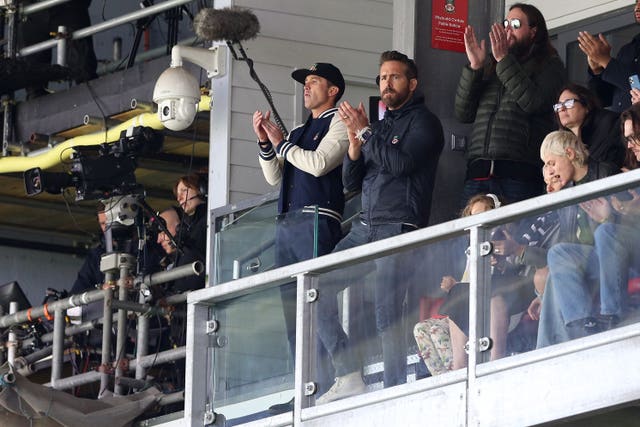 Only the champions, however, are automatically promoted, with the runners-up joining five other teams in the end-of-season play-offs to compete for one other promotion spot.
"It's just insane to me in this league that only one goes up automatically," Reynolds told BT Sport after Wrexham moved three points clear of Notts County with a game in hand.
"If it were different – and I think it should be – both of these clubs would be celebrating together right now because what they've done is not only created drama unlike anything you'd ever see in a damn movie, but something that I think people will be talking about for ages.
"The fact that this much attention has come upon the National League in this way is incredibly special and immensely worthy of the talents of not only Wrexham but Notts County as well."
Wrexham took the upper hand in the title race in dramatic fashion after falling behind to John Bostock's spectacular free-kick on the stroke of half-time.
Paul Mullin and Jacob Mendy fired the Dragons into a 2-1 lead with 20 minutes remaining before Kyle Cameron headed County level.
Elliot Lee restored the home side's lead but Wrexham were indebted to 40-year-old former England goalkeeper Ben Foster for saving Cedwyn Scott's penalty in the seventh minute of stoppage time.
Reynolds said: "I don't feel like I have a heart any more. I think I used all the beats I had left during that match.
"That was unlike anything I've ever seen before and indicative of all of you lifers who have watched and participated in this beautiful, torturous game.
"I'm used to working under extreme pressure but usually I have some kind of say in it and some control over it.
"I have nothing here. All I can do is watch and hope like everybody else.
"I am actually grateful in this moment that I didn't care about this years ago because it would have just eaten me alive.
"It's troubling how hooked I am. I don't know how to quantify what just happened.
"I feel an immense sense of pride, the inner strength these guys have. It's such a mental game and they rose to the occasion in every way.
"But also what makes it so special is how powerful and unique Notts County is. There's a real story here.
"What they've done this season, losing their CEO Jason Turner (who died last month), and I have enormous respect for what they've built and everything they've done.
"It was a pressure cooker coming into this for both teams. But what both have achieved is historic on every level. I don't think I have seen anything quite like that."
Reynolds and Rob McElhenney have been widely praised for their investment and involvement in the club since completing a takeover deal two years ago.
The pair have raised the profile of the club and the city through fly-on-the-wall documentary Welcome To Wrexham, and have been honoured by the Welsh Government for helping to promote the Welsh language and culture.