Cutting millions from social care funding pledge 'an insult to the sector'
The Government has been condemned for halving the funding promised for the social care workforce in England, with one charity saying it is an "insult" to the sector.
Millions of pounds have been removed from previously announced funding for a sector which a recent report warned is "on the precipice" amid rising costs and difficulty recruiting staff.
In its People at the Heart of Care White Paper on adult social care reform, published in December 2021, the Government pledged to invest "at least £500 million over the next three years to begin to transform the way we support the social care workforce".
It said this "dedicated investment in knowledge, skills, health and wellbeing and recruitment policies will improve social care as a long-term career choice".
But the Department of Health and Social Care has now said its "call for evidence in partnership with Skills for Care on a new care workforce pathway and funding for hundreds of thousands of training places, including a new Care Certificate qualification", would be backed by £250 million.
Jackie O'Sullivan, of learning disability charity Mencap, said: "This plan is an insult to a sector that was once treated as a priority for Government.
"Just over a year ago, the Social Care White Paper laid out the urgent reform needed to enable people to access the care and support they rely on. It has now been diluted beyond recognition.
"Faced with a deficit of 165,000 care workers, the Government has chosen to cut its plans to recognise and support this workforce.
"Without this workforce, nothing else is possible: no increase in quality of care can be achieved; no innovative ideas can be realised; and people with a learning disability who rely on social care will suffer.
"The Government needs to act fast on the real issues like workforce pay, timely access to support and the underfunding of the system, before it's too late."
The King's Fund health think tank said the measures were "a dim shadow of the widescale reform to adult social care that this Government came into office promising", while Age UK described them as not being "remotely enough to transform social care".
However, the DHSC confirmed up to £600 million of funding has not yet been allocated, and will be invested over the next two years.
It also said the social care workforce "is at the heart" of its plans
The 2021 White Paper promised to invest "at least £150 million" in digitisation across the sector.
The department said that figure is now £100 million, which will cover investment in digital social care records, as it said £50 million had already been spent.
Tuesday's announcement did not mention a previously announced £25 million to support unpaid carers or £300 million mentioned in the White Paper to integrate housing into local health and care strategies.
However, it was later clarified that the support for unpaid carers will be set out in due course.
Social care minister Helen Whately, who spoke at the annual Care England conference last month to insist she was part of a Government that "backs social care", said the package announced on Tuesday "focuses on recognising care with the status it deserves".
She said: "Care depends completely on the people who do the caring – that's over a million care staff working in care homes and agencies, and countless relatives, friends and volunteers, acting out of the kindness of their hearts.
"That's why this package of reforms focuses on recognising care with the status it deserves, while also focusing on the better use of technology, the power of data and digital care records, and extra funding for councils – aiming to make a care system we can be proud of."
In its announcement on Tuesday, the Government said its "refreshed plan to bolster the adult social care workforce" would speed up discharge from hospital and accelerate the use of technology in the sector over the next two years.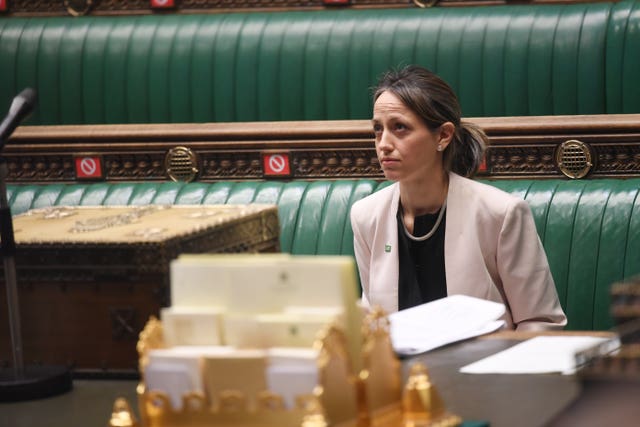 The department said it will launch an Older People's Housing Taskforce in partnership with the Department for Levelling Up, Housing and Communities "to decide how best to provide a greater range of suitable housing depending on the support people need".
It said £1.6 billion will be allocated over the next two years to improve hospital discharge.
Recent analysis by the King's Fund estimated that delays in people leaving hospital in England could be costing an average of £395 per night, and suggested issues with social care and housing could be contributing to delayed discharges.
At the autumn statement, the Government pledged to support adult social care services "backed by up to £7.5 billion over the next two years" to help local authorities address waiting lists and workforce pressures in the sector.
King's Fund director of policy Sally Warren questioned why the Government appeared to be "silent" on its previous commitment to unpaid carers and branded it "short-sighted for Government to row back on what was already minimal funding and limited efforts to reform and improve social care in areas such as housing, technology and supporting the workforce".
Age UK's director Caroline Abrahams said millions of older and disabled people and their unpaid carers "needed something far bigger, bolder and more genuinely strategic to give them hope for the future".
She added: "The truth is the measures in this plan are generally quite modest and foundational, so although mostly welcome in themselves, they aren't remotely enough to transform social care, and that's what we needed to see today.
"With quite a chunk of the money originally promised for care now no longer available, our CSA (Care Support Alliance) members are telling us this is just the latest in a long series of disappointments so far as recent Government performance on social care is concerned."