Minister agrees to talks with Tory MPs to defuse migration Bill rebellion
The Government has defused a Tory rebellion over the Illegal Migration Bill by agreeing to talks with those wanting to toughen up the controversial proposals.
Immigration minister Robert Jenrick said he would "engage closely" with Tory colleagues to ensure the final Bill "meets the requirements of all on our side of the House".
A group of right-wing Tory MPs had signalled that it does not go far enough, with some calling for ministers to take the UK out of the European Convention on Human Rights (ECHR) to drive through tighter border controls and prevent them being stifled by the courts.
The legislation aims to stop people claiming asylum in the UK if they arrive through unauthorised means, including by crossing the English Channel in small boats.
It could result in asylum seekers being detained without bail or judicial review for 28 days before being removed to their home country or a "safe third country" such as Rwanda.
The Bill has been denounced by the UN's refugee agency as an effective "asylum ban" and has also faced objections from groups within the Conservative Party.
Others on the liberal wing want to see Prime Minister Rishi Sunak commit to establishing safe routes by which asylum seekers can come to Britain.
Mr Jenrick assured MPs he would speak to them about their worries that human rights law could interfere with the legislation.
Speaking during the Bill's committee stage, he told the Commons: "I am certainly keen to give them an undertaking to engage with them and other colleagues who are interested in these points ahead of report stage of the Bill.
"We are united in our determination that this Bill will be a robust Bill, that it will be able to survive the kind of egregious and vexatious legal challenges that we have seen in the past, and that it will enable us to do the job and to remove illegal immigrants to safe third countries like Rwanda.
"I would add that the Bill has been carefully drafted in collaboration with some of the finest legal minds and we do believe that it enables us to do the job while complying with our international law obligations
"But we are going to engage closely with colleagues and ensure that the final Bill meets the requirements of all on our side of the House."
Conservative MP Sir Bill Cash, chairman of the European Scrutiny Committee, withdrew his amendment in response to the guarantees from the minister.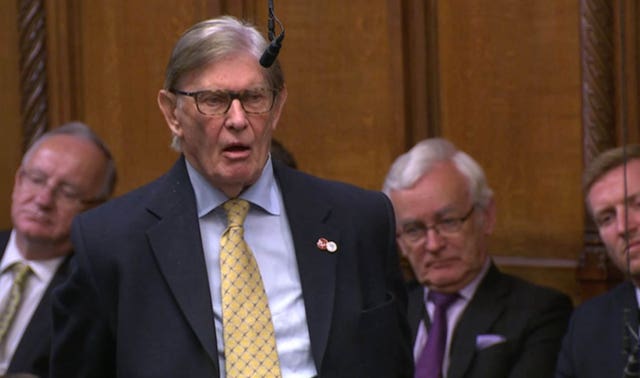 His proposal had sought to ensure the only way to prevent a person's removal is through a successful suspensive claim.
Mr Jenrick also made commitments designed to see off the second Tory rebellion on setting up new safe and legal immigration routes.
Responding to Conservative former minister Tim Loughton's calls, he said: "We have listened very carefully to his arguments. As the Prime Minister has said, it is precisely because we want to help genuine refugees that we need to take full control of our borders.
"I can commit to engage with him and other colleagues ahead of report stage in setting up safe and legal routes, if necessary bringing forward further amendments to ensure there are new routes in addition to the existing schemes, and accelerating the point at which they become operational, with our intention to open them next year.
"In addition I can confirm that we will accelerate the process of launching the local authority consultation on safe and legal routes at the same time as commencement of the Bill. I hope that satisfies him."
Mr Loughton appeared to nod to the minister after the assurances.