Hundreds join protest against migration Bill outside Parliament
Hundreds of people gathered outside the House of Commons on Monday evening to protest against the Government's Illegal Migration Bill.
The demonstration, organised by the campaign group Stand Up To Racism, took place in Parliament Square as MPs debated the legislation inside the chamber.
Former Labour leader Jeremy Corbyn MP spoke to protesters alongside four members of the Socialist Campaign Group of Labour MPs.
Representatives of trade unions including the Public and Commercial Services union (PCS) – which represents civil servants including Border Force workers – Unite, Unison and the Transport Salaried Staffs Association addressed demonstrators alongside representatives of charity Care4Calais, the Jewish Socialist Group and the Stop the War Coalition.
In between speeches protesters chanted "Say it loud, say it clear, refugees are welcome here!" and "Brick by brick, wall by wall, racist borders have to fall".
Banners handed out by the Socialist Workers Party read "open the borders, no deportations" while Stand Up To Racism banners said "Braverman out now".
Speakers spoke in favour of an amendment to the proposed legislation which would create safe routes for people to seek asylum in the UK.
Some speakers appeared to express support for fully open borders while others claimed racism was a factor in the Government's decision to welcome Ukrainian refugees and send others from the Middle East, Asia and Africa to Rwanda.
Mr Corbyn told demonstrators the Bill "is illegal, will imprison children, will deport people to Rwanda, will imprison people who have sought a place of safety".
He added that it will be hugely expensive and do little more than create "salacious headlines" claiming migrants and refugees are an "invading army".
Beth Winter MP, who represents Cynon Valley in South Wales, said the UK "should welcome every single human being who comes to our shores".
Bell Riberio-Addy, who represents Streatham, said France is not always a "safe country" for people arriving in small boats to return to.
She told demonstrators: "I went to Calais a few months ago and I can tell you Calais is anything but safe. Barbed wire fences, guards who destroy people's tents every single night, people who move people along as though they were animals."
She also said the UK accepts fewer refugees than other European countries and that Home Secretary Suella Braverman cannot name a single legal route for asylum seekers to enter the UK when she claims they exist.
Dawn Butler, who represents Brent Central, said the Government wants to "lock up" pregnant women and children with the new law.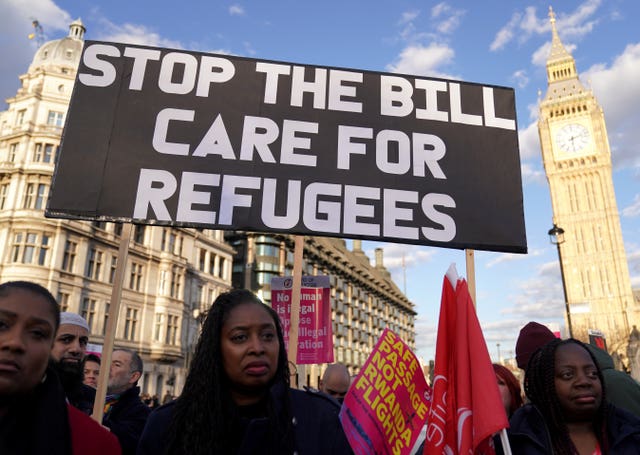 Richard Burgon, who sits for Leeds East, said he had never seen a Bill "so vile, so sick, so disgusting, so immoral, so depraved" before Parliament in his lifetime.
PCS deputy president Martin Cavanagh said the Government was "sending people to their deaths" with its earlier "pushback" policy on Channel boats, adding: "It was racist, it was abhorrent and it was murder."
He said he is "very proud" of the way union members working for Border Force responded to that policy.
He added they "didn't just sit there and accept it, they didn't just say, 'we've got to implement this, it's nothing to do with us' – they were clear they were not going to implement that, they were not going to take it".
Stand Up To Racism co-convenor Wayman Bennett told the PA news agency before the protest: "We are shocked and concerned the Government is talking about breaking international law.
"This is normally reserved for international pariahs, not the original signers of the Convention (on Human Rights).
"There are no safe and legal ways of claiming asylum for the vast majority of refugees and we know this because the majority of people who ask for refugee status have received it even if they have come on boats.
"It is not illegal to claim asylum, it is a right to claim asylum."
Pete Firmin, 73, travelled from Kilburn in north-west London to Westminster to attend the demonstration.
He said: "The proposal to send everybody to Rwanda without processing any claims at all is just inhuman.
"The protest will achieve very little, unfortunately, because the Government has a large majority, but it is important to show our opposition.
"For the Labour Party to oppose it solely on the basis of not thinking it will work is not good enough."