Yousaf jokes Sturgeon will be on 'speed dial' if he is elected SNP leader
Humza Yousaf hopes to have Nicola Sturgeon on "speed dial" if he is elected to replace her as SNP leader.
The leadership hopeful has reiterated his "admiration" for the First Minister, who made her final speech in the role in Holyrood on Thursday.
She will be replaced by either Mr Yousaf, Kate Forbes or Ash Regan when the ballot results are revealed on Monday.
Deputy First Minister John Swinney will also exit government to the SNP backbenches next week.
Mr Yousaf said he knows his potential predecessor will be "helpful" to whoever is elected as the next first minister of the country.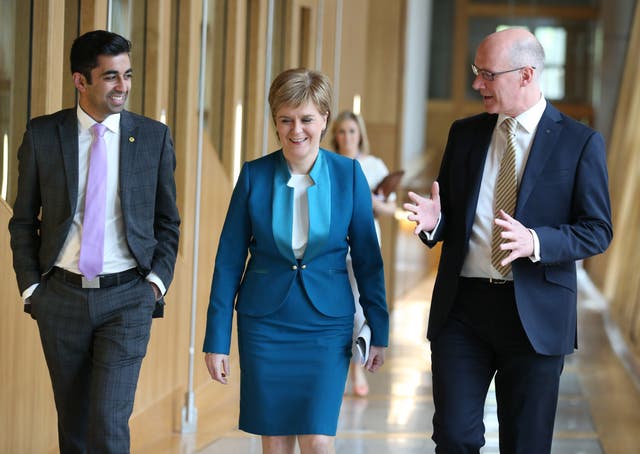 It comes as Ms Forbes said on Friday she would "absolutely" seek the guidance of Ms Sturgeon if elected to replace her.
Mr Yousaf told the PA news agency on Saturday: "Both Nicola and John will be really helpful to whoever the next leader of the SNP is but I think they will also be quite conscious of not getting too involved because they've done their piece.
"I think they will want to give the new leader a bit of space.
"I have tremendous amounts of admiration for both Nicola and John. They've already said to me that 'we're only ever a phone call away', so that's really helpful."
He went on to joke: "On speed dial is what I think I would say (to Nicola)."
While visiting the proposed site for the Eden Project in Dundee, Mr Yousaf said he was "hopeful" ahead of the leadership results on Monday.
He was joined by Dundee City Council leader John Alexander and SNP MSPs Shona Robison and Joe Fitzpatrick.
After Mr Swinney revealed he tried to quit government during tough times in the role of education secretary, Mr Yousaf said despite his own "tough days" he "never thought about quitting" cabinet.
In his current role as Health Secretary Mr Yousaf has faced criticism over the handling of the NHS, with waiting times for accident and emergency reaching record highs following the pandemic.
He previously held tough briefs of justice secretary and transport minister.
He said: "I've definitely had tough times. I've thought to myself, 'goodness, is there more that I can take personally' because I also come under a tremendous amount of abuse online and, unfortunately, sometimes face to face."