UN official hails seven mothers on hunger strike outside Downing Street
A United Nations (UN) official has hailed seven mothers who have been on hunger strike outside Downing Street and the Houses of Parliament for the past six days in protest against food poverty.
Dame Christiana Figueres, executive secretary of the United Nations' framework convention on climate change, wiped tears from her eyes as she visited the mothers on Friday afternoon to mark the final day of their strike, which started on Mother's Day on March 19.
The group – Emma Hopkins, Jo Hook, Erica Curren, Dr Grace Thompson, Dr Karen Gilmore, Chantelle Norton and Anna Palmer – launched the strike after the Food Foundation charity found one in four mothers in Britain are skipping meals to feed their children.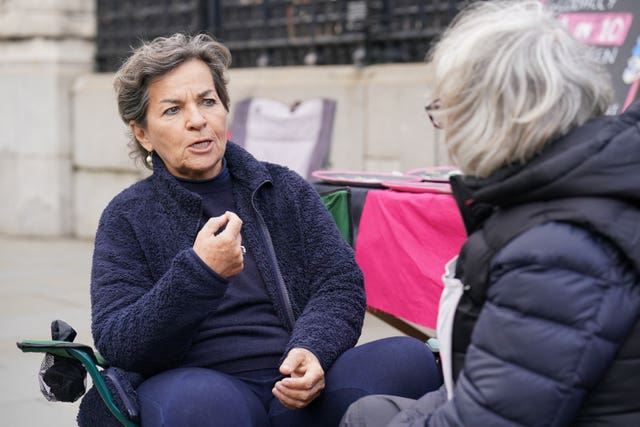 Ms Figueres told the PA news agency: "I came here to show support for these mothers who are standing in for the one in four mothers in the UK who are having to choose between feeding themselves and feeding their children.
"It is very inspiring and let's remember that they are here in solidarity with so many millions of other mothers who can't even come here.
"For this handful of brave women to be here and stand in and raise the voices of so many other mothers who can't come – that takes courage, that takes stamina, that's leadership.
"Action has to be taken as it's just not possible that UK society tolerates something like this.
"This is the UK. This is one of the richest countries in the world."
A washing line of baby grows emblazoned with the words "their future" and a love heart formed the backdrop to the mothers' protest outside the Houses of Parliament on Friday afternoon.
They handed out leaflets to passers-by and laid a table with plates bearing messages that included "ensure everyone has enough", "invest in resilient food" and "good food should not be a privilege".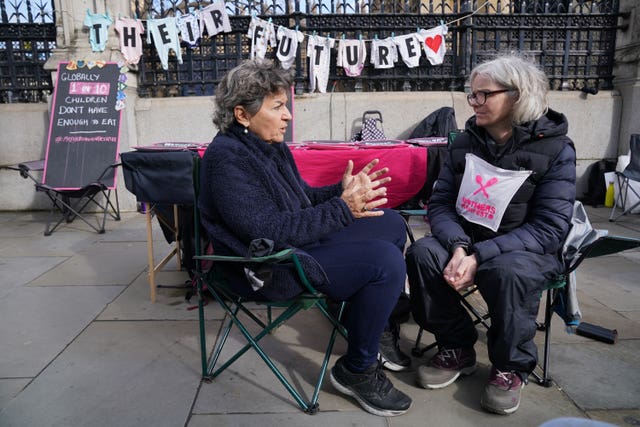 Ms Hopkins, a 54-year-old herbalist and mother-of-four from Totnes, Devon, told PA her head was "all over the place" after going without food for the full six days.
She said: "I have found it really puts you in touch with your emotions so I'm feeling even more and more heartbroken.
"I'm just heartbroken really. I've done a certain amount of crying. We've all been emotional at different times.
"It feels like a symbolic action for all those mothers who are waking up unable to feed themselves or their children and we're here for them.
"We've had lots of support, lots of brilliant interactions with MPs and connections in terms of moving this forward and where we go next.
"My head's all over the place. My brain is not functioning as it might but I'm doing fairly well considering, actually."
The seven mothers have gathered outside Downing Street or the Houses of Parliament with their supporters between 10am and 4pm every day since Mother's Day.
Others have gone without food for fewer than six days or are on strike in solidarity elsewhere in the country.
After going without food for so long, the women will have to gradually return their diets to normal and avoid complex carbohydrates like beans and wholegrains.
Also striking for the full six days was Ms Norton, 51, who works for a food bank in Totnes and is mother to a teenage boy.
She told PA: "I've delivered food to people who haven't eaten for four days before. It breaks your heart.
"Our caseload has quadrupled since before the pandemic.
"It feels as though what we are doing is a sticking plaster – there needs to be more fundamental reform."
She added: "I felt quite physically unwell for a couple of days but my spirit has stayed fairly high.
"We're doing this as a group and we have a cause behind us and we have brilliant support.
"How much worse it would be if you were hungry because you couldn't afford food and you didn't have that support network and you didn't know how to get help.
"Your mind becomes fuzzy after a while from the lack of food and so it might affect your logic to be able to go to Citizen's Advice and get some emergency financial help."