GoPro video footage of Gwyneth Paltrow ski crash may not exist, US court told
Rumoured GoPro video footage of Gwyneth Paltrow's ski collision may not actually exist, a US court has heard.
Reference to footage of the 2016 incident had previously been made during the trial in an email sent by the daughter of Terry Sanderson.
Mr Sanderson, a retired optometrist, is suing the Oscar-winning actress over the crash at the Deer Valley resort in Utah, which left him with several broken ribs and a severe head injury.
Ms Paltrow has denied the allegations and is counter-suing Mr Sanderson, claiming that he collided with her.
The jury was previously shown an email, sent by Mr Sanderson's eldest daughter Shae Sanderson-Herath, in which she referred to possible GoPro footage of the crash.
But giving evidence on Friday, Ms Sanderson-Herath said she had not actually seen any such footage, though she had believed it existed at the time.
"After my dad told me about what he was feeling and that he could hardly think, and that he had rung his bell I believe he mentioned, there had to be GoPro video," she told the court.
"He said there has to be GoPro footage because there was this big blood-curdling scream, so that means someone with a GoPro would have turned to look and captured it."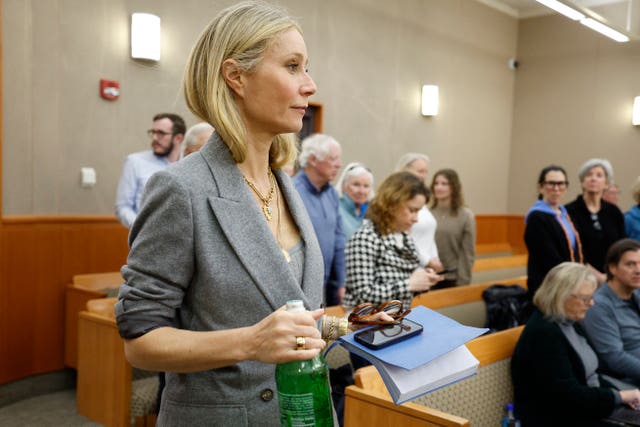 She added: "I have never seen GoPro video and I don't know that it does exist. I believed there was GoPro video at the time and that's why I said that.
"I just wanted my dad to have peace of mind that there was video out there that showed what happened."
Both Ms Paltrow and Mr Sanderson are expected to give evidence on Friday.
Mr Sanderson is seeking damages of a minimum of 300,000 dollars (£244,000), while Ms Paltrow's counter-claim is for one dollar.
On Thursday the court heard Ms Paltrow crashing into Mr Sanderson was the "only scenario" that could have resulted in Mr Sanderson's injuries.
Dr Richard Boehne told jurors via video evidence that Mr Sanderson had provided a "cushion" for the actress in the fall.
"If you had a choice between Mr Sanderson hitting Ms Paltrow or Ms Paltrow hitting Mr Sanderson, you would have to pick Ms Paltrow hitting Mr Sanderson from behind and falling on top of him to account for the rib fractures," he said.
"If you were to compare two scenarios, there's only one scenario that would account for enough force application to fracture those ribs and that would be Ms Paltrow striking Mr Sanderson from behind and falling to the ground.
"In essence he was like a cushion, if you will."
The trial, taking place in Park City, Utah, continues.