Johnson distances himself from 'kangaroo court' claims made by allies
Boris Johnson has tried to distance himself from some of the attacks against the Privileges Committee made by his supporters, some of whom labelled it a "kangaroo court".
In some tense exchanges between the former prime minister and Tory MPs Alberto Costa and Sir Charles Walker, Mr Johnson was asked about the use of the term "witch hunt" and "kangaroo court" to describe the committee investigation.
Sir Charles told Mr Johnson, as the three-and-a-half hour committee session drew to a close, that his allies had mounted "a concerted effort to delegitimise the committee, to call us a kangaroo court".
Asked if he regretted that, Mr Johnson said: "There should be no intimidation, there should be no attempt to bully any colleague in any matter whatever."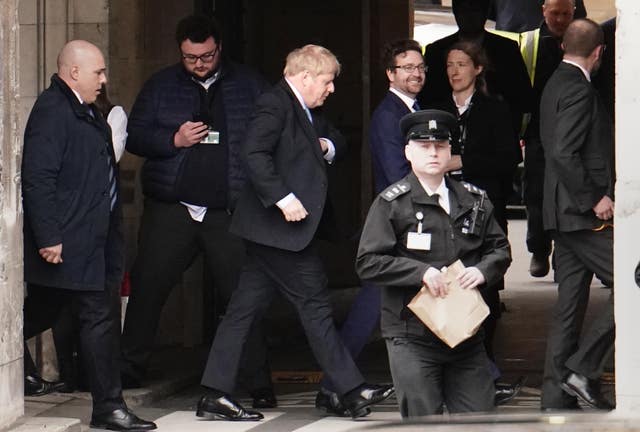 Mr Johnson said he had raised "questions of fairness" but "I deprecate the term you have just used, I don't want to repeat it".
He added: "People will judge for themselves, on the basis of the evidence you have produced, the fairness of this committee. I have every confidence you will show that you can be fair."
Mr Costa also pressed Mr Johnson on some of the language his backers had used, asking him that "you wouldn't characterise it as a witch hunt or a kangaroo court".
Mr Johnson said: "I deprecate the terms you have used, I do not want to see good colleagues feeling that they are under pressure either way.
"I believe that if you study this evidence impartially you will come to the conclusion I have given."
Commons Speaker Sir Lindsay Hoyle had earlier warned MPs not to interfere or intimidate the Privileges Committee as it considers the matter.
In a message to MPs, the Speaker said: "A very dim view will be taken of any Member who tries to prevent the committee from carrying out this serious work, or of anyone from outside the House who interferes."
But only hours after the Speaker's email, Jacob Rees-Mogg told BBC Radio 4's World At One programme: "I think Harriet Harman's position is absurd, that after (predecessor) Chris Bryant recused himself – quite rightly – she should not possibly have taken on the role when she had expressed her view clearly beforehand."
Asked whether he shared the view expressed by some of Mr Johnson's supporters that the process was a kangaroo court, the former cabinet minister said: "I think you're being very rude to marsupials… I think it makes kangaroo courts look respectable."
He said "the evidence is clear that they put out the case of the prosecution before they heard from the defence", something that was "entirely unfair and prejudicial".
Midway through proceedings, Mr Rees-Mogg tweeted: "Boris is doing very well against the marsupials."