Protesters take to streets in anti-racism demonstration
Protesters have taken to the streets in cities across the UK in an anti-racism demonstration organised partly in response to the Government's Illegal Migration Bill.
The marches, organised by Stand Up To Racism and the STUC, were held in London, Glasgow and Cardiff on Saturday afternoon.
Organisers said thousands of people took part in the action against racism, Islamophobia, antisemitism, fascism and the far right.
On a march to Downing Street, protesters, many of whom were carrying signs reading "no human being is illegal" and bearing trade union logos, said the demonstration is partly a response to the Government's "inhuman" Illegal Migration Bill.
The controversial legislation introduced by Home Secretary Suella Braverman last week states that refugees who arrive in the UK through unauthorised means, such as crossing the English Channel in a boat, will have their asylum claims deemed inadmissible.
Ms Braverman is on a trip to Rwanda this weekend to reaffirm her commitment to the Government's policy to deport migrants to the African state.
Maria Frazier, 75, said she was protesting against the Government because she agreed with Gary Lineker's comment comparing some of the language used around its immigration policies to those of 1930s Germany.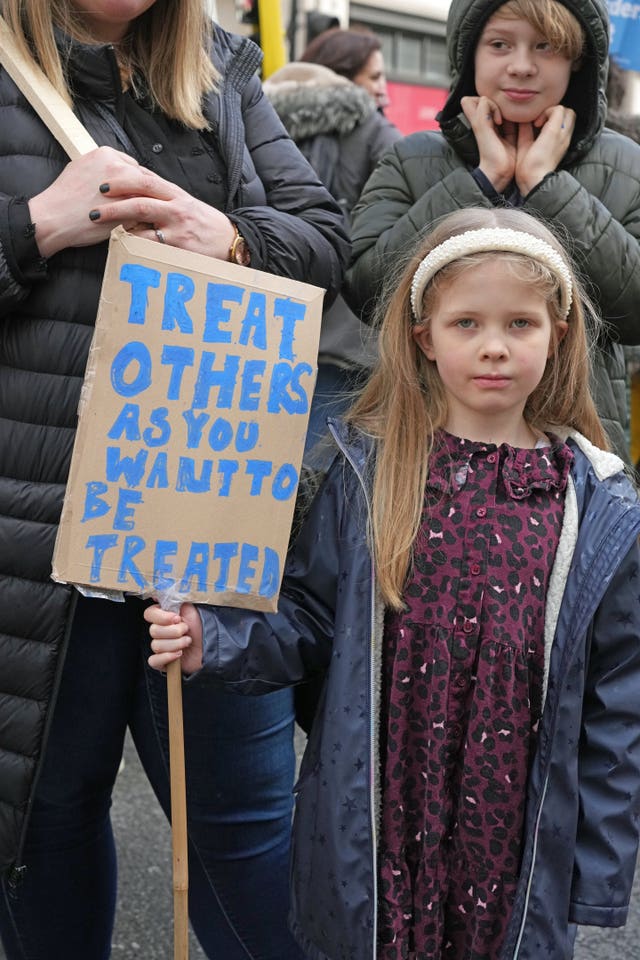 Speaking outside the BBC's headquarters in central London, the retired speech and language therapist, from south London, said: "We think there should be an all-out indefinite general strike and the Tories should be removed by class action.
"They've got some quite violent programmes that they're trying to bring in- they're trying to ban strikes, they're deporting immigrants – it's not British.
"Lineker was right when he said there are shades of the German Reich in the methods that they're using.
"People are turning out because they're extremely angry at the way the economy is being run and the deprivation that's going on while the rich people in power make themselves richer."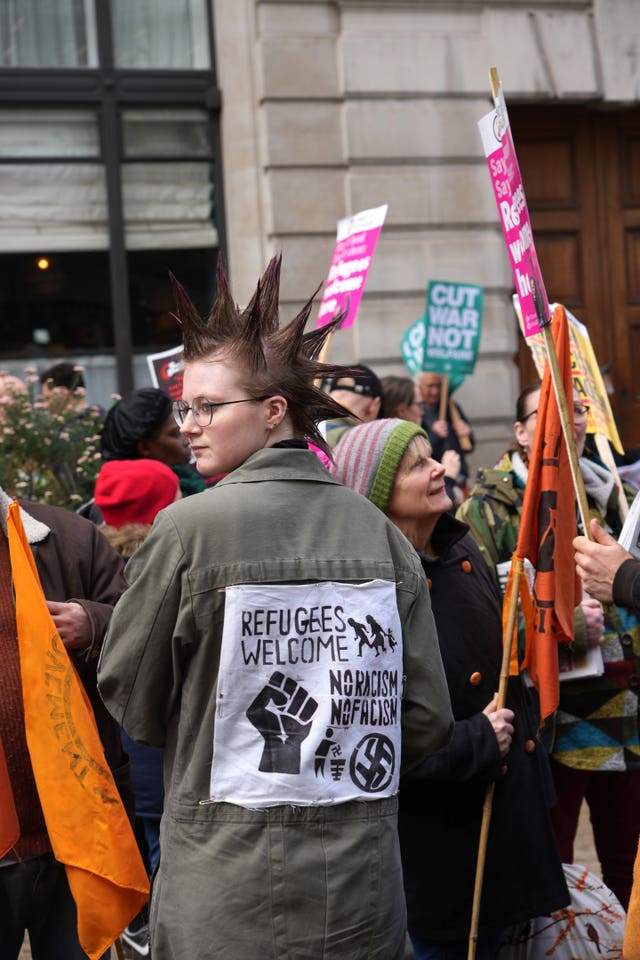 Pictures posted on social media show a coachload of protesters wearing masks of 62-year-old Lineker's face, ahead of his return to TV screens to present live coverage of the FA Cup quarter-final between Manchester City and Burnley.
He is appearing on the BBC on Saturday for the first time since he was told to step back from hosting Match Of The Day (MOTD) in a row over impartiality.
Lizi Cushen, 39, said she joined the anti-racism protest London with her husband and sons, aged four and six, because she had been "shocked" by the scandal of missing refugee children from Home Office hotels.
Ms Cushen, an architect from Leyton, north-east London, said: "The Illegal Migration Bill is dehumanising everyone who's seeking asylum.
"It's important to protest because it's the only way to be visible and heard at the moment."
Speaking about the Bill, her charity worker friend Cassi Harrison, 42, said: "It's just outrageous.
"We see quite a lot of the government ministers saying they speak for the great British public, and we want to be here to say that they don't speak for us."
Ms Cushen's sons held signs calling for "safe passage for all kids like me".
Planning officer Mark Daly, 65, who travelled from Horsham, Sussex, said he wanted to stand against the Government's "racist" bill.
"The Government is trying to make these people not only unwelcome but illegal. We cannot classify people as illegal, it's a racist policy from a racist Government," he said.