Bible of priest who smuggled Charles II out of England to go under the hammer
The bible of the priest who smuggled King Charles II out of England during the Civil War is set to fetch thousands at auction.
Father John Huddleston's bible was bought for the modern equivalent of two and a half pence in the 1950s – but it now has an estimated sale price of at least £2,000.
Auctioneer John Crane said the bible is a "very rare" item, and when he first saw it, in the house of a family in the Wirral, it was "the first time in 40 years since being an auctioneer I could use the word 'unique'".
Father Huddleston arranged for King Charles II to seek safety in France during the English Civil War, and attended the monarch's death bed to convert him to the Catholic faith in 1685.
Mr Crane said: "To buy this item is buying a piece of history – it could be assumed quite comfortably that this bible was present at the death of King Charles."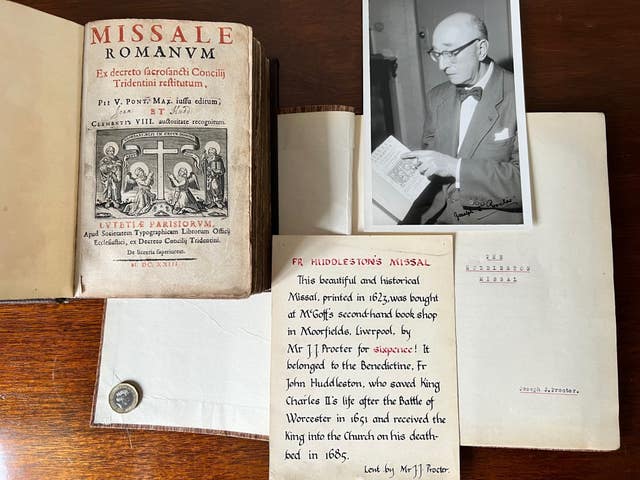 The bible was purchased for six old pence in the late 1950s, at a book shop in Moorfields, Liverpool, and contains the signature of Father Huddleston.
Mr Crane added that the presence of a signature gave an indication of price point. He said "a signature by Huddleston on another disbound book was sold in Edinburgh for £600 but it wasn't his personal bible.
"The signature alone is probably worth £600 to £800 but the lift in the value would be the fact that it's his personal bible.
"Most other books you can put a commercial value on, because they've been sold before, but this book is so unique, there's no track record to go on."
Talking about the importance of the bible, Mr Crane said: "Its association with King Charles and the friendship between him and Father Huddleston makes it unique.
"If it wasn't for Father Huddleston organising King Charles II's escape, it might have changed the whole course of history."
Given its historical significance, Mr Crane hopes the bible will not be sequestered after purchase.
"I'm hoping that a public body or museum will buy it so that it can be on view for the general public to enjoy and see," he said.
"This isn't about money, it's about trying to make sure it goes into safe hands and safe-keeping for the benefit of the general public."
The bible is part of a timed international auction on thesaleroom.com/catocrane, which will close on March 30.