Patrick Kielty: It will be 'strange' to hear Northern accent on Late Late Show
Patrick Kielty has said "it's going to be strange" to hear a Northern accent on one of Ireland's biggest talk shows as he prepares to host The Late Late Show for the first time.
The comedian and presenter also revealed that he had received a message from previous host Ryan Tubridy ahead of his debut episode on Friday evening.
Kielty is the fourth regular host in the run of The Late Late Show, being preceded by Gay Byrne, Pat Kenny and Ryan Tubridy.
He is also the first host to hail from Northern Ireland and is originally from Dundrum in Co Down.
Read more: Patrick Kielty: From Dundrum to the Late Late Show and everything in between
Kielty said he was not feeling any animosity on being the first host from across the border, and that he has been welcomed into his new role.
"I think it's going to be fun.
"It's going to be a bit strange for people up the road to hear the County Down accent on the show," he said.
"I think what's interesting is sometimes we talk these things up even more, I think that if you look at all of the identities that we have on this island at the minute, and the progress that we've made, I think that – I don't see it as a thing.
"And I think that the welcome that I've had coming into this building, certainly not a thing down here."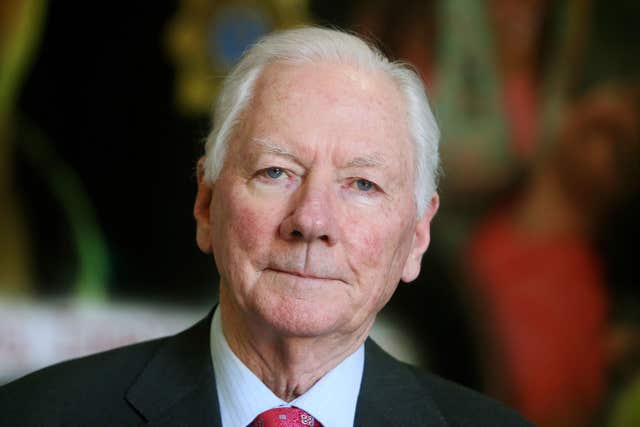 The Late Late show has not shied away from controversy in the past, with the show facing a High Court case in 1985 for billing two former nuns who were lesbians when Gay Byrne was host, and Tubridy's interview with Tony Blair that took place just the night before the former prime minister was pelted with eggs at a book signing in Dublin.
Kielty said that in his tenure on the show, he would not shy away from difficult discussions.
"I think the only way you can have a difficult conversation is to be honest, and not to judge.
"Whenever I was doing my documentaries, and visiting the bonfires, and I think with all conversations, you go in and try to see who the human being is you're talking to, and why they feel the way they're talking, what their position is, and I think that's at the heart of it," he said.
"And I think that hopefully any conversation that I'll have on the show that I'm hosting, I'll hopefully bring those skills to it."
A compilation of well-wishing messages from people in Kielty's hometown of Dundrum was prepared for him, and he said he felt the benefits of support from his local community.
"That type of stuff that nearly puts you over the edge like all the other stuff you can kind of cope with, but people in the village and people you grew up with and people who went to school with," he said.
"I got an amazing wee message sent to me from my best friend's family, and they were all sea swimming this week, and they were all in the sea jumping up going 'Hey, Paddy!'
"It's nice to know, you've got so many people in your corner."
Kielty's predecessor Tubridy, who presented the show from 2009, announced his resignation in March 2023, with his final episode airing on May 26.
Just a month after his gracious exit from the Late Late, Tubridy became embroiled at the heart of the scandal at RTE when the broadcaster revealed it had not correctly declared his fees to between 2017 and 2022, when he was the highest-earning presenter.
Kielty said the controversy: "Weirdly, hasn't impacted how we do the first show, at all really".
"In terms of, you're coming in, you're hosting the Late Show, you're always going to put your stamp on it, you're always going to have to be you," he said.
"I think the fact that kind of none of that concerned me and it was happening before my time meant that really you were just focusing on what you could control.
"I think that when you put all of this stuff together it maybe seems like one story, but for me, I don't really see myself as part of that, I see myself as I got the show, I'm hosting the show, let's host the show."
He did say he had received a message from his forerunner during preparations for his pilot episode.
"I got a little message from Ryan wishing me good luck which I thought was very nice," he said.
Kielty remained tight-lipped on what audiences can expect from the new series of the Late Late.
When asked to describe the first episode in one word he said it was "coming", adding that if he had been asked for three words he would have said: "wait and see".
"I don't think we're giving guests away.
"And it feels like I'm not answering it, and I'm not answering it, I kind of want to answer it.
"There's lots of nice treats that I'm really happy with and I hope everybody else is," he said.
Kielty is married to TV presenter Cat Deeley and the pair have two sons, aged five and seven.
With Kielty planning to travel between London and Ireland for his new hosting gig, he said the family has always had to deal with "moving parts" due to his and his wife's careers.
"Neither of us have had a nine to five job and so there's always been stuff where Cat's gone and done stuff, and I've gone and done stuff.
"It feels, weirdly, that this show is probably the most routine that we're going to have as a family," he said.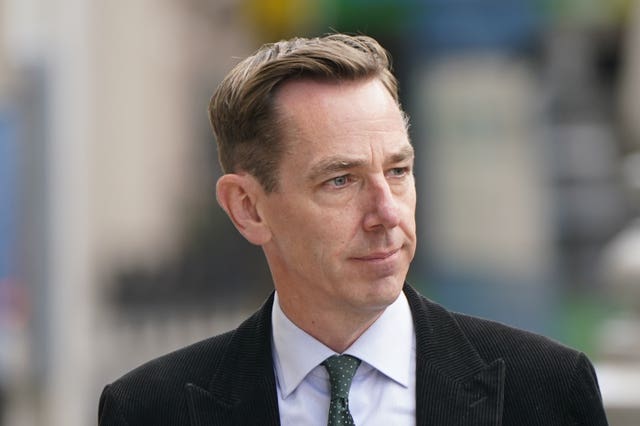 "And what's nice is that I still get to do a couple of school runs if it's the start of the week and coming from Co Down and still having a house there, I get to see the other part of the family and get to be here, so it's not as much of an upheaval as maybe you think.
"It was a wee bit trickier whenever you're maybe doing stand up gigs and living in LA, that was harder."
Kielty said Deeley and their sons would not be attending the first show on Friday, but said "the request may come in for a trip" approaching Christmas as he prepares to take on The Toy Show.
"There's the first show and then there's the Toy Show.
"And whenever I got this gig the Toy Show was the one where you're just like, 'Oh, my God, that's the one'" he said.
"The first show was the one really that we kind of want to get out of the way.
"And then once we get bedded in and stuff like that, we'll tick on."
Asked if he had plans to celebrate when his first episode wrapped on Friday night, Kielty said: "Win, lose or draw I've decided I'm going to enjoy this week so drink might be taken."
Audiences can tune in to Kielty's maiden hosting of The Late Late show at 9.35pm on Friday September 15.