Delaying mortgage relief support until the budget a 'nonsense', Sinn Fein warns
Delaying action to support mortgage holders struggling with spiralling interest rates is crazy and nonsensical, the Tanaiste has been warned.
Sinn Fein's Pearse Doherty said the series of rate rises since last summer have seen many Irish families facing annual repayment bills increasing by around 6,000 euro.
His comments came ahead of the European Central Bank's announcement of a further 0.25% rise, increasing the base borrowing rate in the Eurozone from 3% to 3.25%.
During Leaders' Questions, Mr Doherty criticised the Government's rejection of Sinn Fein's proposal for temporary and targeted relief on interest rate payments, which would absorb 30% of the recent hikes with a cap of 1,500 euro.
On Wednesday, housing minister Darragh O'Brien indicated the coalition may reintroduce a form of relief on mortgage interest in this autumn's budget to combat the impact of rising rates.
Raising the issue in the Dail on Thursday, Mr Doherty accused the Government of "washing its hands" of under-pressure mortgage holders.
"The Government has claimed that they cannot act until the budget in October," he said.
"Can I remind you in the past number of weeks your government has announced tax changes on petrol and diesel, on solar panels. Tax changes for hospitality and tourism sector, you have removed levies for developers, all outside the normal budget cycle at a cost of hundreds of millions of euro.
"So, the argument that nothing can be done to support these families in the here and now with rising mortgage costs before October is simply a nonsense.
"As mortgage costs soar for struggling households, hundreds of thousands of them, the state can and should step in to support them, to give them that type of relief.
"So, now is not the time for excuses, Tanaiste, now is the time for action, now is the time to be on the side of mortgage holders, now is the time to give them relief."
He described the situation as "crazy".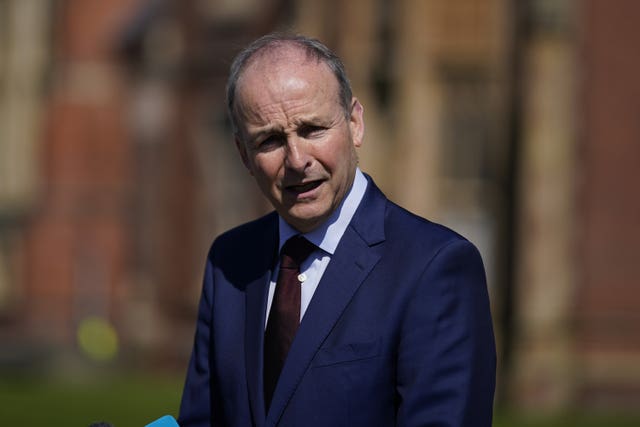 In response, Tanaiste Micheal Martin claimed Sinn Fein was adopting a "knee-jerk" approach to the cost-of-living crisis, proposing different policies for different sectors on a month-by-month basis.
The Fianna Fail leader said the Government, in contrast, was implementing a comprehensive support strategy.
"There is no doubt that pressure is increasing on families with mortgages," he said.
"I also have to say that we have to be mindful not to rush into the Sinn Fein sort of knee-jerk response to issues that emerge from time to time."
He claimed the Sinn Fein proposal was "discriminatory" as, he said, it would only benefit those on tracker mortgages, not those with fixed repayment deals.
"Your proposal is discriminatory against those on fixed mortgage rates," he told Mr Doherty.
"People with the same loans, same repayments, and the average repayment across fixed tracker and variable is roughly the same.
"But you're proposing to exclude nearly 50% from your specific proposals, to discriminate against those, which points to the need to look at this more broadly in terms of the cost-of-living pressures that are undoubtedly on people and the Government has intervened."
He said ministers had invested 12 billion euro in providing cost-of-living supports.
"Our programme in terms of cost of living has come right through this first half of this year, it is designed in a comprehensive way, which I think is a better approach rather than just picking out sector by sector every month in terms of the sort of knee-jerk response of the Opposition," he said.