Donald Trump due to visit his golf resort in Ireland
Former US president Donald Trump is expected to follow President Joe Biden, his successor at the White House, by visiting Ireland on Wednesday.
Preparations were underway and security increased on Tuesday at Trump International Golf Links and Hotel just outside the town of Doonbeg in Co Clare, although staff remained tight-lipped about the proposed visit.
He last visited the 400-acre resort, which he bought in 2014, while president in 2019.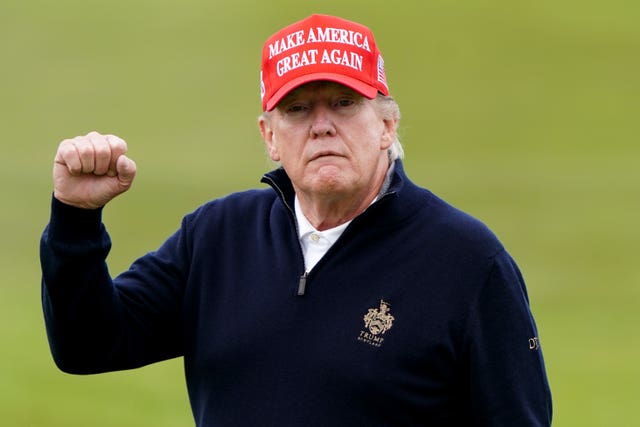 Mr Trump, accompanied by his son Eric, has spent the last two days in Scotland, breaking ground on a new golf course at his Menie Estate near Aberdeen before playing a round at his Turnberry resort in South Ayrshire.
During his time in Scotland he gave an interview with Nigel Farage which will be broadcast on GB News at 7pm on Wednesday.
Bob Rogers, from Doonbeg Community Development, said the visit is widely welcomed in the town.
"Love him or hate him, he brings a show," Mr Rogers said.
The trip is Mr Trump's first abroad since he became the first former US president to face criminal charges.
No travel conditions were placed on him after he pleaded not guilty to 34 counts of falsifying business record in New York in April.
The visit coincides with the second week of a civil trial in Manhattan over accusations, denied by Mr Trump, he raped former magazine columnist E Jean Carroll in a department store dressing room in 1996.
Mr Biden visited Ireland as part of the celebrations to mark 25 years of the Good Friday agreement before retracing his Irish roots in Co Louth and Co Mayo in March.