Irish town hopes for Biden bounce after presidential speech
Ballina is basking in the glow of a history-making Irish visit, as locals count on a Biden bounce in the wake of the president's homecoming speech.
The Co Mayo town is proud of its history, with streets named in honour of rebel leaders from Irish history – including The O'Rahilly and Wolfe Tone.
It was proud too on Friday as Joe Biden made the town his final stop on his leisurely, four-day trip to the island.
Locals know the benefit of American business to the area – there is a Coca Cola factory just outside the town close to the banks of the Moy river – while the scenic surrounds have always attracted a steady stream of tourists.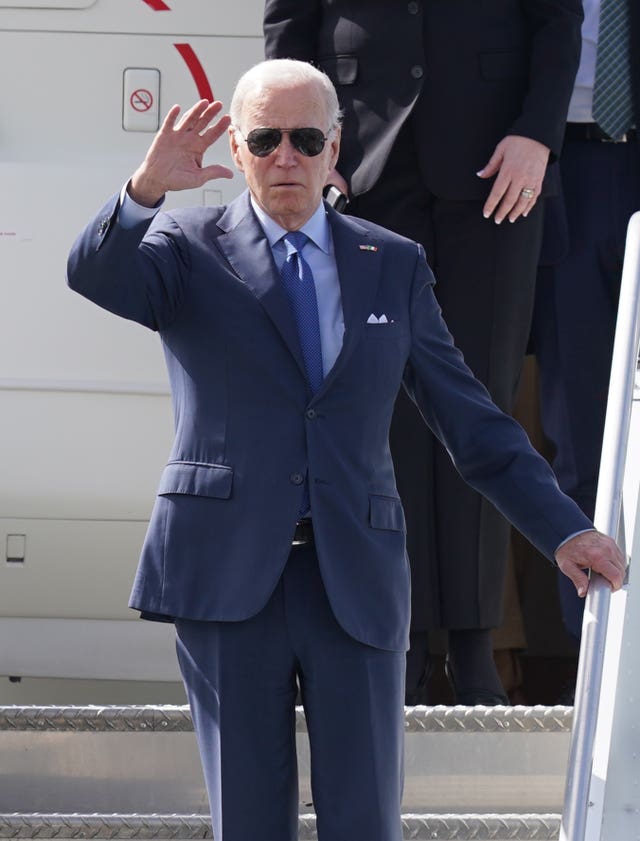 One sign on the town's Main Street declared Ballina the "51st state". And while Mr Biden's presidential powers do not stretch as far as this particular corner of the western Irish coast, residents hope that long after the blue and red bunting has been put away the president's ancestral ties to the county will deliver benefits.
Michael Mullowney, who started queuing for Mr Biden's speech with his three children from 4.30pm, said: "It means a lot, because I suppose he's the most powerful man on Earth. We'll never get the opportunity again."
He always thought Mr Biden would visit. "The biggest American company is here beside us, Coca Cola."
Rory Quinn, who runs a jewellers in the town, agreed that the speech would bring a "huge" benefit to the town.
He said: "Americans will come back in their droves to Ballina to see where Joe Biden has spoken the last time when he was home. So I think that is a plus, plus for everybody and there is a great Irish-American relationship, so that all helps."
Mr Biden visited Mayo as vice-president in 2016 and some locals did not believe he would come back again so soon.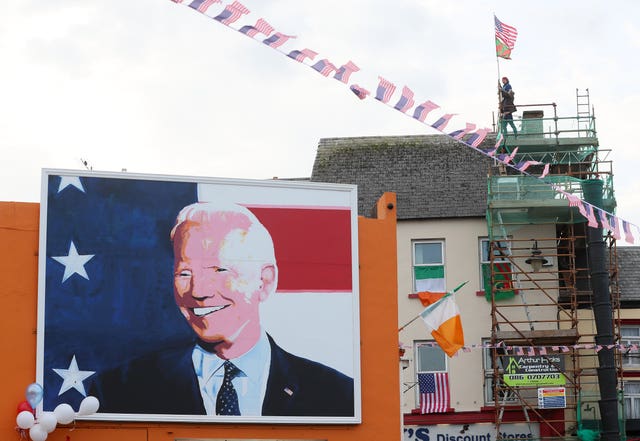 Joan Gleeson, a Ballina local who queued to see the president on Friday, said: "Words can't explain what it means tourism-wise, even for jobs. We have two American companies here – you never know what it would bring to us. Even tourists alone, that's our big thing, that would be great for us here."
She said that the whole town got behind the visit.
"Actually, we didn't really believe he would come here again. We thought he won't have enough time on the itinerary. When we heard it, we were over the moon. Because when he came once, I thought 'Oh he won't come again'. But everybody said, this is different, he is a president."
Her friend Maura O'Reilly said: "For the country in general, I think it is an excellent boost for the country – economically and tourist-wise. It shows it off and it's free."
In the GAA-mad county, there was less optimism that some of the Biden magic could rub off on the Mayo team – whose decades-long search for an All-Ireland title is a perennial source of heartbreak for the county.
Sean Keane, a retiree who came back to Ballina from his home in the London suburb of Wembley for the speech, thought that might be too much to hope for.
"I don't think so," he said.
But in a town where a clutch of famous Irish names adorn the streets, could there soon be a thoroughfare named after the Irish-American president?
"Oh you can be sure there will be," Ms O'Reilly said.