Biden says 'everything between Ireland and US runs deep' as he ends island tour
US president Joe Biden has said "everything between Ireland and America runs deep" as he concluded his historic tour of the island.
Mr Biden made a public speech in the town of Ballina in Co Mayo on Friday where he spoke throughout of his fondness for the relationship between the US and Ireland – describing it as "united by history, heritage and hope".
He thanked the thousands in the crowd for their "incredible generosity" for opening up their homes to Ukrainian refugees "fleeing Russia's brutal violence".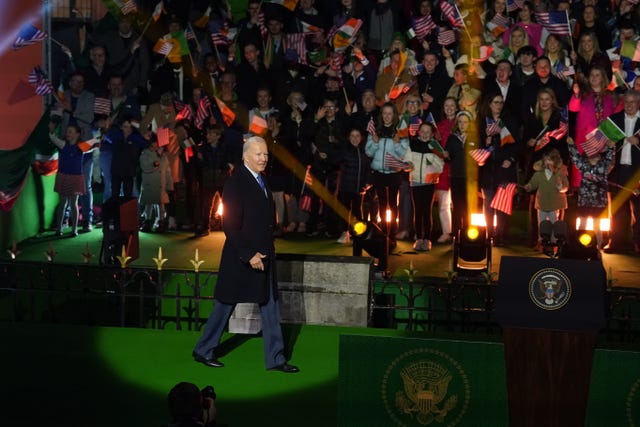 Once again speaking of his Irish ancestry, Mr Biden said millions of Americans claim to have Irish heritage – adding: "More would if they could."
Opening his speech, Mr Biden said: "It feels like coming home."
The president referenced a visit he made earlier in the day to the Mayo Roscommon Hospice, where there is a plaque in memory of his son Beau.
He said: "I can tell you how special it is that a piece of his legacy lives here among his ancestors.
"Thinking about it I could hear my dad's voice again. He'd always say 'Joe remember family is the beginning, the middle and the end'.
"The beginning, middle and end, that's the Irish of it."
He added: "Everything between Ireland and America runs deep; our history, our heritage, our sorrows, our future, our friendship. But more than anything, hope is what beats in the hearts of all our people.
"For centuries during times of darkness and despair, hope has kept us marching forward toward a better future, one of greater liberty, greater dignity and greater possibilities."
The president's son Hunter Biden and sister Valerie Biden Owens sat in the front row of the VIP section to the side of the stage for the speech.
During his 20-minute speech, Mr Biden spoke of his ancestor Edward Blewitt, whom he said worked in the old Ballina brickyard.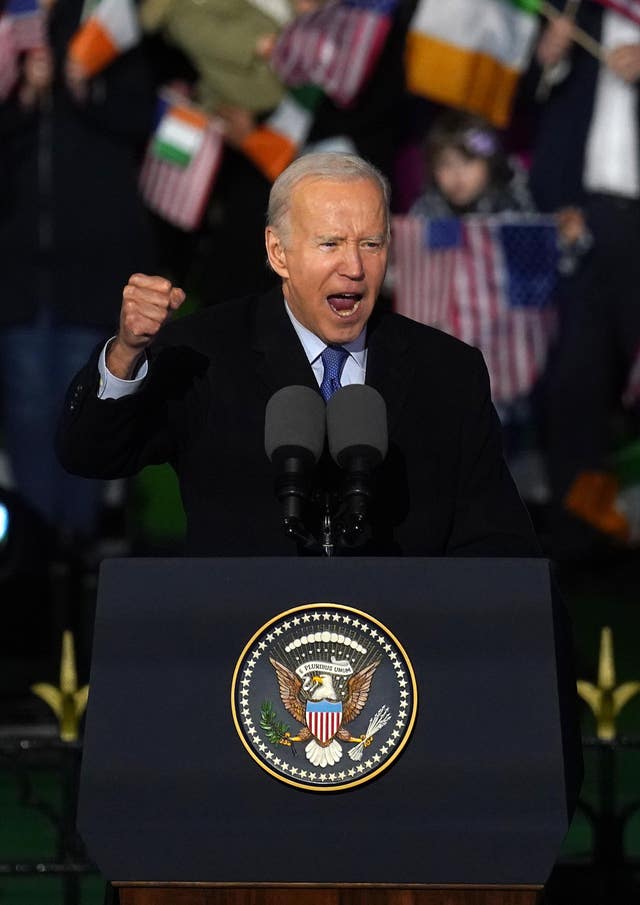 The president said during one of his engagements in Co Mayo, he saw a record from 1828 that said Mr Blewitt was paid 21 pounds and 12 shillings to help supply 27,000 bricks for St Muredach's Cathedral, which was nearby as he addressed the crowd.
"As he laboured, I'm sure he would imagine that one day his family would worship here, that his children would be baptised here like his son Patrick was, and that future generations of his family would mark the milestones of their lives here in the sturdy walls," he said.
"But I doubt he ever imagined his great-great-great grandson would return 200 years later as president of the United States of America."
He also thanked Ballina for celebrating his election as president in 2020.
"You decked out the town I'm told in red, white and blue with cars and crowds gathered in the market square singing the green and the red of Mayo," he said.
"It means the world to me, it meant the world to me and my entire family to be embraced as Mayo Joe, son of Ballina.
"My mother, my grandmother – whose maiden name was Blewitt – would be smiling down on me right now."
The president also spoke of the Good Friday Agreement, calling it "25 years of peace and progress".
"It is a reminder the importance of peace and what you can accomplish when we work together in common cause," Mr Biden said.
Telling the crowd visiting Ballina felt like going home, he continued: "Over the years, stories of this place have become part of my soul, part of my family lore."
Mr Biden said he and his siblings were raised with "a fierce pride in our Irish ancestry".
"A pride that spoke to both the history that binds us but more importantly the values that unite us," he said.
"To this day I can still remember hearing my dad say at the dinner table, 'Joey, everyone is entitled to be treated with dignity and respect', I can still hear my mom tell me, 'Joey, nobody is better than you but everybody is your equal'."