Seamus Heaney's widow watches on as Joe Biden cites work of late Irish poet
An emotional Marie Heaney, widow of Seamus Heaney, watched on as Joe Biden cited one of the late Nobel laureate's best-known works in his Oireachtas address.
Heaney, who died in 2013, is one of the best-known modern Irish poets and has long been a favourite of the US president.
Ms Heaney was invited by Mr Biden to attend his historic speech at the Irish Parliament on Thursday, which took place on her former husband's birthday.
Mr Biden, fond of his Irish heritage and perhaps fonder still of Irish poetry, told the seated TDs and senators: "I was always quoting Irish poetry in the United States Senate over my career.
"It's a long career – 36 years. And my colleagues always thought I did it because I was Irish. That's not the reason, they have the best poets in the world."
Thanking Ms Heaney for a signed copy of the Co Derry-born poet's work, the president read a much-quoted extract of his work The Cure At Troy, a translation of a Sophocles play.
"He wrote, 'Don't hope on this side of the grave. But then, once in a lifetime, that longed-for tidal wave of justice can rise up and hope and history rhyme'," Mr Biden said.
"It's everything I've been taught, rise up. We've, in the past, made hope and history rhyme.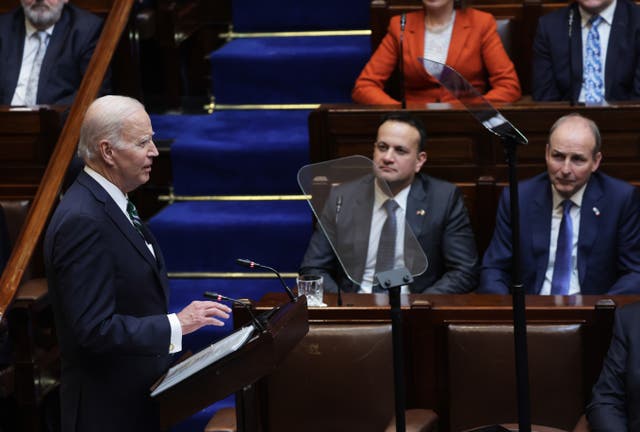 "So today, ladies and gentlemen, as we celebrate the enduring partnership between our nations, our shared past, our present, let's set our eyes squarely on the future."
Former US president Bill Clinton quoted the same words when he visited Derry in 1995, three years before the Good Friday Agreement was secured.
Mr Biden used the same quote at the 2020 Democratic national convention as he began the road to the White House.
In his opening remarks on Thursday, Dail speaker Sean O Fearghail paid a warm welcome to a visibly emotional Ms Heaney, describing the poet – whose work often reflected the violent turbulence of Northern Ireland during The Troubles – as "one of our great literary treasures".
"Seamus would have been 84 today and I'm sure he is looking down on us with his glasses nestled between his fingers and a hint of a smile," said Mr O Fearghail.