Ireland and US 'standing together' to oppose Russian aggression, says Biden
Ireland and the US are "standing together to oppose Russia's brutal aggression" in Ukraine, US president Joe Biden has said.
In his address at Leinster House, Mr Biden also referenced Irish neutrality, stating that the country had stood with partners around the world for "liberty against tyranny".
The president said the US and Ireland shared the same values.
He added: "Today Ireland and the United States are standing together to oppose Russia's brutal aggression and support the brave people of Ukraine.
"President Kennedy said 60 years ago, 'Ireland pursues an independent course in foreign policy, but it is not neutral between liberty and tyranny and it never will be' – thank you for that.
"Over the past year Ireland has proved him right, and stood proudly with the United States and partners around the world for liberty against tyranny."
Mr Biden added: "Ireland has committed more than 170 million euro in non-lethal aid to Ukraine, including vital protective gear, medical equipment, humanitarian support and aid to minimise the impacts of war on food insecurity and child malnutrition – you don't forget, you got memories that go deep.
"As a member of the European Union, Ireland is working together with the United States and other partners to hold Russia accountable for its actions, including through significant sanctions and export control."
He said that Russian president Vladimir Putin thought countries would become divided but "he was wrong", adding: "Today, we're more united and more determined than ever to defend the values that make us strong."
Earlier this month it was announced a forum will be held this summer to examine issues relating to Ireland's defence capabilities, security and military neutrality.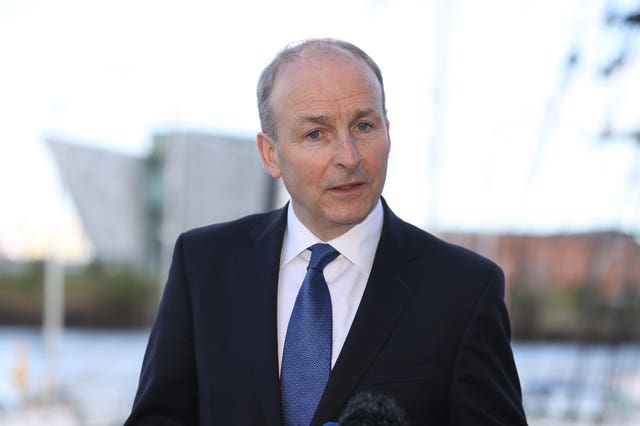 Minister for Foreign Affairs and Defence Micheal Martin announced plans for a "consultative forum on international security policy".
It is understood that contributors on up to 20 panels will come from a broad range of perspectives and include participants from other countries re-evaluating their national security position, like Finland and Sweden's relationship with Nato, as well as neutral countries such as Austria and Switzerland.
It is expected the forum will also assist in the upcoming Strategic Defence Review within the Department of Defence.
The talks may also examine Irish involvement in peacekeeping efforts under UN obligations and EU foreign policy.