Approved housing bodies 'not surprised' by billion euro underspend
The representative organisation for approved housing bodies (AHBs) has said it is "not surprising" there was a one billion euro underspend in housing in Ireland over the last three years.
It follows the publication of expenditure figures from the Department of Housing which revealed a one billion euro underspend in capital expenditure on housing across 2020, 2021 and 2022.
The Irish Council for Social Housing (ICSH) said the construction sector lockdown of 13 weeks in 2021, with some exceptions, "was a very challenging experience for residential housebuilding", particularly as it came after a seven-week construction lockdown and rolling delays in 2020.
It said Brexit-related supply obstacles, price increases and workforce issues also affected delivery.
"The cumulative impact of this meant that many social housing projects were delayed and others were unable to commence on time," it said.
ICSH chief executive Dr Donal McManus said there was an issue around the wider economic viability of homes during the period, which led to schemes being revised or not started in the first place.
Dr McManus said "a continuum of problems" led to thousands of units unable to progress, while AHBs had previously reached delivery of 4,000 homes per year in 2019.
Constraints to delivery in 2022 included construction price "hyperinflation", interest rate rises, capacity issues and the availability of affordable land.
However, the ICSH is in communication with the Department of Housing to review and streamline funding and approval processes under a range of schemes.
"For example, the decision to discontinue limiting the Payment and Availability Agreement (P&A) to a percentage of local market rent, announced with the recent publication of the Capital Advance Leasing Facility (CALF) review, is a key measure that will ensure the viability of thousands of AHB homes in both urban and rural communities," it said.
Dr McManus said there was a "strong pipeline" in the AHB sector and added he was hopeful that all stalled units could be delivered following a review of the funding programmes.
"There was a number of schemes that were blocked, thousands of homes were stalled at the end of last year due to these viability issues," he said.
He said the programmes had to be adjusted to reflect market conditions.
"With the new terms of conditions we'd expect more continuous delivery at a high level," he said.
"The bottom line is there's a strong pipeline in the sector and we're keen to deliver for both social housing and cost rental, that commitment is there," he added.
ICSH said the approved housing sector provided 3,792 social and cost rental homes in 2021, 41% of the national total, taking 3,727 households off the social housing waiting list.
Three quarters of AHB delivery in 2021 was new build homes, 10% was acquisitions and 14% was leased homes.
In total, 9,183 social homes were delivered in partnership by local authorities and AHBs in 2021. This still marks the second-highest housing delivery figure to date for the AHB sector (4,127 in 2019 and 3,312 in 2020).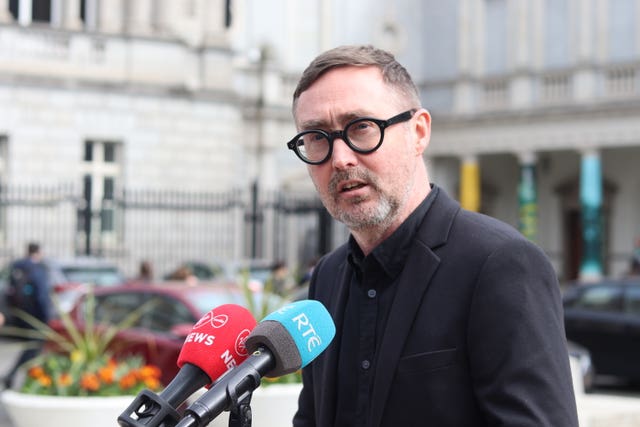 The publication of the department's expenditure figures was in response to a parliamentary question from Sinn Fein housing spokesman Eoin O Broin, who said the "massive underspend" means 4,000 public homes have not been built and has contributed to rising levels of homelessness.
He said housing underspend has increased each year between 2020-2022 under the Minister for Housing Darragh O'Brien.
Mr O Broin said Covid-19 construction-site restrictions were not the "main reason" why money was underspent.
"Indeed, information released by the Department of Finance this week shows the trend has continued into 2023 with a 29% capital underspend in the Department of Housing in the first three months of this year," he said.
Mr O Broin said a "level of red tape and delay" placed on local authorities and AHBs by Government departments is the main problem.
"The unspent capital funding could have delivered at least an additional 4,000 social and affordable homes.
"This could have housed half the total number of households currently in Department of Housing funded emergency accommodation.
"Local authorities, approved housing bodies and opposition politicians have been highlighting this problem for years yet the Minister for Housing has refused to act.
"His inertia and incompetence has resulted in a billion euros of much-needed housing funding unspent, at least 4,000 public homes not built and thousands of people homeless as a result."
The Department of Housing said 2022 saw the "highest level of Housing expenditure ever in a single year", with almost 3.5 billion euro expended on housing, representing an increase of 21% on 2021.
It said housing capital expenditure had increased 32% on 2021.
However, it said housing spend was affected by the impact of Covid-19 restrictions on the construction sector and the "unprecedented and unexpected challenges" of the Russian war on Ukraine.
It said all or part of any unspent appropriations for capital supply services may be carried over for spending in the following year.
"This provides for the carryover of up to 10% of the REV allocation (capital) from one year to the next.
"In the case of significant capital projects, it is important to note that the capital carryover ensures that where delivery arises beyond the calendar year in which initially anticipated, the capital can transfer to meet the commitment up to a maximum of 10%."